Transfer Tracker: Rivals100 Ohio State RB Jaelen Gill enters the portal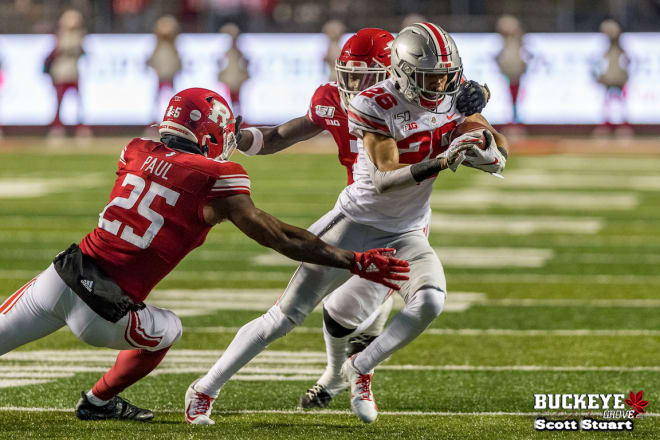 The Transfer Portal has changed the landscape of college football. So at Rivals we bring you the Transfer Tracker, where we analyze players entering the portal and rate them on what kind of impact they could make at their new home.
Next up in the tracker: Maryland defensive back Deon Jones.
AS A RECRUIT
Gill was one of the top running backs in the country and had his pick of schools. However, he ended his recruitment early, committing to the Buckeyes nearly a year before Signing Day.

AT OHIO STATE
Recruited as an athlete by Ohio State, Gill moved to wide receiver upon arriving in Columbus. He played just 16 snaps as a true freshman in 2018 and came into 2019 looking for a bigger role. However, it never really materialized and Gill played just 63 total snaps across seven games in 2019, catching six passes for 51 yards and a touchdown. Gill looked to enter spring 2020 as a chance to move up the depth chart, but that never happened and instead he entered the transfer portal this week. He will have at least two years of eligibility remaining at his next school.

POTENTIAL LANDING SPOTS
Gill should have have his share of options across the country, especially given that he has multiple years of eligibility remaining. Texas would seem like a natural fit, given his connection to Longhorns offensive coordinator Mike Yurcich, who was previously at Ohio State. The same goes for Boston College, where former Buckeyes assistant Jeff Haffley is now the head coach.

FARRELL'S TAKE
"Gill was highly-ranked as an all-purpose back coming out of high school but moved to a hybrid wide out/running back role in college. He has exceptional burst and very good hands but size was an issue when evaluating him as an every down running back. However, he's a great fit as a slot receiver for someone with his downfield speed and good hands." -- National Recruiting Director Mike Farrell
Impact Rating: 6.9 out of 10
IMPACT METER
The Transfer Portal continues to change the way college football programs recruit and mange their rosters so we here at Rivals.com continue to evolve our coverage. Each time a player of note enters the portal, we will examine their potential impact on the college football landscape and assign an impact rating, both when they enter the portal and when they choose a destination. The scale is from 1-10 and the description below explains the scoring scale.
1.1-4.0 — Not a big impact expected, likely a non-starter and down the bench depth player.
4.1- 6.0 — A solid impact can be expected in the right scenario and has the potential to battle for a starting job.
6.1-9.0. — A high impact player who won't change a program but will certainly be a very good contributor and starter.
9.1- 9.9 — A very high impact player who should start the moment he steps on the field and will change the outlook of a program immediately.
10 — A franchise transfer who has a chance to be an All American and one of the elite players in college football.