Transfer Tracker: Oklahoma TE Grant Calcaterra enters the portal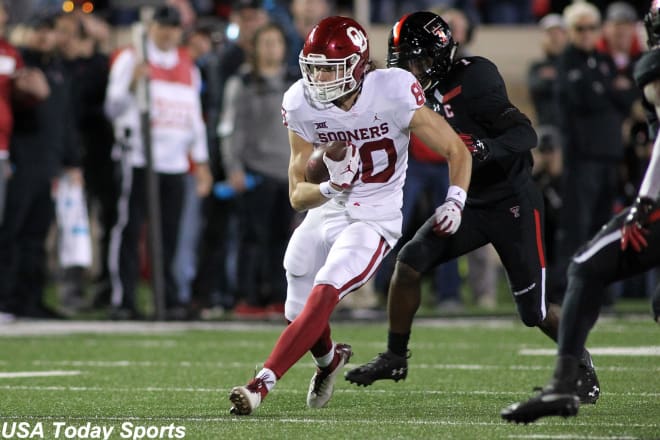 The Transfer Portal has changed the landscape of college football. So at Rivals we bring you the Transfer Tracker, where we analyze players entering the portal and rate them on what kind of impact they could make at their new home.
Next up in the tracker: Oklahoma tight end Grant Calcaterra.
AS A RECRUIT
Calcaterra had offers from coast-to-coast and as a high school All-American had his choice of schools. He ended up choosing Oklahoma during the spring of his junior year, thanks to a strong pitch from then offensive coordinator Lincoln Riley.
AT OKLAHOMA
Talent was never the issue for Calcaterra as he was a great fit in Oklahoma's high-powered offense. He had a breakout year in 2018, catching 26 passes for 396 yards and six touchdowns while earning All-Big 12 honors. He came into 2019 with big expectations, but he played in just five games while dealing with concussion issues. He ended up taking a medial retirement late last year due to the same concussions. Now healthy, Calcaterra decided to make a comeback this week, entering the portal in search of new home. Because he medically retired, he's not able to return to Oklahoma as a player.
POTENTIAL LANDING SPOTS
Given his talent, Calcaterra should be able to find a new home, the question is when and where. A California native, it's possible he wants to see if the Pac-12 will play in the spring and find a new program closer to home.
FARRELL'S TAKE
"Calcaterra was a big tight end out of high school with a great frame and a kid who could have played a few positions if needed. He had a great year in 2018 but concussions are a serious issue. It's unclear how healthy he will be and if he'll be cleared but he's a very interesting option for someone. He clearly has high Power Five talent." -- National Recruiting Director Mike Farrell
Impact Rating: 6.3 out of 10
IMPACT METER
The Transfer Portal continues to change the way college football programs recruit and mange their rosters so we here at Rivals.com continue to evolve our coverage. Each time a player of note enters the portal, we will examine their potential impact on the college football landscape and assign an impact rating, both when they enter the portal and when they choose a destination. The scale is from 1-10 and the description below explains the scoring scale.
1.1-4.0 — Not a big impact expected, likely a non-starter and down the bench depth player.
4.1- 6.0 — A solid impact can be expected in the right scenario and has the potential to battle for a starting job.
6.1-9.0. — A high impact player who won't change a program but will certainly be a very good contributor and starter.
9.1- 9.9 — A very high impact player who should start the moment he steps on the field and will change the outlook of a program immediately.
10 — A franchise transfer who has a chance to be an All American and one of the elite players in college football.