Transfer Tracker: Nacua brothers are on the market
Mark Pszonak contributed to this report.
The transfer portal never stops and now brothers Puka Nacua and Samson Nacua have both recently entered. Will they sign with the same school? Here's a breakdown: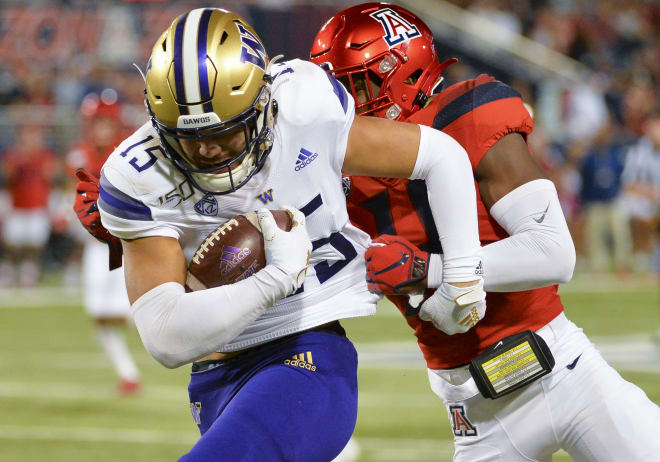 Recruiting: Puka initially committed to USC during the summer leading up to his senior season, but then flipped to Washington a few days after National Signing Day. Samson had a quieter process, committing to Utah a month before National Signing Day.
At Washington and Utah: In his two seasons with the Huskies, Puka totaled 16 receptions for 319 yards and three touchdowns, while in four seasons with the Utes Samson totaled 82 receptions for 1,015 yards and 11 touchdowns.
Potential landing spots: Puka is receiving early interest from UCLA, Northwestern and Nebraska; Samson has been receiving interest from Northwestern and Texas Tech; However Brigham Young seems in the driver's seat to grab both brothers
Farrell's Take: Both players have shown the ability to get it done at the Power Five level and BYU looks like the logical landing spot for each although Puka says they are listening to and hearing from many schools. Puka has more upside and was set to be a breakout weapon for the Huskies things season but his brother is no slouch as well. I see Puka as a potential starter and Samson as a depth guy.
Impact Rating: Puka is 6.7 out of 10 and Samson is 5.5 out of 10
IMPACT METER
The Transfer Portal continues to change the way college football programs recruit and manage their rosters so we here at Rivals.com continue to evolve our coverage. Each time a player of note enters the portal, we will examine their potential impact on the college football landscape and assign an impact rating, both when they enter the portal and when they choose a destination. The scale is from 1-10 and the description below explains the scoring scale.
1.1-4.0 — Not a big impact expected, likely a non-starter and down the bench depth player.
4.1- 6.0 — A solid impact can be expected in the right scenario and has the potential to battle for a starting job.
6.1-9.0. — A high impact player who won't change a program but will certainly be a very good contributor and starter.
9.1- 9.9 — A very high impact player who should start the moment he steps on the field and will change the outlook of a program immediately.
10 — A franchise transfer who has a chance to be an All American and one of the elite players in college football.