Transfer Tracker: Howard QB transfer Caylin Newton commits to Auburn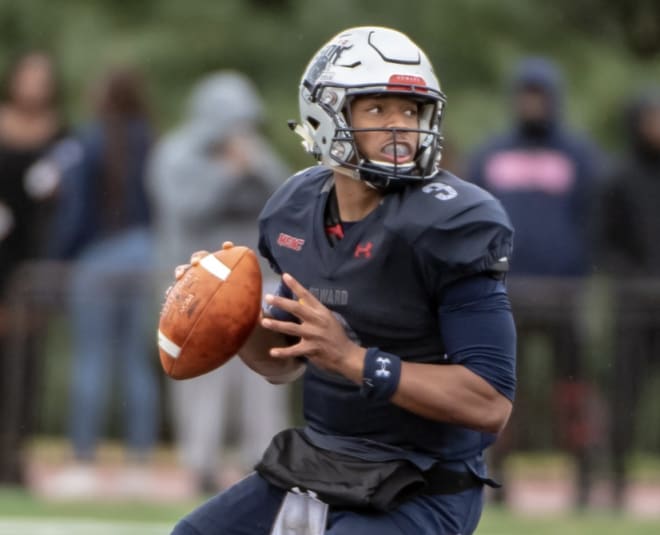 THE LATEST
Another Newton is headed to Auburn. Former three-star and Howard quarterback Caylin Newton, the younger brother of Tigers legend Cam Newton, announced his plans to transfer to Auburn on Friday night.
Newton, a grad transfer that has two years of eligibility remaining, will join the Tigers as a walk-on. The move ends a strange odyssey for Newton, who starred at Howard before leaving the program last fall around the same time that then-head coach Ron Prince was suspended by the program.
As a freshman at Howard, Newton led the school to a historic upset victory over UNLV and won the Mid-Eastern Athletic Conference Rookie of the Year award in 2017. In 2018, he was the MEAC's Offensive Player of the Year.
Newton, who has always played quarterback, has also worked out at other positions this offseason.

Newton is ranked No. 35 in the Rivals.com Quarterback Transfer Rankings.
AS A RECRUIT
Despite being the younger brother of NFL quarterback Cam Newton, a three-star ranking and having a prolific high school career, Newton didn't have any FBS scholarship options and instead signed with FCS program Howard.
AT HOWARD
Newton quickly became a star for the Bison, leading the school to an historic upset victory over UNLV and winning Mid-Eastern Athletic Conference Rookie of the Year award in 2017. In 2018, he was the MEAC's Offensive Player of the Year and came into 2019 with even higher expectations. But Howard's season went south and coach Ron Prince was accused of mistreating players, leading several to leave the team and preserve a year of eligibility, including Newton. Set to graduate, Newton will be eligible next season and have two years of eligibility remaining.
FARRELL'S TAKE
"Caylin is not Cam so let's make that clear but he has had quite a bit of success at the FCS level and it will be fun to see him play at his brothers school. He's not a threat to Bo Nix and it's doubtful he will impact at another position but for name alone this is interesting." - National Recruiting Director Mike Farrell
Impact Rating: 3.8 out of 10.
IMPACT METER
The Transfer Portal continues to change the way college football programs recruit and mange their rosters so we here at Rivals.com continue to evolve our coverage. Each time a player of note enters the portal, we will examine their potential impact on the college football landscape and assign an impact rating, both when they enter the portal and when they choose a destination. The scale is from 1-10 and the description below explains the scoring scale.
1.1-4.0 — Not a big impact expected, likely a non-starter and down the bench depth player.
4.1- 6.0 — A solid impact can be expected in the right scenario and has the potential to battle for a starting job.
6.1-9.0. — A high impact player who won't change a program but will certainly be a very good contributor and starter.
9.1- 9.9 — A very high impact player who should start the moment he steps on the field and will change the outlook of a program immediately.
10 — A franchise transfer who has a chance to be an All American and one of the elite players in college football.