Transfer Tracker: Former five-star LB Marcel Brooks headed to TCU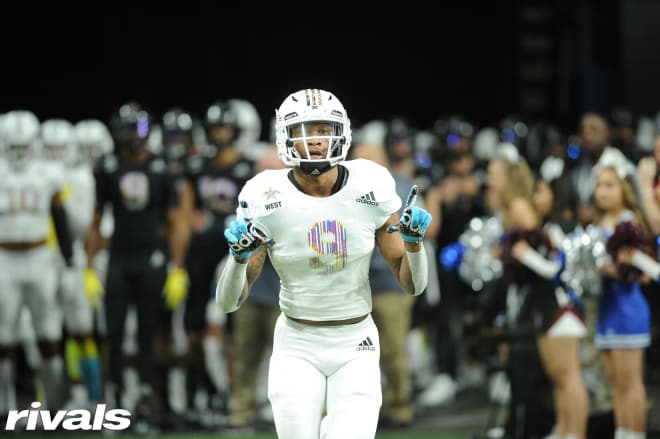 THE LATEST
TCU landed a huge piece to its defense on Tuesday when former five-star LSU linebacker Marcel Brooks announced his transfer to the Horned Frogs. Brooks, a Texas native, returns closer to home after being a contributor in the Tigers run to the national championship last season. Brooks was the No. 18 overall player in the 2019 class and the No. 3 ranked player in the state of Texas.

Brooks appeared in 11 games for the Tigers, logging 111 total snaps. He announced his plans to transfer last month, a move that surprised many considering he would have likely been competing for a starting spot with the Tigers. Now, he's headed back home to Texas to play for Horned Frogs.
It remains to be seen if Brooks will receive a waiver to be eligible to play in 2020, but even if he's not he will still have three years of eligibility remaining. Brooks is the second five-star to join TCU this offseason, joining running back Zach Evans, who announced his plans to enroll at the school back in May.
AS A RECRUIT
Brooks committed to LSU during the spring of his junior year and stuck with the Tigers despite a national list of schools, including Oklahoma, Texas, Alabama and others making their pitches.
AT LSU
Brooks saw plenty of action as a true freshman for the national champion Tigers, playing in 11 games and logging 118 total snaps. After serving as first round pick Patrick Queen's backup for most of the year, Brooks was expected to compete for a starting spot in 2020. Brooks surprisingly entered the transfer portal on Friday and will have three years of eligibility at his next school.
FARRELL'S TAKE
"Brooks is a great fit for TCU as Gary Patterson is an excellent defensive coach and is known for getting the most of out players. His ceiling is ridiculously high as a situation pass rusher and blitzer who can also drop in coverage and run sideline to sideline. As a local player, TCU is a great choice for him and in the Big 12 his athleticism will be needed in space. He's one of the best gets of this transfer cycle." -- National Recruiting Director Mike Farrell
Impact Rating: 9.1 out of 10
IMPACT METER
The Transfer Portal continues to change the way college football programs recruit and mange their rosters so we here at Rivals.com continue to evolve our coverage. Each time a player of note enters the portal, we will examine their potential impact on the college football landscape and assign an impact rating, both when they enter the portal and when they choose a destination. The scale is from 1-10 and the description below explains the scoring scale.
1.1-4.0 — Not a big impact expected, likely a non-starter and down the bench depth player.
4.1- 6.0 — A solid impact can be expected in the right scenario and has the potential to battle for a starting job.
6.1-9.0. — A high impact player who won't change a program but will certainly be a very good contributor and starter.
9.1- 9.9 — A very high impact player who should start the moment he steps on the field and will change the outlook of a program immediately.
10 — A franchise transfer who has a chance to be an All American and one of the elite players in college football.