Transfer Tracker: Former five-star FSU DB Jaiden Lars-Woodbey enters portal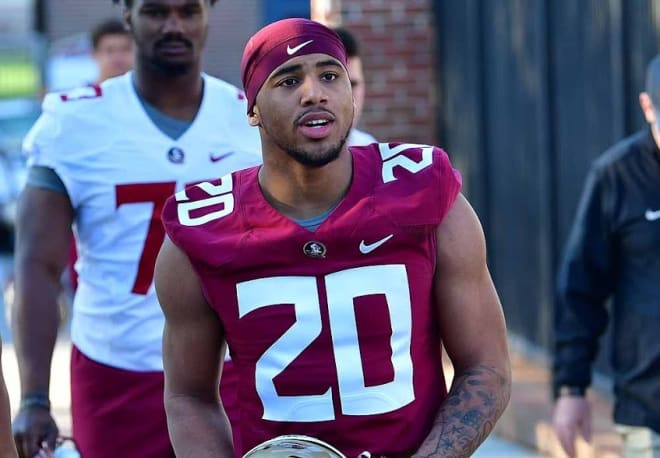 The Transfer Portal has changed the landscape of college football. So at Rivals we bring you the Transfer Tracker, where we analyze players entering the portal and rate them on what kind of impact they could make at their new home.
Next up in the tracker: Florida State defensive back Jaiden Lars-Woodbey
AS A RECRUIT
A national recruit with more than his fair share of offers, Woodbey ended his recruitment during his junior year and committed to Ohio State. But after Willie Taggart left Oregon for Florida State, he helped woo Woodbey to come with him, flipping him away from the Buckeyes on the December Signing Day in 2017.
AT FLORIDA STATE
Woodbey made his biggest impact during his first year on campus, starting 12 games as a true freshman and recording 58 tackles as part of a freshman All-American season. Woodbey then started the first four games in 2019 before suffering a season-ending knee injury. Playing under the new Seminoles staff in 2020, Woodbey bounced around the lineup, playing safety, linebacker and evens some cornerback. He started six games this season but recorded just 28 total tackles over eight games before falling out of the lineup. Woodbey will have at least two years of eligibility at his next school.
POTENTIAL LANDING SPOTS
It seems like it would make the most sense for Woodbey to end up back in California, but it's hard to say if schools like USC will have room for him, especially considering the unique roster issues facing schools around the country. Either way, Woodbey should have his share of Power Five options.
FARRELL'S TAKE
"Woodbey has a ton of natural talent and could play either a LB it S role for a high level Power Five team who needs an immediate starter. He's become a guy who does work closer to the line of scrimmage over the last couple of years but showed his pass defense ability with seven breakups as a true freshman. I think his upside is excellent." -- National Recruiting Director Mike Farrell.
Impact rating: 8.3
IMPACT METER
The Transfer Portal continues to change the way college football programs recruit and mange their rosters so we here at Rivals.com continue to evolve our coverage. Each time a player of note enters the portal, we will examine their potential impact on the college football landscape and assign an impact rating, both when they enter the portal and when they choose a destination. The scale is from 1-10 and the description below explains the scoring scale.
1.1-4.0 — Not a big impact expected, likely a non-starter and down the bench depth player.
4.1- 6.0 — A solid impact can be expected in the right scenario and has the potential to battle for a starting job.
6.1-9.0. — A high impact player who won't change a program but will certainly be a very good contributor and starter.
9.1- 9.9 — A very high impact player who should start the moment he steps on the field and will change the outlook of a program immediately.
10 — A franchise transfer who has a chance to be an All American and one of the elite players in college football.