Transfer Tracker: Colorado St TE Trey McBride enters the portal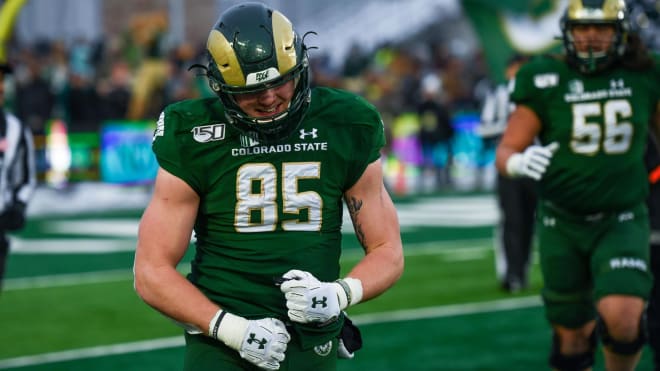 The Transfer Portal has changed the landscape of college football. So at Rivals we bring you the Transfer Tracker, where we analyze players entering the portal and rate them on what kind of impact they could make at their new home.
Next up in the tracker: Colorado State tight end Trey McBride.

AS A RECRUIT
McBride received a ton of late interest, with Power Five schools like Kansas State, Colorado and several others offering. But McBride elected instead to stay close to home and play for Colorado State, committing during his senior season.

AT COLORADO STATE
McBride stepped right into the lineup as a true freshman, starting five games in 2017 and catching seven passes for 89 yards a touchdown. He became the full-time starter in 2019 and had 45 catches for 560 yards and four touchdowns. His season was good enough to earn him first-team All-Mountain West honors. McBride was expected to be among the best Mountain West players in 2020, but with the conference pushing its schedule to the spring, McBride entered the portal. He will have two years of eligibility remaining at his next school.
POTENTIAL LANDING SPOTS
Given his history of production, McBride should have plenty of options, especially if he sits out 2020 and his scholarship can be counted forward. The most obvious match would seem to be with South Carolina, where former Colorado State coach Mike Bobo is the Gamecocks offensive coordinator. As with any situation this year, it will all depend on numbers, which are tight this late in the game.

FARRELL'S TAKE
"McBride is yet another talented tight end in the portal and he's a player who should find success at a high level. He's not a great fit in Steve Adazzio's offense as he's a capable blocker but is more of a receiving threat so he'd fit in well in a spread offense. He was a local recruit who had only local interest out of high school but he should be a hot commodity on the transfer market." -- National Recruiting Director Mike Farrell
Impact Rating: 7.4 out of 10
IMPACT METER
The Transfer Portal continues to change the way college football programs recruit and mange their rosters so we here at Rivals.com continue to evolve our coverage. Each time a player of note enters the portal, we will examine their potential impact on the college football landscape and assign an impact rating, both when they enter the portal and when they choose a destination. The scale is from 1-10 and the description below explains the scoring scale.
1.1-4.0 — Not a big impact expected, likely a non-starter and down the bench depth player.
4.1- 6.0 — A solid impact can be expected in the right scenario and has the potential to battle for a starting job.
6.1-9.0. — A high impact player who won't change a program but will certainly be a very good contributor and starter.
9.1- 9.9 — A very high impact player who should start the moment he steps on the field and will change the outlook of a program immediately.
10 — A franchise transfer who has a chance to be an All American and one of the elite players in college football.