Top talent to compete at Top Gun Showcase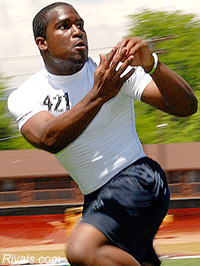 PAISLEY, Fla. – Tom Cruise won't be there, but there will be plenty of aces on hand at the first-ever FBU Top Gun Showcase Camp, which starts this Saturday at the All-Star Sports Training Complex about 35 miles northwest of Orlando.
The event, which will be held at an Athletic Republic training facility, will be the first time some of the nation's elite players are gathered on one field for a showcase that allows them to gauge their talent against competitors of the same level. It's a three-day, invitation-only camp that allows top prospects to work and train with former NFL athletes and coaches in an NFL mini-camp setting.
Rivals.com will provide exclusive on-the-field and behind-the-scenes coverage of the camp, which is expected to bring out some of the top talent ever assembled at a national camp. Along with numerous players that will play in the U.S. Army All-America Game, FBU's top prospects from their 18 national camps also will be in attendance.
"I'm really looking forward to the camp," Brown said.
"It's going to be a great opportunity to work against and meet a lot of the guys you read about on Rivals.com all the time. It'll also be a great chance to see what the guys in the Army game are going to be like. It'll be a real challenge and I look forward to testing myself against everybody, too."
The event also will feature some of the top 2010 prospects. Potential five-star 2010 recruits such as running back
Lache Seastrunk
of Temple (Texas) High, safety
Marvin Robinson
of Eagle Lake (Fla.) Lake Region, linebacker
Chris Martin
of Oakland Bishop O'Dowd and running back
Dillon Baxter
of San Diego Mission Bay are set to attend.
There will also be a large crowd making the trip across country from California.
For Moore it's going to be a chance for make a big impression and possibly increase his ranking.
"I'm going out there to Florida to get my fifth star," Moore said. "We always hear about what these guys in other areas of the country are like, and for us guys in California it's a great chance to see where we're at. We also have to do our best to represent the schools we're going to. I know I've got to do my best to show everybody that USC is getting a good class."
There's also a strong contingent of players outside four and five stars that could make a move up the rankings with a great camp.
Conway Springs, Kan., three-star linebacker and Oklahoma commitment
Jaydan Bird
is set to be there. He impressed this summer at the Sooners camp, showing he's 100 percent after missing most of his junior season with an injury.
Nobody has had a stronger spring and summer campaign than San Antonio (Texas) Alamo Heights quarterback
Drew Allen
. He's impressed everywhere he's been, including stops at the NIKE Camp and several college camps, and his stock is shooting up the charts and he could be on the verge of moving to four stars.
Also watch out for Green River, Wyo., athlete
Andrew Meredith
. Ranked as the nation's No. 70 safety prospect, Meredith impressed earlier this summer At the Ultimate 100 Camp and he's easily one of the best kept secrets in the nation, but that's mainly because he's from Wyoming.
[rl]