Top talent still feels they have plenty to prove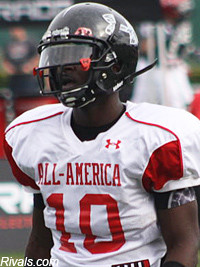 Every player on the Under Armour All-America Game roster had a mission this week at practices in Lake Buena Vista leading up to Wednesday's 7 p.m. contest at Tropicana Field.
Some achieved their goals. Some didn't. But all, it seemed, relished the chance to showcase their talents against players with similar abilities, something they didn't normally get to face at their respective high schools.
"It's a different feeling playing against cornerbacks that are faster than you, bigger than you, stronger than you," said Landry, a four-star receiver from Lutcher, La., who is committed to LSU. "You really had to be on your game."
Suffice to say, Clowney lived up to that billing in practice, utilizing his speed, strength and football IQ to cause havoc to opposing offensive linemen.
"He's a great talent," said Chickillo, a defensive end from Tampa, Fla., and Miami commit who was in the same personnel grouping as Clowney. "He's going to do big things at the college level."
The other five-star players include:
Detroit, Mich., linebacker Lawrence Thomas/db], a Michigan State commit who combines great size with terrific athleticism;
Practices throughout the week have been competitive, to say the least. But that, quite frankly, is precisely what most of those competing wanted. Simply put, it forced those taking part to raise their game or get left in the dust.
"Everyone out there was trying to show they were the best," Chickillo said. "I love competing and going up against the best. It was fun. I really enjoyed it."
Showing off their respective talents was one goal for most, if not all. Getting better was another.
"I come from a school where there's not too many guys as talented as us," Landry said. "Just being out here with everyone else and seeing the way they play and getting used to that was definitely a good experience."
Some players came to the Under Armour with hype. A few of the ones who didn't arrived with a chip on their shoulders.
"I had a point to prove," Rogers said. "That I was one of the best receivers in the nation."
Off the field, the event gave players a chance to bond, to make new friends.
"There's a whole bunch of great people," Chickillo said. "I really enjoyed meeting everyone."
When play begins at Tropicana Field, the athletes, most of who are headed to prestigious programs, will play with a national television audience watching. For nearly all, that will be a first.
The game also will mark an end to one chapter in each player's career. That's because it will be their final football games in high school.
"It hasn't really [sunk in]," Landry said, "because I know I'm going on to better things - college football and hopefully playing on Sunday someday."
[rl]