Top SoCal prospects make college predictions for each other
GLENDORA, Calif. - It's our job at Rivals.com to cut through all the noise and zero in on where the nation's top players will end up playing their college football. Sometimes when it comes to searching for information, the best intel comes from fellow elite prospects.
At Sunday's Los Angeles stop of the Rivals 3 Stripe Camp Series presented by adidas event, we surveyed several prospects about where four elite prospects will eventually land. Here are the results.
MORE RCS: Hot teams | Gorney's takeaways | Players who earned their stripes | Updates | Full schedule
THE PICK: LSU
WHY: "That's one of my really good friends and I think LSU just from talking to him. I know he had a really good time out there." – Five-star cornerback Chris Steele
WHY: "Last time I talked to him he said he wasn't playing out here. He wants to play in the SEC." – Rivals100 defensive back Max Williams
THE PICK: USC
WHY: "I don't know why. I just think USC." – Four-star defensive end Stephon Wright
The Pick: USC
Why: "We were up there at the same time and I saw him having of conversations with the coaches." – Rivals100 running back Sean Dollars
THE PICK: USC
WHY: "Because he lives in California and I saw he went to a visit up there." – 2020 offensive lineman Carson Lee
THE PICK: Alabama
WHY: "He's really good. He just seems like one of those guys and that's where the big boys go." – 2019 quarterback Weston Eget
THE PICK: USC
WHY: "I think he likes home and staying close to home." – Three-star athlete Keithan Gooden
THE PICK: Alabama
WHY: "I don't know. Maybe there or somewhere else in the SEC." – 2019 running back Johnny Williams
THE PICK: USC, UCLA, Alabama or Georgia
WHY: "A lot of guys from his school go to USC or UCLA but he's one of the biggest recruits in the country so he could go to Alabama or Georgia." – 2019 linebacker Connor Beautrow
WHY: "He's the best player in the country so he can go anywhere he wants." – Three-star quarterback Cameron Williams
THE PICK: UCLA
WHY: "It's close to home for him." – 2021 quarterback Jacob Garcia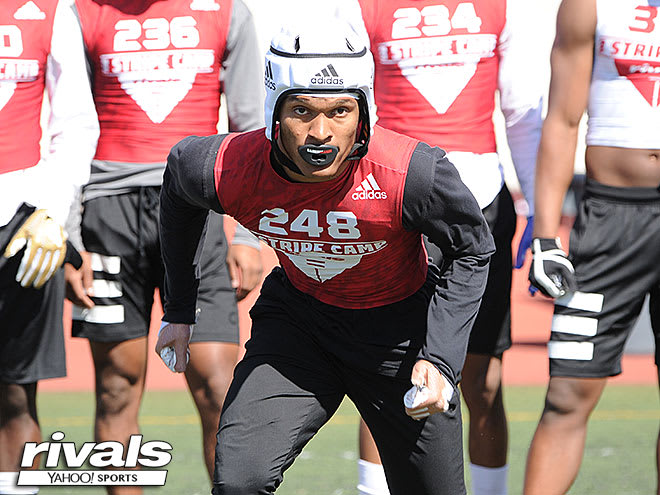 THE PICK: USC
WHY: "He's always around there and stuff like that." – Wright
THE PICK: Oregon
WHY: "First off, he's wearing an Oregon headband right now. I think he really likes them." – Dollars
THE PICK: Oregon
WHY: "He's wearing all the Oregon stuff right now." – Three-star TE Mike Martinez
WHY: "I don't feel like he's a Pac-12 guy. He's a hard hitter, just the way he is and his mindset on football, I feel like he's not staying in the Pac-12." – Four-star CB Jeremiah Criddell
THE PICK: UCLA
WHY: "I think Chip Kelly is going to get him. I think he's going to be wowed back there." – 2020 QB Bryce Young
THE PICK: UCLA
WHY: "I have no clue honestly but I saw he was there on a visit." – Lee
WHY: "He had a cool vibe when he was out there." – three-star linebacker Malcolm Perry
THE PICK: Oregon
WHY: "He's showing a lot of love to them." – 2020 defensive lineman Kobe Pepe
THE PICK: Oregon
WHY: "I think just the atmosphere fits him and the defense fits him." – Gooden
THE PICK: LSU
WHY: "They have good defensive backs." – Beautrow
WHY: "He's so interested in them. But the last time I talked to him he said he really liked Oregon a lot." – Williams
WHY: "We hang out a lot and I see him wear UCLA stuff and Oregon stuff." – Cameron Williams
THE PICK: Florida State
WHY: "I feel like he's going to go there. He has Jaiden Woodbey out there." - Garcia
THE PICK: USC
WHY: "That's where I think he'll go, but it's just a guess." – Three-star defensive tackle Jalen Rudolph
THE PICK: Oregon or Washington
WHY: "It's either Oregon or Washington for sure. I'm not sure which, but it's Oregon or Washington all the way." – Steele
THE PICK: USC
WHY: "I think the running back pipeline." – Gooden
THE PICK: Alabama
WHY: "Maybe he's the type of guy they like." – Beautrow
WHY: "His skillset and I see his Twitter and he's been to Oregon and he likes Oregon and he fits in with the type of recruits they have." – 2019 quarterback Jackson Laurent
THE PICK: Oregon
WHY: "He seems like an Oregon type of dude." – Max Williams
THE PICK: Oregon
WHY: "That's my boy. We carpool together to Mater Dei. We're trying to recruit each other. That's a hard choice because he likes every school but I'll go Oregon." - Four-star DL Keyon Ware-Hudson
WHY: "This is going to be obvious. That's like my brother I'll say SC or Oregon." – Criddell
THE PICK: USC
WHY: "I'll say USC. Keep it local and (his connection with) Stephen Carr. He has a good relationship with him." - Young
THE PICK: USC
WHY: "I don't know. I just think he's going to USC with everyone else." – Wright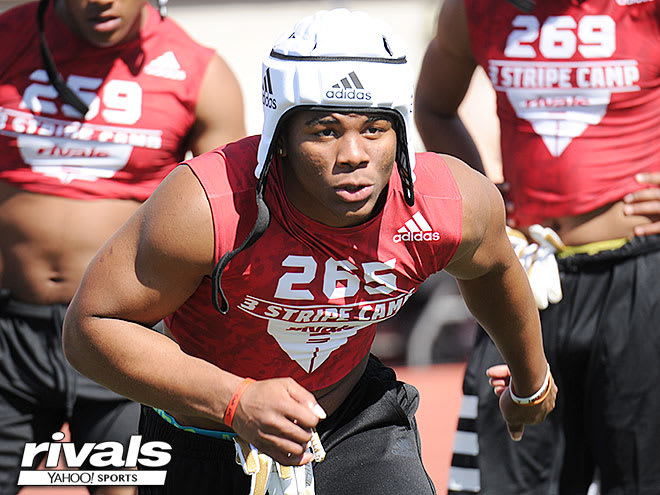 THE PICK: Texas
WHY: "Oh? DG? That's my boy. I think Texas. He had a recent visit out there and he fell in love with it." – Steele
WHY: "I'm not sure, but I think he's leaving California. He's going to Oregon or Texas, I think." – Wright
THE PICK: Texas
WHY: "I guess because of the recent visit." – Gooden
THE PICK: USC
WHY: "He's a Pac-12 guy." – Beautrow
THE PICK: Texas
WHY: "Because he loved it when he visited." – Max Williams
THE PICK: Texas
WHY: "His top seven just came out and I know he likes Texas a lot. And Oregon." – Ware-Hudson
THE PICK: Texas
WHY: "When it comes to football he gets down to football, so I'll say Texas. If he does stay in the Pac-12, I could see either UDub or USC." – Criddell
THE PICK: Texas
WHY: "He just got back from Texas and I know he liked it so I can see him at Texas." – Young
THE PICK: Oregon
WHY: "I'm gonna say Oregon. I feel that strongly. It's because of his relationships and he just dropped his top seven." – Dollars
THE PICK: USC

WHY: "Just talking to him it seems like USC. It's either there or Michigan or Washington." – Martinez
WHY: "That's a hard choice. He takes a lot of visits. USC is on him hard. Oregon, he likes Oregon a lot. I talk to him about Oregon or USC. Either of those two. I'm not sure about his other choices but those two are at the top." – Ware-Hudson
THE PICK: USC
WHY: "I feel like Bru is going to SC. He already has the connection with Amon-Ra (St. Brown), JT (Daniels), all of them. It only makes sense for him to go to SC where he has that connection and that brotherhood again." – Criddell
THE PICK: USC
WHY: "I could see USC. Local, Mater Dei-type thing. I could see it." – Young
THE PICK: None
WHY: "I'll tell you this. Me and Bru will end up at the same school, but I'm not going to tell you which one." – Steele
THE PICK: USC
WHY: "I feel like his relationships with the coaches are strong and he feels good about them." – Dollars
THE PICK: USC
WHY: "Just staying close to home." – Gooden
THE PICK: USC
WHY: "He's going to go there with his quarterback." – Beautrow
THE PICK: USC
WHY: "So he can go play with JT Daniels." – Max Williams
THE PICK: USC
WHY: "He can go anywhere he wants but I feel like he's going to be a USC guy, too." – Garcia