Top performers from a busy weekend in Dallas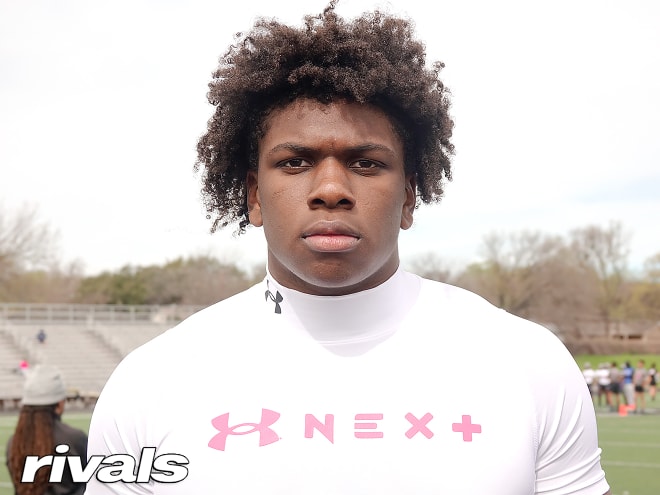 ARLINGTON, Texas — The Dallas-Fort Worth Metroplex was busy in the recruiting world over the weekend as multiple events took place featuring some of the top talent in the region.
Friday saw some of the speedsters on the gridiron translate those traits onto the track at the Lancaster Meet of Champions while Saturday featured a loaded group of training sessions across Dallas before Sunday's Under Armour camp in Arlington.
Here are the top performers I scouted over the busy weekend.
Top Overall Performer: OT Micah Debose
Prichard (Ala.) Vigor four-star offensive tackle Micah Debose was simply unstoppable on Sunday as he made the long trip in from Alabama and absolutely dominated everyone that was put in front of him.
Debose's 6-foot-5, 315-pound frame put opposing pass rushers in precarious situations right off the line with his initial punch and drive, as he put a handful of guys into the turf. His mobility at tackle also stood out when lined up against leaner, more agile edge rushers.
There's a lot to like about Debose, but after his performance against some of the top talent in the region, most of which is a class ahead of him, it's easy to see why nearly every program in the SEC is trying to capitalize on him being in prime SEC territory.
SHARE YOUR THOUGHTS WITH GEORGIA FANS AT UGASPORTS.COM
*****
Top Defensive Back: CB Selman Bridges
Lake Belton (Texas) four-star cornerback Selman Bridges is arguably the lengthiest defensive back that I have ever personally covered, and he uses those traits to his advantage in the coverage game by swatting passes that are put on a good line out of the field of play, whereas those same passes would be completed on the average-sized cornerback.
Bridges made PBU-after-PBU on Sunday and didn't find much competition. The 6-foot-4, 170-pound Central Texas star only allowed one completion in 1-on-1 work as he further cemented himself as one of the top coverage talents in the state with not only his length, but his vastly improving mobility in coverage.
*****
Top Defensive Lineman: DE Charleston Collins
Little Rock (Ark.) Mills four-star defensive end Charleston Collins has a combination of size and speed that makes him near impossible to control off the edge, as the Arkansas native made move-after-move on Sunday during one-on-ones to get around offensive tackles and into the backfield.
Collins has always had a quick burst about him that allows him to get off the line in a hurry, but his weight room work was what was most evident when he was able to line up with a more agile offensive tackle as he brutalized a pair of guys in the trenches after his initial get-off.
*****
Top Pass Catcher: WR Bryant Wesco
Midlothian (Texas) four-star wide receiver Bryant Wesco had a very compelling case for top overall performer after an unreal weekend that began with him dominating in jumping events on Friday in Lancaster (placed second in long jump, fifth in triple jump) before making his way to Arlington on Sunday to route-up and go up top with some of the best defensive backs in the region.
Wesco's fluidity in route-running, movement at the top of his routes and strong hands at the finish made him simply unguardable on Sunday. Even with defensive backs that were able to keep up with his quick twitch and strength at 6-foot-2 and 170 pounds, Wesco's body control up top allowed him to still finish even the most difficult of reps with a win.
*****
Top Quarterback: QB DJ Lagway
Despite a heavy crosswind affecting the pass game throughout the day on Sunday, Willis (Texas) four-star quarterback DJ Lagway picked up on the difficulty early on, found some consistency and maintained it throughout the 1-on-1 sessions. The Florida commit's ball placement based on his personnel was particularly impressive, given his limited-to-no experience throwing to some of the receiving talent that was in attendance.
Lagway's progression over the last six months has been meteoric as he is truly breaking into the stratosphere of top national quarterbacks following a pair of solid offseason outings.
SHARE YOUR THOUGHTS WITH FLORIDA FANS AT FIRSTANDTENFLORIDA.COM
*****
Top Linebacker: Davhon Keys
Aledo (Texas) four-star linebacker Davhon Keys started his weekend by qualifying for state in powerlifting on Saturday, committing to LSU on Saturday night, and making the short trip down I-20 to Arlington to compete and dominate at Under Armour Dallas on Sunday.
The running back-linebacker 1-on-1 sessions at camps typically favor the running back because of leverage, speed and just the nature of the drill, but Keys was able to jam receivers at the top of routes and level the playing field almost immediately with his strength. In that particular 1-on-1 session, Keys was easily the strongest prospect as his jamming ability not only took running backs off course, but often times into the turf.
SHARE YOUR THOUGHTS WITH LSU FANS AT TIGERDETAILS.COM
*****
Top Backfield Weapon: RB Cornelius Warren III
North Crowley (Texas) running back Cornelius Warren III is coming off a 1,000-yard season in his first year as the full-time starter, and his new-found experience and confidence showed in the receiving game on Sunday.
Warren was the twitchiest running back in attendance on Sunday, breaking off the line and across the middle of the field in blinks of an eye. His sure hands helped him secure receptions against bulkier and stronger linebackers, but his speed was what was just too much to handle for defenders and even for some quarterbacks that didn't have experience with Warren.
Warren is a major candidate for a summer recruiting rise if he can duplicate his performance at college camps.
*****
Next Five ...
Longview (Texas) Pine Tree four-star defensive lineman Dealyn Evans moved around the defensive line on Sunday and found continued success at multiple spots powering through and around offensive linemen.
Evans suffered a couple of rep losses, but he stayed mostly consistent throughout the 1-on-1 session against some top competition. His physical presence was most outstanding as his 6-foot-4, 258-pound frame has him looking prime for an early playing opportunity in College Station a year from now. Consider this a gem of an early take for Texas A&M who secured his commitment last summer.
SHARE YOUR THOUGHTS WITH TEXAS A&M FANS AT AGGIEYELL.COM
*****
Lucas (Texas) Lovejoy wide receiver Daylan McCutcheon plays in one of the most high-octane offenses in Texas in the fall which has allowed him to show off his early skillset while producing at a high level. Despite a couple of questions remaining about McCutcheon coming out of the fall, the sophomore pass-catcher proved to be up to the task on Sunday by blowing by defenders and showcasing his previously unproven speed alongside some of the more-noted speed threats in the region.
McCutcheon is next up at Lovejoy, and Sunday's efforts in creating separation with twitch and speed only further that agenda.
*****

Mesquite (Texas) wide receiver Elijah Baesa has battled some adversity early in his high school career off the field, but it hasn't affected his ability between the lines one bit as the recent Arizona State commit torched defenders downfield on Sunday with his speed and athleticism.
Baesa's production in his junior season raised some red flags, but questions arose about how much of that was his own fault versus his team's fault. Coming out of Sunday, I think that answer is pretty clear after his consistent rep wins downfield.
SHARE YOUR THOUGHTS WITH ARIZONA STATE FANS AT ASUDEVILS.COM
*****
League City (Texas) Clear Springs four-star offensive tackle Blake Ivy remains relatively to himself both in the media and at regional events, but the Galveston County product made the trip to Dallas on Sunday and displayed strength and technique up front.
What stood out most about Ivy is his potential to slide inside at the next level, but his mobility could allow him to maintain positioning at tackle if his college of choice decides. His versatility and strength allowed him to make his presence felt with just a handful of reps in the morning session.
*****
The No. 1 receiver in the class of 2025 lived up to the billing on Sunday as Duncanville (Texas) four-star Dakorien Moore found little-to-no competition throughout the afternoon.
Moore's elite combination of fluidity, speed and separation have always stood out, but it was his well-built lower half that debuted on Sunday that's making him more of a physical presence both off the line and downfield. While the young prodigy has been pretty lean for the majority of his high school career, he is starting to fill out closer to 180 pounds going deeper into the offseason, which spells nothing but trouble both for defensive backs and for any wide receivers in 2025 looking to catch him in the rankings.