Three-star Tennessee DB Jaylon Baker commits to Virginia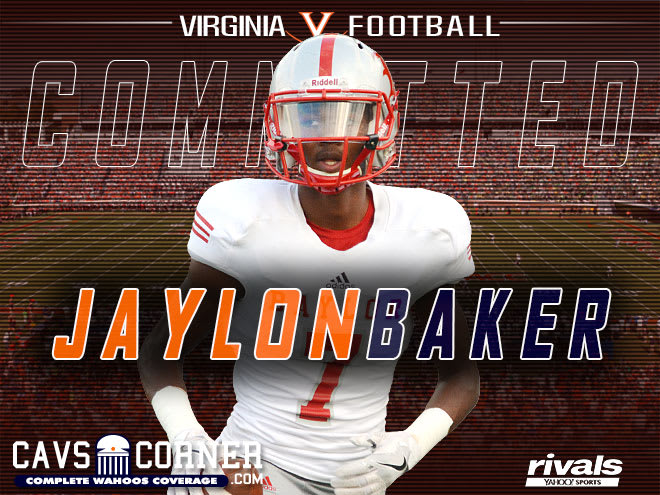 It took well into the fall for three-star Chattanooga (Tenn.) Baylor school defensive back Jaylon Baker to get his first offer from an FBS school and it wasn't until December that Virginia became the first Power Five program to offer. Well, just a few weeks later Baker is repaying the Cavaliers loyalty with a commitment and he intends to make it official when he sends in his letter-of-intent on Wednesday.
"I thought it would be a great fit for me and it will help me in the long run and I can get a great education there," Baker said. "After talking to my parents and my college counselors we decided this was the best decision for me and my future."
The commitment ends a roller coaster process for Baker as he collected FCS offer after FCS offer in the fall, only to catch the eye of programs like UMass, Western Kentucky Georgia Tech and Virginia over the last month. He took an took official visit to Charlottesville over the weekend that helped seal the deal for him and his family.
"I enjoyed everything about the visit from start to finish," Baker said. "I feel like I have a good relationship with the coaches there and I like their vision for the future of the program and I'm excited to be a part of it."
Baker was being recruited by some schools as wide receiver and others as a defensive back and Virginia's pitch to use him in the secondary was a big strike in their favor.
"It was a big impact on my decision," Baker said. "I've been round the position very long and I've learned it well. I feel like I can make more plays on that side of the ball. I just had a preference to play corner."
At 6-foot-3, Baker has the type of length that college coaches covet and he said the Virginia coaches let him know that he is a perfect fit for their scheme.
"Coach Howell likes long corners to be in his secondary and he doesn't have a defensive back shorter than 6-feet tall," Baker said. "He thought I would be a great addition to the family and fit right in."
Several major programs had been pushing Baker to wait and not sign early, but he said his comfort level with the Virginia coaches was enough for him to lock in his commitment.
"I've heard from a few schools that contacted me last night and a few more today." Baker said. "I told them it's too late I'm already committed now. I've thought about it waiting but my parents really like UVA and I feel like it would be a great fit for me."
Baker is the second commitment in the Virginia class from the state of Tennessee, joining three-star offensive lineman Will Lawrence. He is planning on signing his letter-of-intent and returning it to Virginia sometime on Wednesday.