Three-star Chris Olave lands surprise Big 10 offer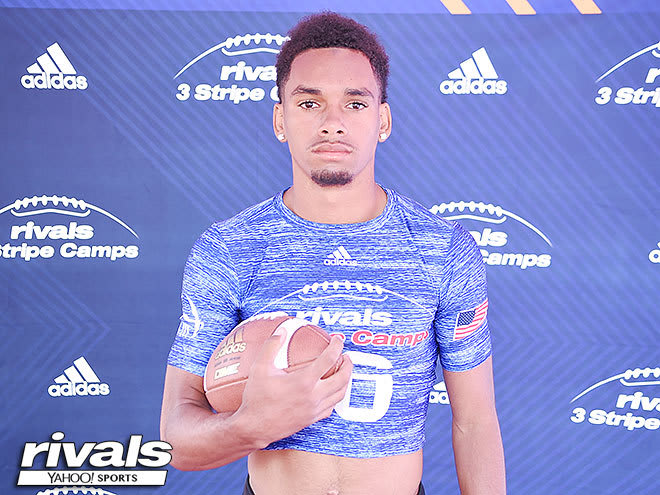 Chris Olave and Ohio State assistant coach Ryan Day had been talking for a while.
The Buckeyes were mainly looking at four-star quarterback and teammate Jack Tuttle, who's committed to Utah, but Olave piqued Day's interest as well and now the San Marcos (Calif.) Mission Hills three-star receiver has an Ohio State offer.
"It all started when they came to the school for Jack and my coach called me out of class just to play catch with Jack," Olave said. "We were on the field and we were just throwing the ball back and forth with my coach and coach Day watching on the side for about 20 minutes.
"They invited me to their camp but I couldn't make it so we didn't come in contact until after my first game of my senior year. They called Jack and I was at his house so I talked to (Day) a bit and got his number from Jack and it went up ever since then."
Intrigued by Olave's game – and his speed and playmaking ability – Ohio State stayed in contact early this fall. After some back-and-forth discussions, Day asked Olave to call him as soon as possible.
A high school football player's schedule is crammed, though, especially when driving North early on a Saturday morning to watch his brother's college game but the two finally got in touch.
"He asked me for my track times, asked me tons of questions," Olave said. "Kept talking about every month and every day it seemed like we talked more and more. The past week we've been talking like every day and (Friday) after my game I got a text from coach Day. It said, 'Call me in the AM, we have great news.' I was so excited, I showed like three of my coaches on the bus ride home. Woke up (Saturday) morning and I had two texts from coach Day.
"But I was in the car on the way to my brother's game which is at UC Davis, so I left at about three in the morning and woke up in the car around 8:30 so I'm still in the car, and at about 10:15 I get a text from coach Day saying, 'Can you call me now?' and I called him and he offered me. Absolutely shocked. I couldn't believe it."
So far, Olave has been offered by Ohio State, Arizona, Boise State, Boston College, BYU, Colorado State, Hawaii, San Diego State, San Jose State, Utah, Washington State and Wyoming. He's planning his trip to Columbus for the Michigan State weekend in November.
"This one definitely means a lot," Olave said. "One of the top programs in the nation and an absolute blessing."