Three-Star Checkup: Californians stepping up on big stage
Each week during the college football season we use Wednesday as a chance to look back at a trio of three-star prospects that shined during the previous week's college football action. Today, we focus on a trio of California natives who had big games for their teams.
RELATED: Five-Star Checkup - linebackers | Four-Star Checkup - running backs
As a recruit: A product of powerhouse California program Serra, Lasley had a solid offer list, with USC and UCLA emerging as the early favorites. Lasley didn't drag out his recruitment for long, electing to commit to the Bruins the summer prior to his senior year. He took an official visit to Utah and entertained some other programs, but ended up sticking with the Bruins.
What he did this week: After redshirting his first year on campus and playing primarily as a reserve in 2015, Lasley started to come into his own as the 2016 season wore down. After finishing that season ranked second on the team in receiving yards he came into 2017 expecting even better things - and he hasn't disappointed. In Saturday's narrow loss to archrival USC, Lasley had the best game of his career, hauling in 10 catches for 204 yards and three touchdowns. Lasley was suspended for three games earlier this year, but has come back looking like a new man, and he's averaging 130 yards receiving per game this season.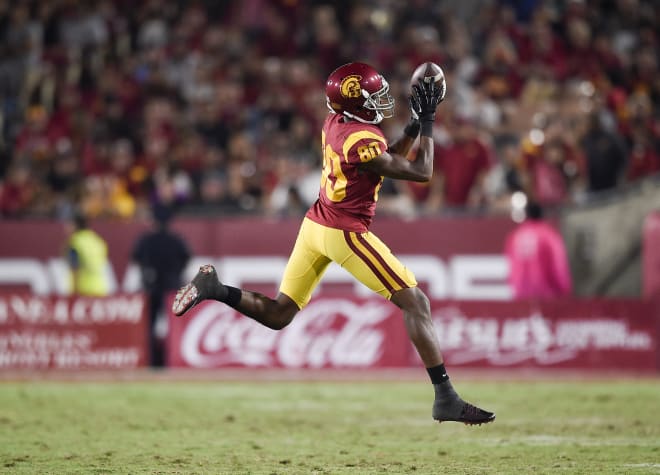 As a recruit: Another Serra product, Burnett saw plenty of Pac-12 interest early in his recruitment and jumped on the chance to play at Washington State, committing during the summer prior to his senior season. But after a big senior year, USC and Michigan entered the picture. Burnett took a late visit to Ann Arbor, but after receiving a blueshirt offer from the Trojans on National Signing Day he flipped his commitment.
What he did this week: USC took a late chance on Burnett in 2015, and so far the gamble has paid off in spades. Burnett has contributed since Day 1, and is having a career year in 2017. In Saturday's win over UCLA, Burnett hauled in four catches for 55 yards. The day's numbers weren't the gaudiest for Burnett, but he came through in big moments and continues to lead the Trojans in both receptions and yards on the season. Burnett should go over the 1,000-yard mark on the season this weekend and his emergence on a team full of four- and five-star players has been a big part of the Trojans' success this season.

As a recruit: Richard collected his share of offers from Power Five programs around the country, but his recruitment came down to two schools: Utah and Arizona State. He committed to the Sun Devils two months before signing day, but still visited Salt Lake City. Despite the late trip, he stuck with his commitment to Arizona State.
What he did this week: Richard has been a consistent contributor during his time in Tempe, rushing for at least 450 yards in all four seasons as a Sun Devil. In Saturday's win over Oregon State he had one of his best games of the season, rushing for 119 yards and three touchdowns. On the season, Richard has already set a career high for touchdowns in a season with 10, and with two more games he's likely to finish in the top five in program history in total rushing yards.