Three stand out to Ellis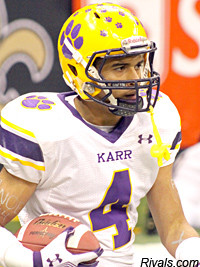 New Orleans Edna Karr cornerback
Noel Ellis
helped his team reach the Class 4A state title game this past season and the Rivals250 prospect gained plenty of notice from schools for his performance in the playoffs and the final, where he recorded an impressive interception.
Since that time the 5-foot-10, 170-pound defender has picked up several offers. His total now stands at seven.
"I have offers from Auburn, Texas A&M, Colorado, Florida State, Pittsburgh, Cincinnati and then Arizona is the newest one," Ellis said. "Those are the ones who said they have offered me so far."
Ellis has been to several junior days this spring, including to in-state LSU.
"I've been down there and they talked to me a lot," he said of the Tigers. "They're still recruiting me but they want me to come to camp this summer and show them what I can do. I didn't get a chance to go to their camp last summer so they really haven't seen me up close like that yet."
Ellis also visited a pair of other SEC schools this spring.
"I went to junior days at both Auburn and Alabama," he said. "I really liked Auburn a lot. I like their program and their new defensive coordinator is doing some good things there that they showed us. I liked what I saw a whole lot.
"Alabama was really nice too. They pretty much said the same thing that LSU did about wanting me to come to camp this summer so I'll probably go back there too."
Ellis, who earned first-team all-Army Combine honors in January, says that a trio of schools on his offer list currently stands out to him.
"I like Auburn as well as Texas A&M an Colorado," he said. "Those are the three main schools that have really kept up with me the most.
"They message me and write me and everything and really let me know that they want me. Texas A&M and Colorado really want to get me out to their schools for a junior day or camp just to see the schools so I'm going to see what I can do about visiting those."
Ellis is currently ranked as the No. 13 cornerback and the No. 169 overall prospect in the country.