Three schools lead for Rice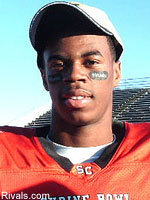 Wide receiver
Sidney Rice
took an official visit to South Carolina over the weekend, and the local school was able to hold their spot in his top three. Is Rice nearing a decision?
"I'm not ready to announce a decision," said Rice. "That will probably come in early February, right near the end of the recruiting process. I might wait until Signing Day, but I guess that could change if one school really convinces me that's where I should be."
The 6-foot-4, 185-pound wideout from Gaffney, S.C. visited South Carolina over the weekend. Did he like what he saw?
"Everything there was real nice," he said. "The school isn't too far from home and Coach Holtz is a great guy. I got the feeling that I'd fit in real well at the school and on the team. The facilities are pretty nice and I think I could be a contributor pretty early on."
The Gamecocks' main competition for Rice will come from SEC rival Tennessee and Syracuse. What does he like about each of those schools?
"Well both of those schools have offered me too, and I've done a lot of research on them. I think I could fit in well at both places and enjoy my time in school there. I like Syracuse's facilities. The Carrier Dome is real cool," he laughed. "And Tennessee's stadium is just amazing."
Rice took an official visit to Syracuse back in early January, and while there's not much time left, he may squeeze in a late visit to Tennessee.
"That's something I'm going to think about but decide on pretty soon. Since I'm down to three, it would be nice to have visited each place. But I don't think it would hurt Tennessee if I didn't. I already know a lot about the school and football program, and I've talked to their coaches a lot."
Rice is a 3-star prospect and is rated the No. 12 player in South Carolina.