Three-Point Stance: Vols' big win; why ND is slumping; goodbye Les
1. VOLS ANSWER CHALLENGE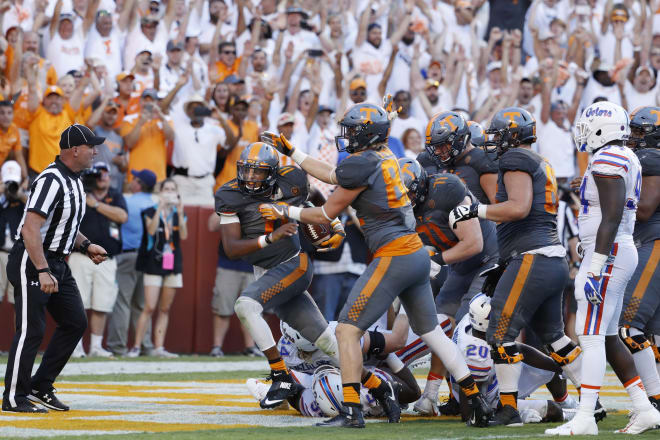 Let's not let the recent failures of Les Miles and his dismissal from LSU overshadow the biggest win for the Tennessee Volunteers in years. If Twitter was the Athletic Director in Knoxville, Butch Jones would have been fired at halftime with an interim coach leading the hapless Vols onto the field for yet another half of ineffectiveness and lackluster play. But here's the great thing about college football – the knuckleheads on social media, with the real media included, don't have that power. There were so many people writing off the Vols as a bunch of head cases and chokers after 30 minutes, it was amazing. And although I picked the Gators and their defense to rule the day in Knoxville, I luckily held my tongue (or tweet) during the game.
Of course, I didn't forsee the sudden change in confidence, execution and physicality that was to come from Tennessee in the second half — I don't think anyone did. But give Jones credit, because whatever he said at halftime and the slight adjustments he made for the last 30 minutes changed his football team from the underachievers we saw against Appalachian State, Virginia Tech and Ohio into world beaters. And to those who were spouting off about this Vols team being like the previous 11 spiraling towards another loss to the Gators, shame on you.
Things don't get easier for Tennessee as the UGA game could be tough with the Vols coming down from such a great win and then Texas A&M and Alabama to follow. But if the team we saw in the second half plays most of the remaining minutes of the season, Tennessee will win the SEC East and give 'Bama a run for its money in the SEC title game. That's how good the Vols can be when it all comes together and Saturday was finally the evidence we needed to see.

2. NOTRE DAME'S ISSUES START WITH RECRUITING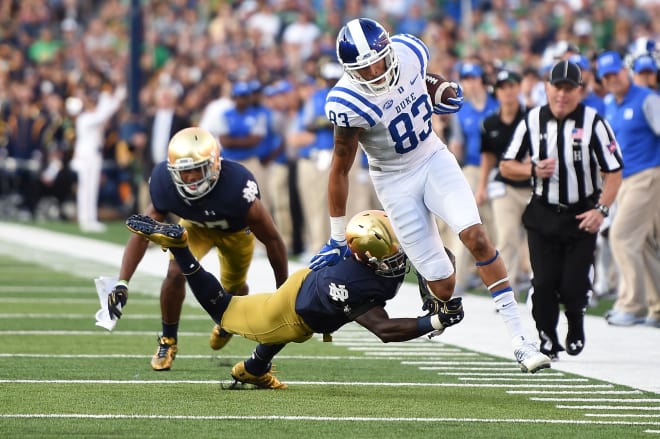 Brian Kelly is in some hot water. His team is 1-3, matching his worst start at Notre Dame in his seven seasons (the first time was his first season) and he's had to fire his defensive coordinator Brian VanGorder (and rightfully so). The coach that took his team to the national title game in 2012 is now 19-11 since 2014. And the rest of the schedule isn't that easy because if Notre Dame can lose to a Duke team that was 1-2 coming in with its lone win against the North Carolina Central Eagles and its two losses at the hands of Wake Forest and Northwestern by double digits, then Notre Dame can lose to Syracuse or Navy or Southern Cal, not to mention teams like Stanford, Miami and Virginia Tech.
So what's the problem on defense? It's a recruiting issue. For every coveted prospect like Nyles Morgan or Tevon Coney or Isaac Rochell — four-star, ND-caliber talent -- you have guys like Andrew Trumbetti, Drue Tranquill, Nick Coleman, Greer Martini and Jamir Jones who might have been reaches. That leads to serious depth chart issues.

Of course, the scheme comes into play and VanGorder's inability to develop players as well as adjust on the fly have been apparent, but his lack of interest in recruiting and, most importantly as a coordinator, closing on prospects was also the worst kept secret in college football. So did Notre Dame settle on some defensive guys because of that? Yes, and these embarrassing defensive performances that have Kelly on at least a warm seat could be traced back to recruiting.

3. FOND FAREWELL TO THE 'HATTER'
Les Miles is gone at LSU. And while I wrote yesterday that it had to happen and happen now, it doesn't mean I'm happy about it. Because Miles, someone I don't know personally, was by all accounts a great man. And he was fun for college football. From his fake field goal flip against Florida in 2010 to his ridiculous clock mismanagement in wins over Auburn in 2007 and Tennessee in 2010, Miles always found a way to make games a tad more exciting. And off the field from humbling himself as a man and eating grass to praising his players and saying "You go find them, you throw your arms around them, you give them a big kiss on the mouth…if you're a girl" after a gutty win, Les Miles was a reporter's dream in many ways.
He won a national title, he will exit LSU with a 114-34 record and his coaching tree includes Jimbo Fisher, Mike Gundy, Bo Pelini and others. He could have left LSU a few times to coach at his alma mater in Ann Arbor, but he always remained loyal and he was loved by his players and assistant coaches through and through.
Miles is done at LSU and the Tigers will be better off for it if they hire the right person, but there is no doubt that Sunday, Sept. 25, 2016, was a sad day for college football as we say goodbye, for now, to "The Mad Hatter".