Three-point stance: UA QBs; 2017 standouts; OL a cut above
1. Ranking the Under Armour quarterbacks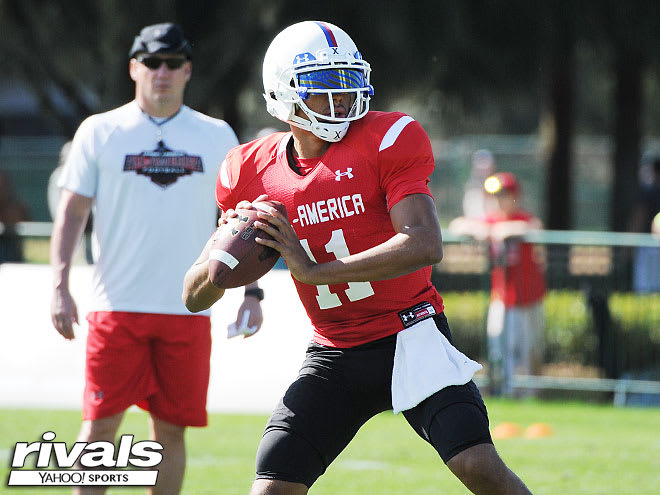 Okay, it's been two days of practice and all six of the quarterbacks have struggled at times. However, that's to be expected with signal callers dealing with new receivers, new plays and getting timing down. So I thought I'd big picture things and rank them based on what I've seen from a mechanics, arm strength, accuracy and poise perspective.
1. KELLEN MOND (Texas A&M commit) --Everyone knows I'm a big Mond guy as I led the charge for his fifth star in our latest rankings release and I like that he's a gamer and doesn't get rattled with the game on the line. Over the first couple of days, the Texas A&M commitment has shown a solid arm, has made some very nice touch passes and has worked on some zone read stuff with his mobility, which is good but not elite. Mond's release is nice, he throws a catchable ball and he sees the field well. He's a bit streaky when it comes to overall accuracy but he has been the most consistent of the quarterbacks through two days.
2. MYLES BRENNAN (LSU commit) -- The LSU pledge was very solid day one for the most part, although his ball did sail on him a bit and he had some trouble shifting his weight properly to get the right launch point. On day two, that was more of a struggle as his ball continues to sail at times, but other times he was on target. He doesn't panic in the pocket, he can move around to extend the play and his arm strength is adequate. Like most of the quarterbacks here, he needs to add weight and strength to his frame, but he's had a solid couple of days.
3. KASIM HILL (Maryland commit) --Hill is the one quarterback who is filled out as he's added good weight, especially in his lower body. His release is smooth and his accuracy is solid, although he does struggle at times with his reads and getting the ball out quick enough. As a dual-threat, like Mond, he hasn't been able to show what he can do on the run or improvising as we'd like, but that will certainly come in the game under pressure.
4. TOMMY DEVITO (Syracuse commit) --DeVito has a strong arm with a ton of zip on short and intermediate passes. He's a bit erratic as on one play he will make a great throw and then the next couple could be off the mark. He rolled out a bit more than some and there have been mixed results there as well. He's more accurate in close quarters than downfield and just needs to be more consistent with his launch point as he could get some passes batted down because of it and his lack of height.
5. AVERY DAVIS (Notre Dame commit) -- There is a pretty sizeable drop off between 4 and 5 as Davis obviously isn't tall and has struggled with his field vision a bit. He has thrown some nice passes, mostly intermediate but also a couple downfield, but he has thrown a few bad interceptions — one into traffic and another right to a linebacker. Davis' strength at the next level is his ability to run and get outside the pocket while being creative and keeping defenses on their toes and we haven't seen him be able to do that, so the game itself will be interesting to see. Think Kyler Murray from a couple years ago, but not nearly as explosive.
6. RYAN KELLEY (Arizona State commit) -- This is not the Ryan Kelley we saw on the camp circuit this past spring and summer. While he always had a bit of a deliberate and lengthy release, the ball is coming out much more slowly than usual and his decision-making has been delayed. His ball has hung in the air as well more times than not and when he gets some zip on the ball, it wobbles. This hasn't been a good couple of days for him.
2. Last year's UA roster was deeper, but this year features some studs
Last year's Under Armour roster was loaded, much deeper than this year, but there are some guys at certain positions that could hold their own. Here's a look at a few.
* MARVIN WILSON (Uncommitted) – The defensive tackle group last year was ridiculous with the 1-2 punch of Rashan Gary and Ed Oliver, but Wilson would fit right in. His ceiling is not as high as Gary's or Oliver's, but he's in the discussion and has been awesome the first couple of days.
* ALEX LEATHERWOOD (Alabama commit) – Leatherwood has been the best offensive tackle through the first two days here (and there have been plenty of good ones) and could certainly hold his own with Ole Miss freshman standout Gregory Little from last year.
* CESAR RUIZ (Michigan commit) – I liked Baveon Johnson a ton last year as the elite center at the game and Ruiz is even better. Ruiz could be one of the best centers I've seen in quite a few years.
* JOSH KAINDOH (Florida State commit) – The defensive end group last year was impressive with Marlon Davidson, Antonneous Clayton, McTelvin Agim and others, but Kaindoh is a better pure pass rusher than any of them at least through two practices.
* LAMONT WADE (Penn State commit) – Levonta Taylor was the No. 1 cornerback in the country last season. Wade is better. He's thicker and brings even more energy to the game.
3. Offensive line is the deepest group in Orlando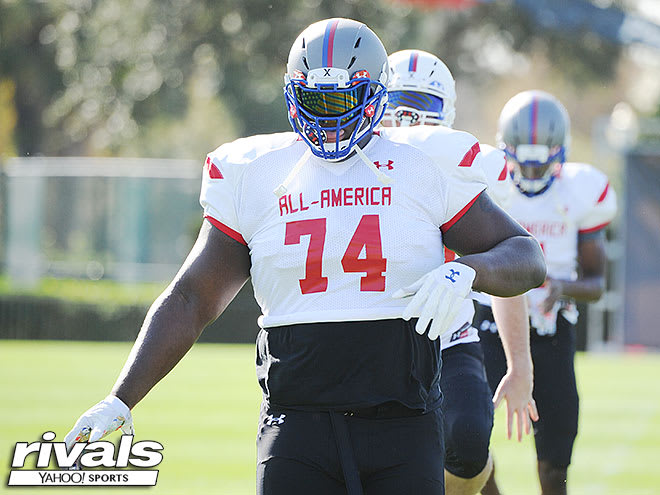 Okay, I've mentioned Leatherwood and Ruiz and how elite they have been through the first two days, but they haven't been alone. I've been impressed with Georgia commitment Isaiah Wilson, Alabama commitment Jedrick Wills, LSU commitment Austin Deculus (especially when working inside and at second level), Auburn commitment Calvin Ashley (working inside), Tennessee commitment Trey Smith (inside as well), Miami commitment Navaughn Donaldson, Penn State commitment C.J. Thorpe and Texas Tech commitment Jack Anderson. The offensive line is the deepest and most impressive position this week by far.