Three-Point Stance: Trevor Lawrence, five-star bust factor
UPDATED RIVALS100: Nine new five-stars | Biggest risers and sliders | Full rankings
Rivals.com National Recruiting Director Mike Farrell's Three-Point Stance is here with a look at how the 2018 class was easier than recent cycles, ranking the 2018 five-stars by bust factor and the safest of the five-star recruits.
1. NEVER ANY DOUBT ABOUT TREVOR LAWRENCE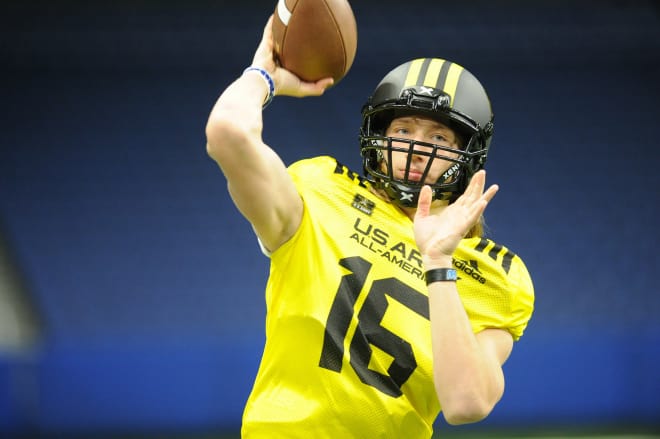 It is usually very difficult to name the No. 1 player in the country, especially over the last several cycles. There are so many more evaluation points than in the past and with them comes more chances to critique players. The choice between Najee Harris, Marvin Wilson and Cam Akers in the 2017 class was an agonizing decision. That followed a 2016 class where we had to choose between Rashan Gary and Dexter Lawrence. The years of Vince Young, Adrian Peterson, Percy Harvin and Terrelle Pryor as bell-to-bell guys are clearly over, with the last bell-to-bell prospect being Robert Nkemdiche in 2013.
However, the 2018 cycle bucked that trend. Trevor Lawrence was No. 1 from the start, and there was never any doubt in my mind he would remain No. 1 throughout. Yes, prospects like Justin Fields, Amon-Ra St. Brown and others pushed, but Lawrence was just too talented to be topped.
Prior to this evaluation cycle, the most impressive quarterback I had ever scouted in my nearly 20 years of experience was Josh Rosen. He is now the second-most impressive. Even during a sub-par Army Bowl, Lawrence showed the mobility, pocket sense, arm strength and ability to zip the ball into small widows on the run that makes him my new No. 1 ever.
Ranking players is hard enough with No. 1 constantly shuffling as it has in recent years, but this cycle was a piece of cake at the top thanks to Lawrence. He is beyond special.

2. FIVE-STAR BUST FACTORS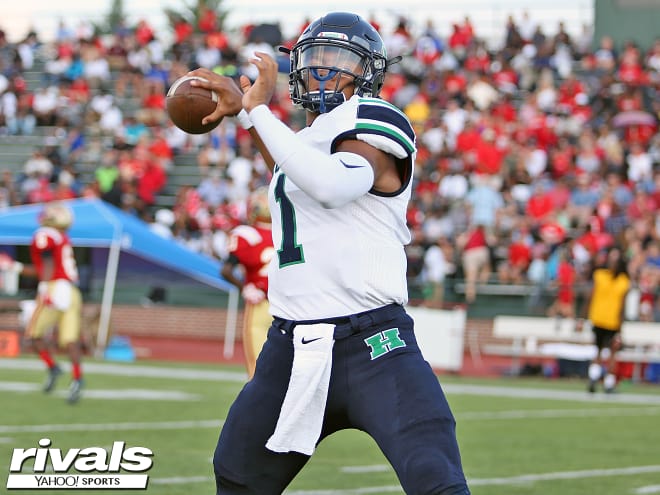 Some prospects, no matter their ranking, end up being busts at the next level. It happens. If we could accurately forecast busts, then we would obviously tweak our rankings accordingly.
Since we cannot, I'll go over our 33 five-star prospects and rate their potential to end up with a bust label.
I will rank each prospect's bust factor from MEDIUM to LOW. There is no such thing as NONE in this discussion because any play could be a player's last play. The same goes for HIGH, because we wouldn't give a prospect a five-star ranking if we felt like there was a better-than-good chance of him ending up a bust.
1. QB Trevor Lawrence – LOW – As stated above, he's the best quarterback I've ever seen at the high school level.
2. QB Justin Fields – MEDIUM – The situation at Georgia is an iffy one and he's a superior talent, but needs some refining in the passing game.
3. WR Amon-Ra St. Brown – LOW – He's going to be a great receiver, there is no doubt about it. He's one of the most sure things on the list.
4. QB JT Daniels – MEDIUM – The early jump and a lack of great height and length has him on the medium list, but he's a special talent.
5. DE Xavier Thomas – LOW – Worth ethic and the ability to play defensive end or grow into a tackle makes him a can't-miss.
6. DE Micah Parsons – MEDIUM – The only question marks I have are maturity and the move to inside linebacker here. He's a freak, though.
7. DE Eyabi Anoma – MEDIUM – Maturity is the big question mark, because otherwise he's a freaky talent.
8. CB Patrick Surtain – LOW – Corners are usually at least medium risk, but Surtain has the size and skill to dominate at either corner or safety.
9. OL Jamaree Salyer – LOW – He'll be a road grader and likely three-year starter. He could play tackle if needed.
10. RB Zamir White – LOW – Running backs are usually always medium, but if he returns healthy, there's no way he can miss.
11. OT Nick Petit-Frere – LOW – A freaky athlete, he could play defense if needed and will be successful at either left or right tackle. He's just starting to scratch the surface.
12. DE Adam Anderson – MEDIUM – A great pass rusher, the only question I have is about his frame.
13. RB Lorenzo Lingard – MEDIUM – The running back factor is here for him as that position seems to have a high bust factor.
14. S Tyreke Johnson – MEDIUM – He's a big hitter who could play corner or safety, but there are some questions about his consistency as a cover man.
15. WR Justyn Ross – LOW – A tall, angular receiver with great body control, it's hard to see him busting out.
16. OT Jackson Carman – MEDIUM – Will he be a guard and can he lose some bad weight in college? He has the skill but does he have the dedication.
17. CB Brendan Radley-Hiles – LOW – Despite his lack of great size, he's a sure thing to be a terrific player.
18. WR Justin Shorter – LOW – His size and speed combination will allow him to dominate at the next level and beyond.
19. OT Cade Mays – MEDIUM – He could be a right tackle or move to guard, but I worry a bit about his footwork.
20. LB Teradja Mitchell – LOW – His tackling ability and instincts should make him a star at the college level.
21. LB Palaie Gaoteote – LOW – Linebackers bust out often but Gaoteote has the range and smarts to be a low risk in this area.
22. RB James Cook – MEDIUM – He has the talent, but could he get caught up in the wash of the depth chart as Georgia continues to add elite running backs?
23. CB Olaijah Griffin – MEDIUM – Does he love football and will he be physical enough and grow out his frame enough to be key in run support?
24. S Caden Sterns – LOW – He's a hitter, he's excellent in run support and he is a ball hawk.
25. CB Tyson Campbell – LOW – He takes some risks but he's too tall and athletic to now be a star at corner or safety.
26. DE K.J. Henry – LOW – High character, great work ethic and a frame to build on with athletic skill, he won't miss.
27. WR Terrace Marshall Jr. – MEDIUM – He has talent but will he dominate and take over games like he should?
28. WR Mark Pope – MEDIUM – My main question is a lack of great size and that he probably has to be a slot receiver.
29. S Jaiden Woodbey – LOW – Others question his focus and concentration but he's too much of a freaky athlete to fail.
30. WR Derion Kendrick – LOW – He reminds me of Percy Harvin, he's that fast around the corner and that will make him dominant.
31. WR Jaylen Waddle – MEDIUM – Like Pope, I worry a bit about his size despite the way smaller receivers are dominating these days.
32. CB Isaac Taylor-Stuart – MEDIUM – He has all the talent and physical skills in the world, but I question his "want to" at times.
33. DE Brenton Cox – MEDIUM – He's a gamer but the knock against him is the work he puts in during the week so I'll put him at medium.
This is how I handicapped the bust factor for 2017's five-stars.
3. THE SAFEST FIVE-STAR
The safest five-star prospect, the one that simply will not be a bust, is not Trevor Lawrence. For all the gushing I have done over his skill level and high school performance, the quarterback position comes with a high bust factor.
The safest 2018 five-star, who just won't bust, has to be Clemson defensive end signee Xavier Thomas because of his work ethic, power and internal drive for greatness. If he doesn't work out at defensive end, the Tigers can move him inside and he can kill it at tackle.