Three-Point Stance: Weekend's best, worst; issues at Texas, Florida
1. WEEKEND WARRIORS
So what is Saturday Shine and Saturday Shame? Essentially it's a look at the teams, and sometimes players, who should be proud or ashamed of their performances from the weekend. This includes Thursday and Friday games of course. So let's take a look at those that shined first…
SATURDAY SHINE
Josh Rosen -- I was a halftime hater on UCLA as it appeared the team didn't want to win against Texas A&M. However, I never hated on Rosen, who was clearly the most talented player on the field and he proved that with an amazing comeback.
Alabama's defense – The Crimson Tide defense didn't miss a beat, although there are some questions in the secondary, as Alabama throttled Florida State on Saturday. This is a team that lost Jonathan Allen, Marlon Humphrey, Reuben Foster, Ryan Anderson, Dalvin Tomlinson, Tim Williams and Eddie Jackson to the NFL Draft on defense alone and still didn't miss a beat. The Tide will be nasty again.
Penn State – Akron isn't great, but Penn State fired on all cylinders and destroyed the Zips. Saquon Barkley was amazing as expected, Trace McSorley was efficient and there is talent replacing Chris Godwin.
Oklahoma State – Tulsa isn't a bad team and can put up some points, so to see the Cowboys simply demolish the Golden Hurricane 59-24 on Thursday was impressive.
Baker Mayfield – Is it possible that Mayfield could have been more efficient in the first half against UTEP? Yes, but only if he went 20-for-20 instead of 19-for-20. Mayfield was lights out.
Don Brown – The Michigan defense looks amazing and faster than last season. Yes, the Florida offense isn't great, but look at what Brown does with his multi-sets and blitzes and you see the best in the game as a defensive coordinator.
Maryland – The Terps came to play, didn't care one bit about the Tom Herman era and flashed some impressive young talent in a huge 51-41 road win.
LSU – I thought BYU would give the Tigers more trouble having played a game already and being a tough out, but LSU's offense was efficient and its defense was smothering.
Clemson – Kent State isn't good but Clemson could have come out flat. Yet they showed no issues with new quarterback Kelly Bryant.
Jake Fromm – Thrown into action right away with the Jacob Eason injury, he handled himself very well and led Georgia with poise against an opponent known for tripping up teams.
South Carolina – Despite a few mistakes, this is a young team with some good offensive talent that could give some teams more trouble than expected.
Notre Dame – Temple is a tough out and has been for years, but Notre Dame ran all over them. Quarterback Brandon Wimbush looked as good as expected.
Missouri's offense – Missouri State is not a great opponent, but seeing Drew Lock throw for 500 yards and seven scores and Damarea Crockett rush for 200-plus shows me this offense could spell trouble for some teams – finally.
2. SATURDAY SHAME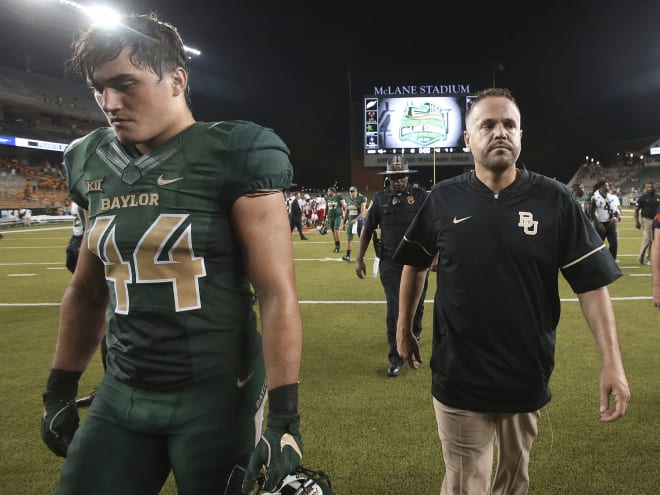 Texas – What the heck happened? This is the Tom Herman era, right? Charlie Strong is gone correct? The Longhorns, especially on defense, looked horrendous as nearly three-touchdown favorites over a Maryland team many expect to finish 6-6 this year or at best 7-5. I'm still a strong Herman believer in the long term, but this was embarrassing at home.
Baylor – Matt Rhule is the right fit for Baylor, but losing to Liberty is an amazing embarrassment.
Washington – Beating Rutgers by only 16 points when you're considered to be one of the Pac-12 favorites and a playoff contender is simply awful. The running game looked bad and quarterback Jake Browning nearly got killed. Either Rutgers is a lot better than we expected or this Washington team could be in trouble.
Sam Darnold – His streak of multiple touchdown passes ended, he threw two picks and he just didn't look that comfortable against Western Michigan. It's likely just a bad game, but still an area of concern for USC.
South Florida – Charlie Strong strikes again. Yes, the Bulls won 31-17, but this was against Stony Brook and USF trailed at the half.
Louisville – Purdue isn't a good team and it took nearly 500 yards of offense from Lamar Jackson to squeak out the win. Not a great sign.
Ohio State – My pick to win it all, the Buckeyes reminded me of the 2015 team that was so talented but often played down to their opponents. They came alive in the second half, but this could have been a disaster.
Florida's offense – Missing Jordan Scarlett and Antonio Callaway hurt, but do we really believe they would have made enough of a difference for the Gators? They were dominated on both sides of the line of scrimmage all game long.
Wilton Speight – Two picks-sixes made what should have been an absolute embarrassment over Florida a respectable score at 33-17. The defense bailed him out.
Brandon Harris – Ouch. Different uniform but same result.
Nebraska – For a team hoping to take the next step, a near loss to Arkansas State at home is not a good start at all. Arkansas State is a team that lost to Toledo by 21 last year and to Auburn by 37. Bob Diaco's defense needs to step up.
Oregon State – After a season-opening drubbing against Colorado State, the Beavers barely got past Portland State. This isn't looking good.
3. WHICH HAS BEEN WORSE?
Florida's offense was dominated by Michigan. Texas' defense gave up 51 points to Maryland. These units used to be elite, but have become dregs over the last few years.
It begs the question: Which has been worse?
To me, it's clearly the Longhorn defense. My goodness what has happened in Austin? Since the 2013 season, the last time Texas had a winning season, the Longhorns have given up 30 or more points 19 times in 38 games. That is unthinkable considering the level of talent that Texas brings in on a yearly basis.
No one expected such a big step backward in the 2017 opener. The way the team responded - or, rather, didn't respond - on every critical down and continued to take bad angles and miss easy tackles was extremely disappointing. There were zero differences between the defense that stunk under Charlie Strong in 2016 and the defense that stunk on Saturday – zero.
As a Tom Herman believer, I was stunned. I still think he will be a good hire long-term, but that was a terrible showing on Saturday.
I actually put Texas down last week in my column as potentially under-ranked in the preseason AP Top 25. Under-ranked! What does that make me? A moron? Perhaps, because this looked nothing like a team that could approach nine wins or surprise some teams.
At least the Florida offense, which has stunk for a long time, can partially explain its performance against Michigan by pointing to the loss of two offensive stars and having to break in two new quarterbacks. Jim McElwain needs to fix the offense and develop a quarterback, but he also has two SEC East titles to his name and, once again, a defense that looks promising.
What does Texas have? We had better see a bit more of anything against San Jose State next weekend and especially against USC on Sept. 16. Ouch.