Three-point stance: MVP, RBs, gutsy calls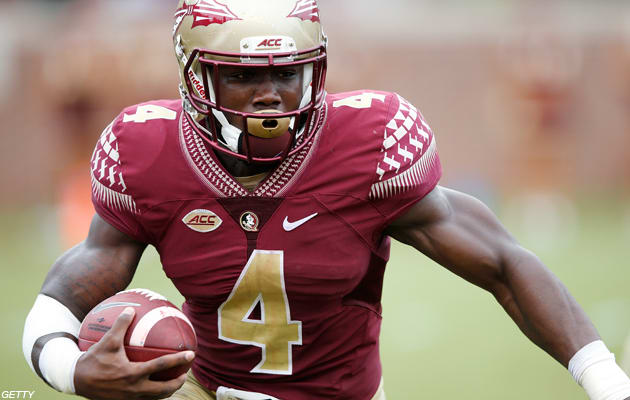 The big five running backs this season in college football are, as everyone
I've been asked to rank them coming out of high school, how they are as college
backs and how they will project as NFL players.
Since not all of them were in the same recruiting year -- Fournette, Chubb and
Cook are class of 2014 and Elliott and Henry are class of 2013 -- the ranking
out of high school is an interesting question. I'd have them in this order:
Fournette, Cook, Chubb, Henry and Elliott. There were few questions about
Fournette as the No. 5 player in his class and Cook was No. 18 in the same
class. To me, they are a smidge ahead of Chubb and Henry who I would put in that
order. Elliott, who was ranked No. 84 in 2013, was a notch below the other four
as a high school prospect.
In college, Elliott has improved his speed and suddenness quite a bit and
adding strength which puts him
right behind Fournette on this level. Chubb, prior to the injury, would
be No. 3 which means amazingly that Cook is No. 4 and potential Heisman
front-runner Henry is No. 5.
How do I rank Henry No. 5 after his dominating performance over Fournette and
LSU this past weekend? It's not easy, but I think he has the best offensive line
and most weapons surrounding him on offense which keeps defenses more off
balance.
You could say the same for Elliott right? That's an excellent point, but Elliott has more home run ability than Henry and the same could be said about Chubb prior to his injury. Tough call for sure.
And as far as NFL projections? I would put Fournette first followed closely by
Elliott, Cook, Chubb (again if he comes back 100 percent, which is
unlikely) and then Henry. I guess Henry, a great running back for sure, still
has me wondering how he does what he does being such a big, upright target and
how that will translate to the NFL. But as high as he was ranked out of high
school (No. 36 in 2013), he keeps playing higher than that grade so what do I
know?
3. Gutsy calls
year because of his big mouth, but I'll tell you this: he has serious guts.
Going for the win in the first overtime in his team's 53-52 victory
well, going for it on a 4th-and-6 play from Arkansas' 49-yard line (and failing)
giving the Razorbacks nine seconds to break a 45-45 tie in regulation. It nearly
backfired after a 21-yard reception which led to a missed 47-yard field goal to
end regulation. But I applaud Freeze after watching so many games get blown this
year by bad special teams play and so many coaches playing conservative football
will magically run out.
Freeze took things into his own hands and it nearly backfired, but that's the
kind of coach I would want to play for. And, sideline antics and inability to
keep his foot out of his mouth aside, Bielema's aggressiveness makes him the
kind of coach I'd want to play for as well. He wasn't about to let his defense,
which struggled all game and was dead tired, go out there for another series
when he knew his offense had Ole Miss on the ropes.
Kudos to both coaches. Recruits will take notice.
Mike Farrell
National Recruiting Director