Three-point stance: Most talented rosters, Calibraska, Mark Dantonio
Today's edition ranks the most talented rosters in college football, looks at Nebraska's surge and shares some truths about Michigan State head coach Mark Dantonio.
1. The most talented rosters in college football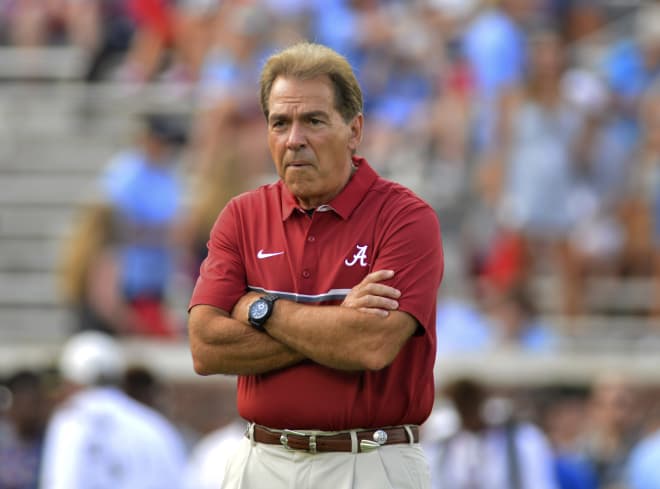 After watching Ohio State dismantle Oklahoma 45-24, I began to reevaluate my initial thought that the Buckeyes were too young to win it all this season. Yes, I picked the Buckeyes to beat the Sooners, but I expected a close game. What I saw instead from Ohio State was a dominant roster that was simply reloading after the departure of Joey Bosa, Ezekiel Elliott, Eli Apple, Taylor Decker, Darron Lee and others. But do the Buckeyes have the most talented roster in college football like they had last year? Nope, but they are close.
1. Alabama – Duh, right? When you have players like Cameron Robinson, Calvin Ridley, OJ Howard and young guys like Damien Harris on offense, and that's your weak side of the ball, you know you're loaded. Pick a position on defense and you'll find a future NFL star. From Tim Williams and Jonathan Allen to Reuben Foster to Eddie Jackson, Marlon Humphrey and Minkah Fitzpatrick on defense, it's embarrassing how loaded the Tide are. When the No. 1 player in 2014, Da'Shawn Hand, can't find a place on your defensive line, you know you're loaded.
2. Clemson – This was closer than you might think. Clemson has the clear quarterback advantage with Deshaun Watson and the Tigers are loaded on offense with players such as Mike Williams, Wayne Gallman, Mitch Hyatt and Jordan Leggett. The same can't be said of the team's defense. The defensive tackles are out of this world with Christian Wilkins, Carlos Watkins and Dexter Lawrence. Ben Boulware and a couple of others are studs in the back seven, but there are a few holes back there as well.
3. Ohio State – The Buckeyes are loaded, they are just a bit young compared to the first two. J.T. Barrett appears to be as unstoppable as ever, Mike Weber is a beast and Curtis Samuel, Dontre Wilson and Noah Brown are all offensive stars. Defensively, Raekwon McMillan is the best linebacker in the country and the secondary looks amazing, but there are a few question marks in the trenches. That being said, this could easily be the most talented roster in football as early as next year and isn't far off this season.
4. LSU – LSU is loaded on both sides of the ball. The running back duo of Leonard Fournette and Derrius Guice is sick, Malachi Dupre and Travin Dural are both ultra-talented guys who haven't been utilized thanks to poor quarterback play. Defensively, pick your poison. From Arden Key and Lewis Neal to Kendell Beckwith and the combo of Tre'Davious White and Jamal Adams, there is no lack of talent in Baton Rouge. That offensive line has been up and down the defensive tackles leave a bit to be desired, and the quarterback issue keeps them down at No. 4.
5. Florida – This was the toughest selection by far because many teams could make a case for No. 5, but the Gators, especially on defense, are stacked. Florida has talent on offense as Antonio Callaway is a stud at receiver, David Sharpe and Martez Ivey are a talented duo on the offensive line and the team has some talented young running backs. But it's on defense where the Gators slide into No. 5. Bryan Cox Jr. is on my list of the most overlooked pro prospects in the country, Caleb Brantley is a monster in the middle, Jarrad Davis is one of the elite middle linebackers around and the secondary is headlined by Jalen Tabor, Quincy Wilson and Marcus Maye. The lack of an elite quarterback hurts and there are some holes offensively, but overall this roster is loaded.
2. Calibraska Dreaming
Here's the way things are for the Nebraska Cornhuskers. They are recruiting California as well as they ever have. USC stinks. Nebraska has now beaten Oregon and UCLA in the last two seasons, two Pac-12 teams that recruit the state of California very well, and sent a message to those Golden State prospects in doing so. Nebraska has a head coach in Mike Riley with great California ties. Keyshawn Johnson Sr., who played under Riley at USC and is a very influential 7-on-7 coach in the state, is in the Huskers' corner. The program hosted a slew of top California kids for its opener against Fresno State in front of an amazing crowd. To top it all off, the Huskers have a real shot at winning the Big Ten West with huge games at Wisconsin and Iowa looming down the road.
All of this has to be putting Nebraska in great position to land at least a couple more big recruits from California, right? Back when I said that Nebraska probably wouldn't pull a ton of big-time guys from California, I expected USC to be much less of a train wreck, I figured Rosen Fever would be spreading at UCLA and believed that the Huskers might get tripped up by the Ducks early. Now? There's a long way to go, but Nebraska is positioning itself very well to make an even bigger splash in Calibraska than I originally thought.

3. Truths about Mark Dantonio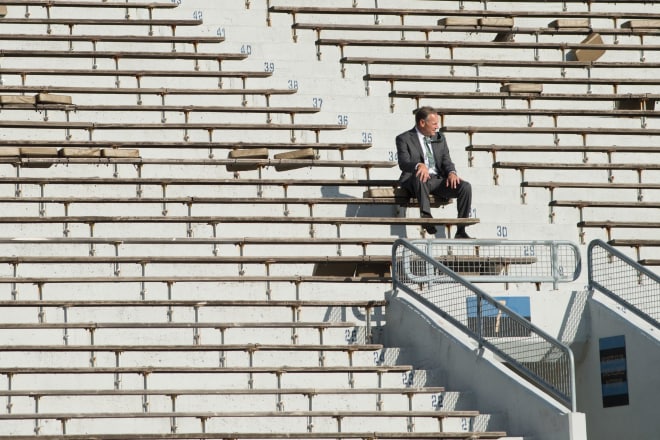 I picked the Spartans to beat Notre Dame outright because I've learned a few things from Mark Dantonio. No, we aren't Facebook friends and don't text until the wee hours of the night. Heck, I don't think I've ever met the man. But I feel I know so much about him and I'd like to share what I've learned with you.
Dantonio wants his recruits ranked low. He is a great talent evaluator that doesn't give a damn what other programs, if any, have offered a recruit he wants. Dantonio wants tough kids, physically and mentally, who fit and buy into his program. And he wants the media to pick against his team at every turn. Dantonio thrives in the underdog role and he wants to make you look stupid for doubting him. So later this season, when Michigan State plays Michigan and Ohio State, I'll most likely pick the Spartans to win those games as well unless I become one of those stupid people.
In the meantime, now you see why I have him in the national top five ahead of the other guy in the state of Michigan.