Three-Point Stance: Kelly Bryant, conference rankings, predictions
1. Kelly Bryant's transfer from Clemson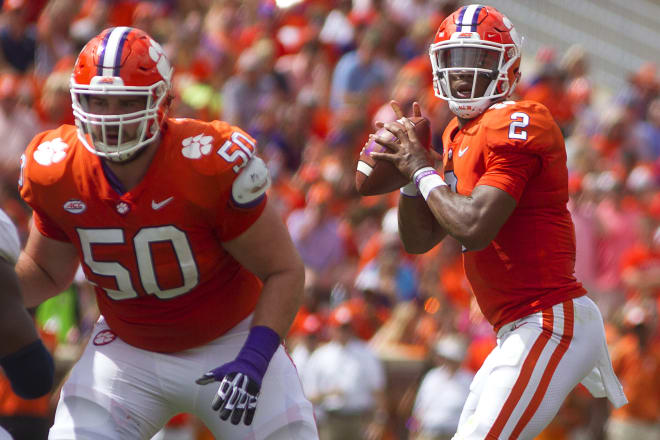 When I first heard that Kelly Bryant was transferring from Clemson after losing the starting quarterback job to Trevor Lawrence, my reaction was one of irritation. Here we go again, I thought, another quarterback who can't handle being demoted and is bailing on his team. I was especially annoyed that this was occurring during the season and that Bryant is still much-needed by his teammates despite being relegated to a backup role.
What if Lawrence breaks his ankle this weekend? What if he struggles in a big game down the road and Bryant's senior leadership is needed? Bailing on your team and coaches because of a setback is not a sign of great character, and Bryant will be flagged in a big way if he gets any looks at the NFL level because of it.
But then the understanding side of me (and yes, there is one) started to break through. If Bryant didn't transfer and played another game, his college career would be over and there would be no next season for him. If he thinks he's a valuable starting quarterback, then why not leave and pursue another season where he can be "the man" and continue to pursue his NFL dream? You see how this situation can lead to mixed feelings?
But the "get off my grass" part of me wins out here. I didn't like the way Bryant said it was like a "slap in the face" to get benched for a quarterback that is clearly better and more talented and the way he attacked his former coach, Dabo Swinney, in a roundabout way. After all, Swinney could have started Bryant against Syracuse, ended any chance he had to redshirt and continue his career, and then bench him the next game.
But the Clemson coach did the right thing for his player and shouldn't have received some of the venom spit his way. The bottom line is this: In this "mamby pamby" world we live in, where quarterbacks can't handle any adversity and transfer the moment things get rough, I'm getting tired. Clemson has a chance to win a national title this year and Bryant could still be a big part of that. His teammates were counting on him and despite any public support have to feel a bit betrayed and abandoned by his actions. So, red flag him NFL teams, and buyer beware when it comes to a transfer, because there's no guarantee he won't quit on the next team he plays for as well.
2. Ranking the Power Five conferences 
The Pac-12 is almost out of the playoff. If Stanford loses to Notre Dame, the chances of a team from the Pac-12 making the four-team playoff become slim and none, at least in my opinion, and we haven't even hit October yet. Does that put the Pac-12 as the No. 5 conference in the land when it comes to the Power Five? Here are my ratings.
1) SEC – This is a tough call over the Big Ten, but I've been a little disappointed in the Big Ten overall and the SEC has two of the top teams in the country in Alabama and Georgia. Throw in LSU's great start and some key out of conference wins like Auburn over Washington and you have the SEC back on top of the power rankings. The SEC could have two playoff teams, depending on how things shake out.
2) Big Ten – Ohio State has been excellent, while Michigan is rebounding and Penn State continues to find ways to win. The Ohio State-Penn State game will be a big one this weekend, but with Michigan State struggling a bit and Wisconsin's loss to BYU, the conference is down a bit this year so far. However, the Big Ten should have one playoff team emerge.
3) Big 12 – The Big 12 is better than expected, and the emergence of Texas has been huge. Oklahoma is still the cream of the crop in the conference, but West Virginia is no slouch, either. There are many good teams, but only one great one, and I think OU has to run the table for the conference to have a playoff team.
4) ACC – The ACC stinks, but Clemson elevates the conference above the Pac-12 because it is a superpower. TheTigers will have to run the table or finish with one loss to get a playoff berth, but that seems likely. Who's the second best team in the conference? Good luck figuring that out.
5) Pac-12 – It's ugly in the Pac-12, and like I said if Stanford loses to Notre Dame this weekend it will get uglier. Washington has a big out-of-conference loss that will hurt, USC looks horrible, and no other team appears ready to step up. Washington could win the conference and be left out, easily.
3. Predictions for this weekend's top games
Prediction time for the weekend with some very interesting games going on …
Ohio State at Penn State – This is a tough call because the home atmosphere at Penn State is so amazing and it will play a role in the game. However, Ohio State is on such a roll and playing so well I think it pulls this one out by 10 points.
Stanford at Notre Dame – A very good matchup here, but with the home-field advantage and Ian Book playing very efficiently, Notre Dame wins a close one by a field goal.
South Carolina at Kentucky – Kentucky has South Carolina's number and will continue its roll toward a potential showdown with Georgia with a very close win.
Syracuse at Clemson – Trevor Lawrence is the man under center and Clemson should win this one going away despite how well Syracuse has been playing. Look for a rout here.
West Virginia at Texas Tech – Texas Tech has been good, but the defense gets exposed here against a potent West Virginia offense and the Mountaineers win in a runaway.
Texas at Kansas State – I'm not impressed with Kansas State, and I know it traditionally gives the Longhorns trouble, but in this case Texas should handle the Wildcats fairly easily.
Florida at Mississippi State – Dan Mullen against his old team should be a fun match-up to watch, and I'm going with Mississippi State and its balance to beat Florida.
BYU at Washington – BYU has some nice wins on its resume, but Washington should take this match-up. Can Washington finally blow out a team? This could be a breakout game for the offense.
Virginia Tech at Duke – Duke is undefeated, playing well and Virginia Tech is coming off an awful loss. I'll take Duke by a touchdown.
Ole Miss at LSU – When will LSU get tripped up? Everyone is expecting it, but I don't think it's against Ole Miss, as LSU wins by double digits.
Oregon at Cal – Cal is one of the surprise undefeated teams in the country and Oregon is coming off a horrible blown lead versus Stanford, so watch for Cal to pull the upset here.