Three-Point Stance: Commits galore; reviewing spring games
Rivals.com National Recruiting Director Mike Farrell's thought-provoking Three-Point Stance is here with a look at the week's biggest commitments, Oklahoma makes history and five things of interest from spring games this past weekend.

1. A BLITZ OF COMMITS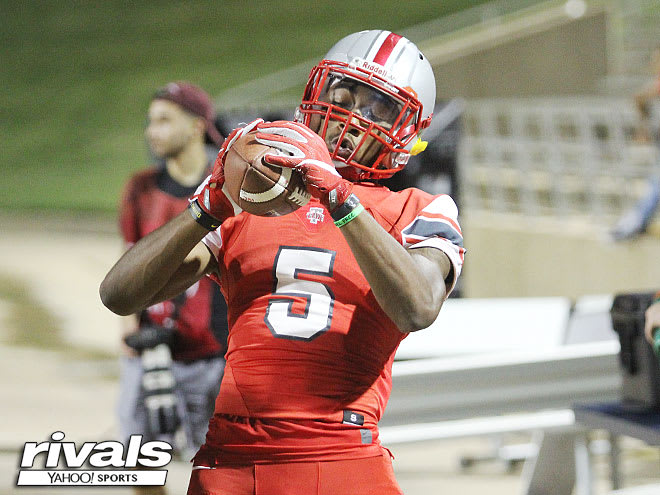 What a week. Commitments are heating up and it's getting harder already to name the top commits of each week. Here's my best crack at it.
1. WR Theo Wease, Oklahoma – A big, physical and gifted receiver who can simply dominate at the next level.
2. WR Arjei Henderson, Oklahoma – See Theo Wease description.
3. WR Maurice Goolsby, Florida State – See Wease and Henderson. Goolsby is just a tick behind as a pure receiver.
4. QB Drew Pyne, Notre Dame (2020) – The quarterback position always pushes players to the top of this list and Pyne is one of the best in the 2020 class.
5. OL Dontae Lucas, Florida State – A road grader I really like, he's going to help the toughness at FSU up front.
6. WR Frank Ladson, Clemson – Another elite receiver goes off the board. Ladson is a super talent as well.
7. Christian Williams, Alabama — Lockdown cornerback with great instincts and length could play very early.
8. QB Taisun Phommachanh, Clemson – Talented quarterback brings a few different things to the table to Clemson's crowded quarterback group.
9. QB Max Duggan, TCU – A good fit for the Horned Frogs and a talented passer, this is a huge get for Gary Patterson and company.
10. ATH Ronnie Hickman, Ohio State – Add another great athlete to the Buckeyes roster, this kid can play many places.
11. LB Jaleel McRae, Florida State – Another elite defender chooses FSU.
12. DB Jamal Morris, Oklahoma – A big-time defender could be more important than the offensive firepower.
13. OL Bryan Hudson, Virginia Tech – A big, nasty offensive lineman who has a high ceiling is a massive get for the Hokies.
14. CB Nyquee Hawkins, Virginia Tech – A great fit for a defense that plays with a chip on its shoulder.
15. DB Te'Cory Couch, Michigan – More help from the Southeast, the key to winning it all.
16. RB Cesare Mellusi, Clemson – Another dynamic athlete for the Clemson offense, Mellusi brings versatility and speed.
17. DE Braxten Croteau, Cal – Tall, lanky rush end with a great motor and excellent technique for his age.
2. OKLAHOMA'S HISTORIC WR DUO
The top two commitments of the week are future Oklahoma Sooners, of course as they landed two five star wide receivers in Theo Wease and Arjei Henderson. If the re-commitments stick, and they should, it would be the fourth time in Rivals.com history that a program landed two five-star wide receivers.

In 2010 USC signed Markeith Ambles and Kyle Prater, in 2014 Florida State signed Travis Rudolph and Ermon Lane and just last year Clemson landed Derion Kendrick and Justyn Ross.

Oklahoma has only signed one five-star wide receiver in Rivals.com history and that was Trey Metoyer. USC has signed the most in our history with 9 followed by LSU (7), Clemson and Florida State (5 each), Alabama (4) and Florida, Miami and Tennessee (3 each).

Both Wease and Henderson are currently in the national Top 10 and if that sticks it would be the first time two wide receivers in the national Top 10 signed with the same school.

3. FSU'S NEW LOOK OFFENSE AND MORE SPRING GAME MUSINGS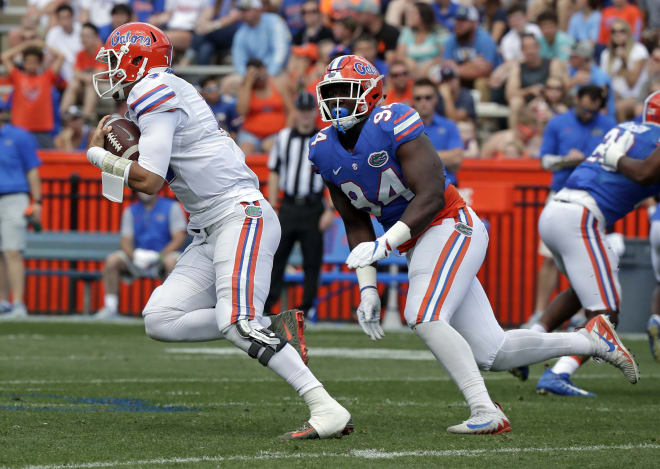 Here are five things that I took notice of during this past weekend's spring games…
FSU's up tempo offense – The Seminoles offense looks fun huh? Willie Taggart has brought his up-tempo offense to Tallahassee and the results look pretty good. After a horrible season last year, things will be exciting at FSU this year at least on the offensive side of the ball. Oh and let the Khalan Laborn is better than Cam Akers talk start, right everyone? That's how we react to things these days. In all seriousness, Laborn looked impressive for sure.
Clemson's QB competition – Kelly Bryant didn't look great and Trevor Lawrence looked very impressive and let's not forget Hunter Johnson and Chase Brice here. With such an embarrassment of riches at quarterback, Dabo Swinney will have a decision to make. And if he makes the wrong decision, he has the help off the bench for sure. Based on the quarterback depth alone, Clemson will be competing for the ACC title and a playoff spot for a long time it seems.
Excitement in Aggie land – Nearly 50,000 fans showed up to watch Jimbo Fisher and his squad, a spring game record, as the offense looked solid and the quarterback battle between Nick Starkel and Kellen Mond raged on. Aggies fans are excited about their new coach and offense and they should be as Texas A&M will be a tough team to beat in the SEC West before too long.
Franks running wild – Feleipe Franks ran for two scores and threw for another and looked like a much improved quarterback already under Dan Mullen. He has some competition for the starting job, but maybe he will hold off Kyle Trask and Emory Jones and turn into the standout many felt he could become out of high school. He certainly has the physical ability.
Buckeyes QB decision – It was supposed to be Dwayne Haskins and everyone else and it still could be, but after impressive performances from Joe Burrow and Tate Martell the Ohio State quarterback battle could be closer than some think. Urban Meyer, of course, is playing it up as if it's not a done deal but I still think Haskins is the guy, but the depth at quarterback in Columbus is impressive.