Three-Point Stance: Commitment predictions, Pat Mahomes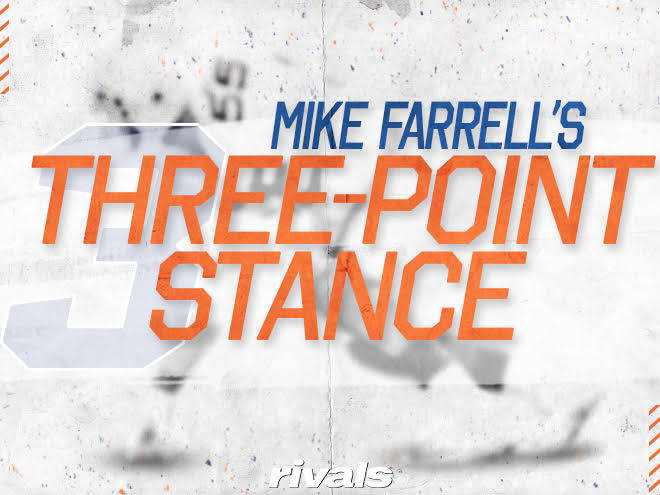 1. PREDICTIONS FOR UNCOMMITTED RIVALS100 PROSPECTS
While there aren't a ton of prospects left unsigned for National Signing Day, there are still enough to make things very interesting. And there is plenty of drama and guesswork to be done so here's my best shot at uncommitted prospects left in the Rivals100.
OL Darnell Wright – Tennessee. This should be one of the less dramatic announcements on Wednesday as the Vols have been the strong leader for some time. This would be a huge pickup for Tennessee and really help the program's 2020 momentum.
ATH Jerrion Ealy – Clemson. This one has become tough and I'm basing my pick on baseball to be honest. Alabama made a late push and Ole Miss could land him as well, but I'm sticking with Clemson here.
CB Kaiir Elam – Florida. This one has been between Florida and Georgia for a while but with family ties to Florida, Elam ends up with the Gators and could become a star.
DT Ismael Sopsher – LSU. This one has gone back and forth between LSU and Alabama, but confidence is high that he will stay in-state. The former five-star has a ton of potential and could be a star if he can just be more consistent with his motor.
DE Charles Moore – Auburn. This is a very tough one and if you asked me two weeks ago, I would have said Florida but Auburn has the momentum and has taken the lead here. However, it wouldn't stun me whoever he picks or if he decides to push things beyond Signing Day.
LB Henry To'oto'o – Alabama. To'oto'o has played things close to the vest but Alabama lands him in the end and he could be an immediate impact guy.
RB Mark-Antony Richards – Auburn. Because of his brother, many expected Miami to be the pick here but it really comes down to Florida and Auburn and the Tigers closed the deal this weekend. He's a great fit for the Auburn offense.
2. MORE COMMITMENT PREDICTIONS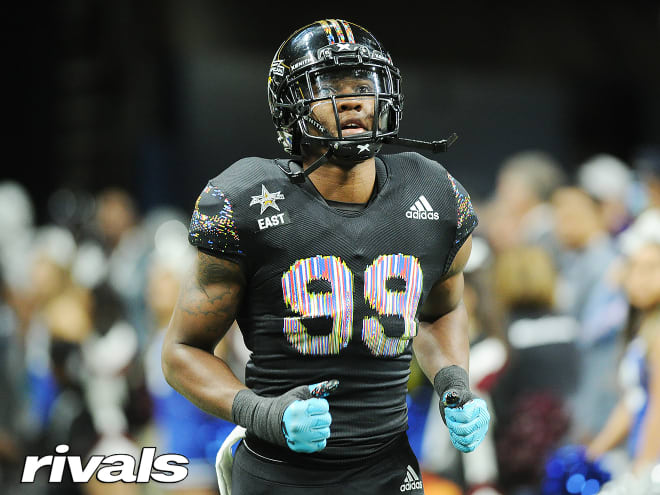 Here are some more predictions for prospects that are of great interest to many fan bases.
WR George Pickens – Auburn. Pickens might not sign at all and I've heard everything from he's a Georgia lock to he's going to surprise everyone and pick Tennessee. However, I still think he sticks with Auburn thanks in part to his great relationship with the coaching staff and five-star quarterback signee Bo Nix.
S Nick Cross – Penn State. I'm hearing different things on this one, but there is much more chatter about Cross flipping to Penn State after a visit weekend than sticking with Florida State. This would be a great pickup for James Franklin, one of the best recruiters in the country.
DE Khris Bogle – Miami. Bogle chose Alabama at the All-American Bowl when I expected him to pick Miami. Now he flips to the 'Canes.
DT Byron Young – Alabama. Young will sign with Alabama. Keep an eye on this kid as he could be one of the surprises of the 2019 class. I have a feeling he's going to end up as a great player for the Crimson Tide.
DT Nathan Pickering – Mississippi State. Alabama made a strong push but he resisted and he is a huge pickup for the Bulldogs. This kid has a chance to be an SEC star.
S Christian Williams – LSU. Alabama pushed to have him sign early but when he didn't, it moved on and I think LSU lures him away from the Tide. Alabama fans will act as if they don't care about this, but this kid could be a good one.
DE Quashon Fuller – Florida State. Alabama and others are trying to sway him away, but he sticks with Florida State in the end and becomes a standout there.
ATH Devonta Lee – LSU. Kentucky has made a nice run here, but he stays home and adds to a very good class for LSU.
3. MY DUMBEST TAKE EVER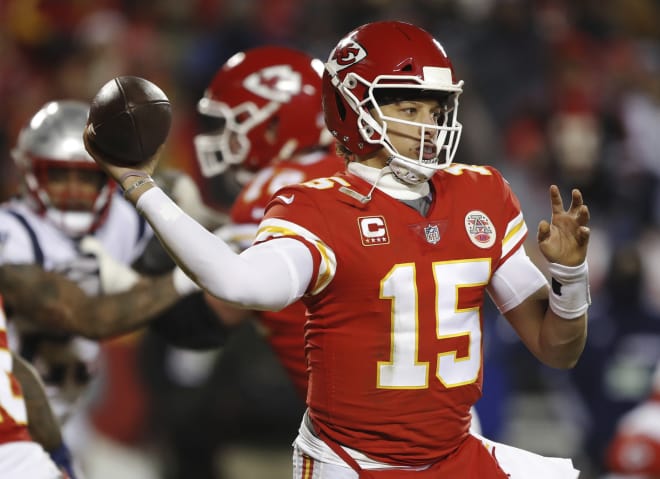 OK, I've said some dumb things over the years. That's the nature of the business I'm in. However, there is one tweet that will end up being my dumbest ever and will be hard to beat.
Now, as we all now, Pat Mahomes was named the NFL's MVP in his first full season as a starter. The former three-star prospect threw for 5,097 yards and 50 touchdowns and led the Kansas City Chiefs to the AFC Championship Game. And now I look very dumb. It was a dumb take and a horrible prediction.
What was I thinking? I was a big fan of Mahomes' arm strength, but felt that if a team were trading up at the time, it should have been for DeShaun Watson, who I saw as a much safer and better pick. I honestly felt that the things I saw from Mahomes – the freelancing, throwing across his body on the run, sidearming the ball and trying to fit it into tight spots – would make him a turnover machine in the NFL.

Clearly, I was wrong. Mahomes has been nothing short of remarkable so far in his career in the NFL and we could just be seeing the beginning. Last year when Watson was dominating before his injury and Mahomes was sitting, I felt very good about my amazing prediction. Now? I feel very stupid.
Please, feel free to head to Twitter and hit me up @rivalsmike and call me whatever you want regarding this hot take. And to Mahomes, who I ranked as a three-star out of high school, I apologize. I was clearly wrong.