Three for three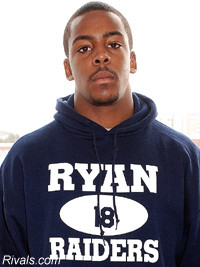 Tuesday Colorado went a perfect three-for-three by landing major commitments from highly talented prospects.
After landing a pledge from four-star offensive lineman
Bryce Givens
and then securing a pledge from talented linebacker
Doug Rippy
, the Colorado coaches received more good news when Denton (Texas) Ryan defensive end
Josh Williams
pledged to the Buffs.
Williams, the nation's No. 14 weakside defensive end, pledged to the Buffs over Kansas, Kentucky, Missouri and Nebraska. He also had scholarship offers from Oklahoma State, Texas, Texas Tech and Arkansas. The addition of Williams was like icing on the cake and capped off about as perfect of a day as it could get for CU.
"I had been talked to Bryce and Doug and when the committed, it just made it even easier for me to join them," Williams, who is 6-foot-4 and 220 pounds, said. "I've had a good feeling about Colorado ever since I visited them. I'm glad the decision is now behind me. I can focus on the rest of my senior year and spending the holidays with my friends and family."
Williams is a prototypical pass-rushing defensive end that exploded onto the scene with an amazing senior season. As a senior, he recorded more than 70 tackles, 20 tackles for loss and 10 sacks. He originally made a commitment to Nebraska, but when the Husker coaching staff was let go, it opened the door for other schools to make a play at him.
"Colorado likes the fact that I am physical and I get after the quarterback," Williams said.
"They said they need that at CU, they have a lack of pass rushing defensive ends that really get after it. So I felt real good about that."
Williams' pledge should easily put the Buffs in the top 20 of the Rivals.com team rankings and they could climb even higher as many other high-profile recruits – including the nation's No. 1 running back,
Darrell Scott
, continues to list CU high on their lists.