Three finalists for Florida DB Dontae Balfour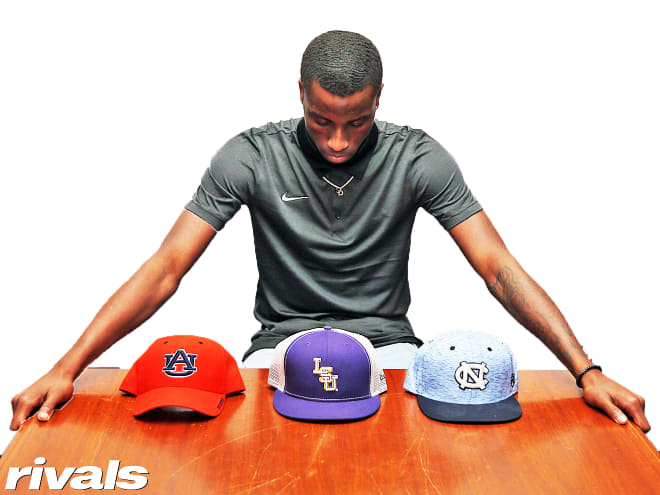 Starke (Fla.) Bradford cornerback Dontae Balfour almost signed in the December Early Signing Period. That's right — almost.
The long, rangy, athlete decided late not to sign, to take the month of January to really focus on the schools he could see him at, and now, just over two weeks before Signing Day (February 3), he has gotten his list down to three.
"LSU, Auburn and North Carolina are my top three schools and I am planning to sign with one of those Signing Day," said Balfour. "Things have been going good with each of those schools, I am talking to them almost every day and those three schools are the ones I like the most."
Back in December, the Tigers on the Plains had the lead, and most felt Balfour was going to sign with Auburn leading into the Early Signing Period, but when Gus Malzahn was removed from his head coaching position, things changed quickly.
Bryan Harsin is now in charge, and two new coaches at Auburn have quickly jumped in and started to recruit Balfour.
"Auburn is still Auburn, and it is a good school, but the coaches are new, so they are recruiting me hard and trying to catch up now. I am talking to coach Zac Etheridge almost every day and I have talked to coach Derek Mason a good bit too.
"Both coaches are cool guys. I like coach Etheridge, and he is really trying hard to build a relationship with me. Coach Mason is more chill, and we have had some good, deep talks. They both seem like good dudes."
Balfour is looking at Auburn the same, and he is still high on the SEC school, but they no longer are the top school. He does not have an order any longer, and the Tigers in Baton Rouge and Tar Heels in Chapel Hill are making strong cases for their schools.
"North Carolina came in and offered me Christmas Eve, and since then, we have been talking a lot," said Balfour. "They are coming at me hard, and coach Dre Bly is cool. I have talked to coach Bly every day since they offered, and he talks to me about the NFL, how he has been there, and how he can help me develop to be there one day.
"I have talked to coach Mack Brown too, and he is a great guy, a good coach, and North Carolina looks like it has some great coaches and a cool environment.
"With LSU, it is all about coach Corey Raymond. He has coached a lot of top defensive backs, he has put a lot of guys into the NFL and we have a good relationship. He is very straight-forward, he is real and he has talked about my skills, how he can help me and what he can do with me.
"Both LSU and North Carolina have a lot that I like, especially the coaches."
Auburn, LSU and North Carolina have done virtual visits with Balfour, and each made strong impressions. The three-star is staying in contact with coaches from each school daily, and he is hoping to have a decision made at some point next week.
"I am not going to announce anything until Signing Day, but I am talking with my family about everything, and I hope to know pretty soon which school is best," said Balfour. "The relationships with coaches is important, but will really come down to just how I feel inside. I will go to the school I feel best about."
His recruitment picked up late, once his senior film got out, and new offers still could arrive. Georgia and Oklahoma are two schools that have picked up their interest over the last week, and Balfour said it is not too late for any school to jump in the race.