Thompson's a Tiger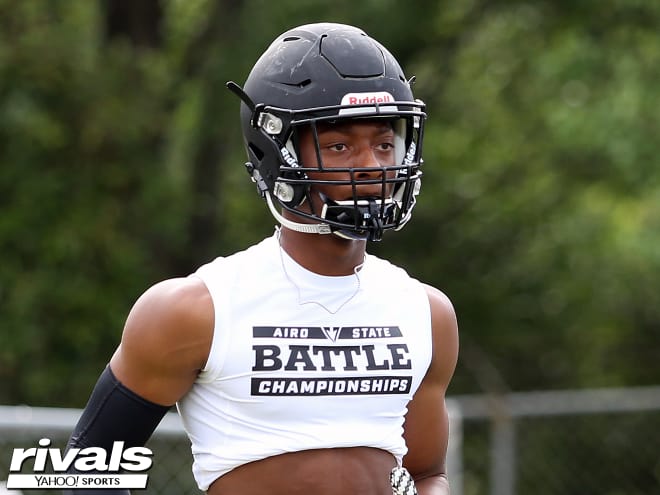 Khmari Thompson likes Missouri so much that he went up to Nashville (Tenn.) on his own dime to take in the Tigers game against Vanderbilt last weekend.
Less than a week later, he has placed his name on the Missouri commitment list.
"I went up to Vanderbilt as a fan to watch Missouri play and I really liked seeing them up close," said Thompson. "Drew Lock is a great quarterback and it was great to see him and the playmakers at receiver make plays.
"I got to see the team up close and it was great."
That visit just re-assured the 6-foot-1, 195 pound wide receiver out of Lawrenceville (Ga.) Central Gwinnett that he had made the right decision.
"I really made my decision on Missouri two weeks ago. I talked it over with my parents and they have everything I want in a school.
"I love their academics and their football. I know they care about their players and I feel I can grow there as a person. I feel me going there will allow me to grow there and be part of that family.
"It just felt right for me to commit to Missouri. It is hard to say exactly right, but it was the feeling."
The first coach to find out about the new was graduate assistant Matt O'Brien. He and Thompson have developed a strong relationship. After that, it was wide receivers coach Andy Hill and head coach Barry Odom.
"Coach O'Brien was very excited when I told him I wanted to commit," said Thompson. "When coach Hill found out, he was all for it and told me that it was a great decision.
"Coach Odom was astounded when I told him. Everyone was excited and it was great."
Committing to a college is a moment all student-athletes will remember, but this moment for Thompson may have been a little more special.
He played football his freshman year, then focused on track as a sophomore and junior. He did not decide to play football as a senior until he had a talk with Central Gwinnett head coach Todd Wofford.
Thompson got back out on the football field the summer before his senior year and he went on to catch 83 passes for 1,131 yards and 12 touchdowns. During that time he made a name for himself as a recruit and earned multiple scholarships.
"It is really humbling for me," said Thompson. "Coach Wofford encouraged me to give football another chance because he thought I was a Division 1 prospect.
"After we started doing 7v7 events, I started to think I could be a football player.
"I hope others read my story because dreams can come true. You can do whatever you want to do and my dreams are becoming realistic now.
"I have committed to Missouri and it is a great feeling."
Thompson committed to Missouri over Purdue. He has no decided if he will decide during the early signing period (December 20-22) yet.