Thomas wants to be nationally known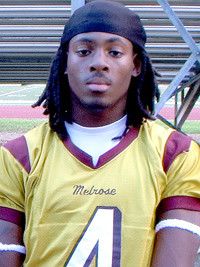 The attention is continuing for Memphis (Tenn.) Melrose safety
Tino Thomas
. The safety holds offers from Arkansas, Duke, Kentucky and Memphis but several more schools are still showing significant interest. Among those that have recently shown Thomas attention are Oklahoma State, Stanford, Nebraska, UCLA, Kansas State, Clemson, Ole Miss and North Carolina.
Thomas is still looking for more and he's ready to earn it. At the Atlanta Nike Combine, Thomas was one of the top testers at the event, running a 4.54 40, a 4.19 shuttle and a 35 inch vertical, all in less-than-ideal conditions. His performance landed him on the All-Combine team. Beginning this weekend at the LSU Nike Camp, Thomas hopes to further separate himself and the following weekend will compete at the Under Armour Combine.
Between all of these camps and combines, Thomas has not had a chance to see many colleges but he was able to attend a junior day at Ole Miss.
It was real nice," Thomas said of the trip. "I watched them practice and everything. I really liked Ole Miss. They showed us the facilities and they showed us how they practiced, showed us the stadium and everything."
Thomas has all schools equal on his list right now but he is hoping to get increased interest from Michigan Oregon, Nebraska and LSU.
"I really like those schools," he said. "I like their tradition. I'm hoping I'll get an offer from them but like I said before I don't really have a favorite really."
Evidenced by his busy camp season, Thomas is looking for more, more offers, more recognition and more respect.
"I just want to get my name out there and get offers," he said. "I don't want to be a local name around my state. I want to be nationally known. I just want to get out there."
An athlete in high school, Thomas is being recruited primarily at safety but also has the ability to play running back. Thomas' brother, Graig Cooper is a running back at the University of Miami.