The Rumor Mill: Transfer Tracker
Let's start with former Tennessee linebacker Henry To'oto'o - and I'll admit I have no clue what's going on. Last week I was told from a very good source that T'oto'o was a done deal to Ohio State and that it should be announced early this week. So when Monday became a big portal day for entries as well as commitments, I expected it to happen. It didn't. So I checked around and got a dozen different answers from different parties. Henry himself isn't talking and neither are his father or former coaches. So I've been told the following and have no idea what to believe:
- To'oto'o was supposed to enroll at Ohio State this week to be eligible for the fall, and to my knowledge he has not. But is that really true? My Ohio State contact said that is completely inaccurate. So, there is still a chance To'oto'o could end up with the Buckeyes, but according to my sources it should have happened by now.
- I received a text from a coach recruiting To'oto'o to his school that simply said "Alabama," but then checked with sources at Alabama and that's apparently not the case. The SEC will apparently not vote on the intraconference transfer approval until June, so Alabama is stuck a bit as other conferences have already passed it. So the Tide wait.
- Another school in the mix I've been told is Florida, but I've also heard an odd rumor about the intraconference transfer rule for the SEC. Apparently a player who just left an SEC program was told by the school that if he wants to go to another SEC program he's going to either have to sit out a year or it will cost that SEC team two scholarships to land him. This is a cryptic preview of what the SEC could decide, although I don't buy the two- scholarship deal at all. And I highly doubt the one-year sit out rule because the SEC is never going to put themselves at a competitive disadvantage in anything football, and that would hurt them a bit.
Or will they? Another source told me that the SEC wants to set the bar for intraconference transfers and make it nearly impossible because the conference would essentially be a madhouse in the portal. By putting deterrents in place they avoid cannibalism of the conference as well as likely force the other conferences to eventually follow suit. After all, the word from the SEC will be that if you want to win national titles this is the conference you go to and we don't need the intraconference mess to keep it that way.
*****
Let's move on to five-star Notre Dame transfer Jordan Johnson, who was a bit of a surprise entering the portal. While I initially heard Missouri, Texas and Miami were possible destinations I have more recently heard Missouri, Florida and Texas A&M, and Connor Bazelak and the idea of heading back home might give Mizzou the edge. Johnson's high school coach, Robert Steeples, did an amazing job at DeSmet High School with Johnson and is the assistant special teams coach with the Minnesota Vikings. He will likely help Johnson with the decision and has a budding resume for college football down the line. He was interviewed for the cornerbacks job at Notre Dame. My best guess right now is Mizzou for Johnson, but the Aggies are a big threat here.
*****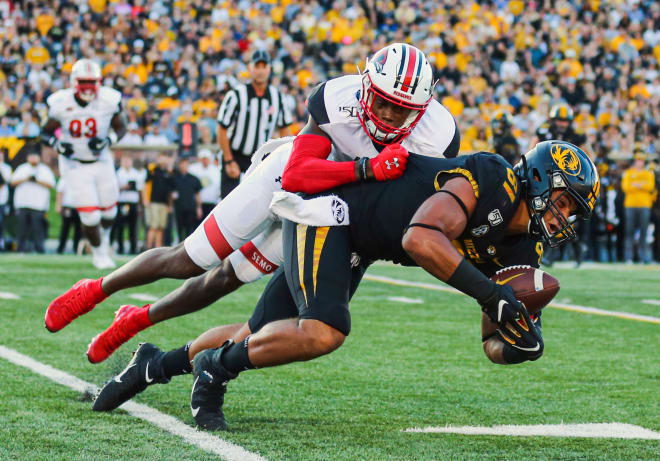 Bydarrius Knighten from Southeast Missouri State has been one of the more successful FCS players in the portal since he made himself available. Having totaled 262 tackles and 23 passes defended with the Redhawks, FBS schools quickly responded, and offers from Kansas State, Mississippi State, Utah and Washington State followed. Serious interest has also come in from Louisville, South Carolina and Oregon, while Notre Dame and TCU have begun to make contact. Knighten does not have a timeline for a decision. He will end up going to a Power Five program, it seems, and he has Zoomed with K State, Mississippi State, Utah and Washington State. He hails from Mississippi, so that could be a factor. Louisville, Nebraska and Oregon could be the next to offer.
*****
Auburn defensive line transfer Jay Hardy was part of a very busy Monday in the portal. The former four-star quickly picked up an abundance of interest, but a few schools have already pushed to the top when it comes to effort. Tennessee, Florida State and Arizona State are at the top of this list, with the Sun Devils being the one putting the full-court press on Hardy. But many wonder about the Vols. If you remember, Hardy was down to Auburn and Tennessee and kind of strung the Vols along as an in-state target before choosing the Tigers. Does he want to play at Tennessee? Do the Vols want him after the 2019 recruiting process? Hardy committed to Gus Malzahn when he was at Auburn, but apparently UCF is not pursuing him. He played for then-Auburn defensive line coach Rodney Garner, who is now at Tennessee, so you have to assume the Vols will be in here. Again, the SEC intraconference delay comes into play here.
*****
*****
Auburn defensive back Chris Thompson Jr. entered the portal on Tuesday and this one looked like a layup for Florida as he was recruited by new Gators defensive backs coach Wesley McGriff while he was at Auburn. But I haven't heard yet whether the Gators are interested and keep in mind he SEC intraconference limbo I mentioned above. The Texas native has family ties to Kansas State and liked Texas as well out of high school.