The Roadies: Irish Invasion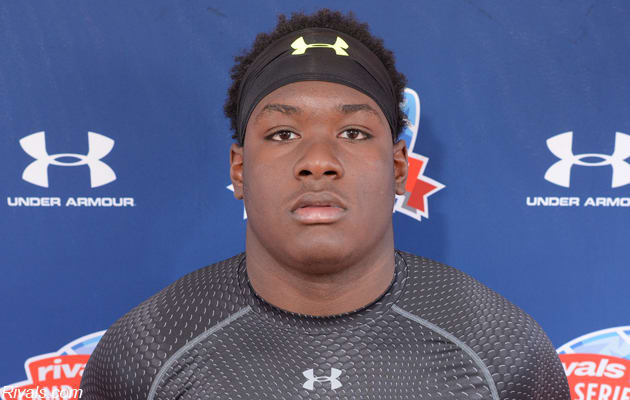 We have seen a lot of Hudson over the past six months, going back to the Ohio
state championship game last December. The 6-foot-5, 271-pound prospect jumps
off the field every time, and amongst a smaller defensive line group that was in
South Bend on Friday that was certainly the case again. Hudson is still raw and
developing his skills, but there is nothing holding him back from being a
big-time prospect. He moves very well for his size and could project to either
side of the football in college.
Best Hands
(Ill.) Central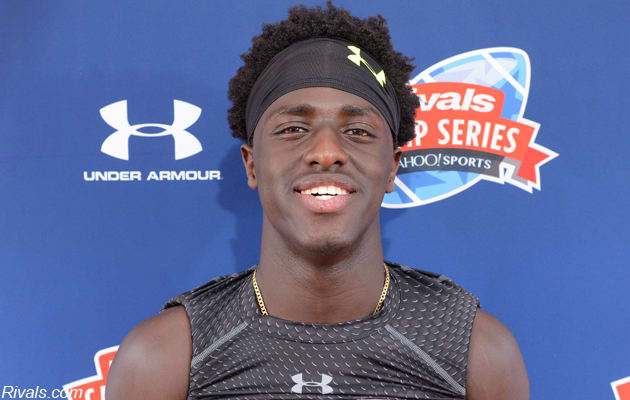 One of the hardest workers on the camp scene this off-season, Rugamba has been a
top performer at several events we have covered since the winter. The 6-foot,
172-pound receiver had another strong showing at Notre Dame on Friday, making it
look very easy against a solid group of defensive backs. Not only did the
three-star wide receiver catch everything thrown his way, but he was getting
open on nearly every route. While his offer list is well into double-digit
territory, it still feels as though he is under-recruited.
Fastest
(Mass.) Lawrence Academy
Not only did Dillon win the sprint-off for the running back group, but at 6-foot
and 228 pounds he was also the biggest at the position. A three-star prospect in
the 2017 class, Dillon is a solidly built player who certainly has the frame to
take the beating as an every-down back, but he showed with his sprint win that
he can hit the home run as well. He was also impressive in one-on-ones,
regularly getting separation on linebackers.
Shut'Em Down
Gardens, Fla.
Listed at 6-foot-1 and 183 pounds, Studstill was one of the bigger defensive
backs in attendance, and he was lockdown in coverage throughout the day. His
size allows him to handle the bigger wide receivers -- like 6-foot-5, 215-pound
fluid and athletic enough to handle the smaller, quicker receivers. New Notre
second here.
Strongest
Cincinnati (Ohio) St. Xavier
appeared to be the two from their position Notre Dame coaches were paying the
closest attention to, and regularly worked with one another. At 6-foot-5 and 297
pounds, Bockhorst is more of an interior lineman than Wills and plays with a
lower center of gravity. Wills is a very strong kid for his age, but Bockhorst
had no problem going blow-for-blow and we give him the nod here, though both
were excellent.
Smooth Operator
Collins Hill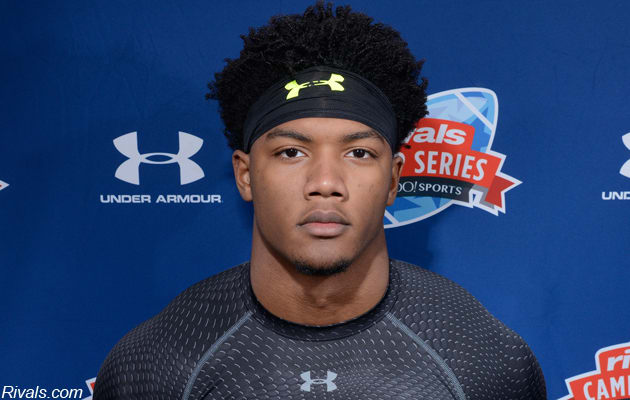 The 6-foot-3, 232-pound Fox is the ideal weakside, pass-rushing defensive end
for the next level. The Georgia native has plenty of speed, as he showed by
winning the defensive line sprint-off, and he combines it with the athleticism
of small forward on the basketball court. Fox cruised through the defensive line
drills effortlessly, showing natural movement skills and quick hands. He does
not have ideal length for the position, but he will out-athlete every offensive
tackle he faces.
Best Arm
Lauderdale (Fla.) St. Thomas Aquinas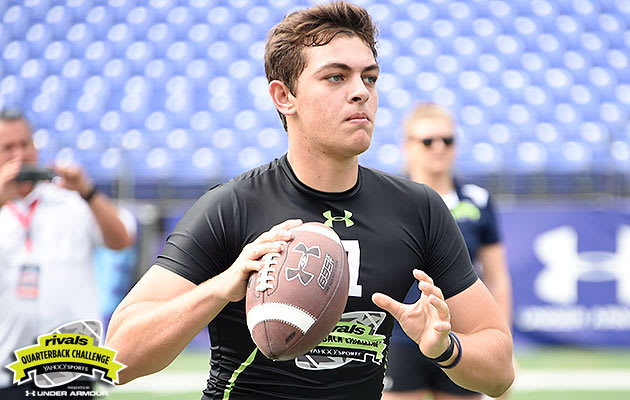 short throwing session I did not get a chance to see all the quarterbacks
equally. Allen was the one I saw the most and he spotted his football very well
on every throw I saw him make. I would still like to see the inaugural
Rivals Quarterback
Challenge Finals winner bring his
release point closer to his head, but he throws a very consistent football.
Mr. Enigma
B.C.
Now having seen the 6-foot-5, 215-pound Claypool in back-to-back weekends, who
he will be at the college level is still a question. There is no doubt that the
Canadian has an exceptional football build and some nice skills at his disposal,
but it doesn't fit nicely into a specific position. Listed as a wide receiver,
Claypool needs to improve his hands and create more separation. As a tight end,
however, he doesn't have the frame to gain a ton more weight and keep his
athleticism. Notre Dame apparently likes him on defense, and that is another
possibility.
Mighty Mouse
(Ind.) Clay
At just 5-foot-5 and 145 pounds, Hall was the smallest player on the field
Friday night. However, he also made some of the biggest plays. What Hall lacks
in size, he makes up for in quickness and toughness. He beat several of the high
profile defensive backs on quick slant routes near the goal line, and on several
plays where the ball was thrown behind him was able to make a catch with the
defender on his back. The local product's size will hold him back from bigger
offers, but Hall showed he's worth a look from someone.
Josh Helmholdt
Midwest Recruiting Analyst