The latest with RB Walker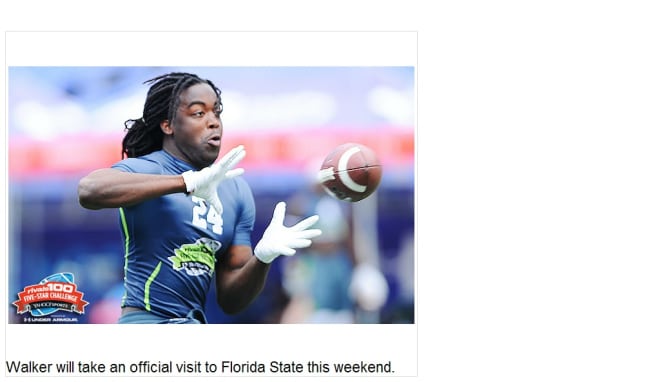 Coming off of another state championship where top running back
Kareem Walker
rushed for 195 yards on 30 carries scoring two touchdowns, the Wayne (N.J.) De Paul Catholic star talked about his top schools and where he will go from here in the process.
IN HIS WORDS: "Florida State is where I visit this weekend and I will go to Arizona State next weekend if I don't have to take the ACT but I'm not sure yet," Walker said. "Michigan is going to be one of the top schools in a few more years with Jim Harbaugh. Alabama and Auburn have established themselves already.
"Arizona State throws the ball a lot they can get me in space, one-on-one with the linebacker," he said. "I just want to be in one on one situations with linebackers and defensive backs. I'll be in a position to make myself better and I'll take less hits. Florida State has a great tradition of running backs. With Florida State I've been talking to them, I visited Florida State one time in the past and I liked it when I went down but I didn't get an opportunity to do everything I wanted to. I'm glad that I got another chance to visit down there.
"The Alabama visit was awesome, being with the New Jersey guys," said Walker. "Being with a defensive player in
Rashan Gary
who can be big time and an offensive player in
Donald Stewart
who can be a big time player."
RIVALS' REACTION: Michigan is the clear favorite to land Walker. As an early enrollee, Walker will need to make a decision soon. If either Florida State or Arizona State hope to have a chance, they will need to really hope Walker has a good visit.

Click
Here
to view this Link.