The latest with R250 DB Hamlin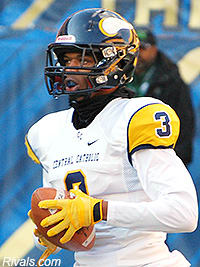 "It's basically the same stuff right now. Nothing too exciting is going on. I haven't started to narrow my list down yet. I really don't talk to many coaches. I get so many messages on Twitter and I respond to the ones I can.
Hamlin seems like he has started to learned more about these programs.
"I talk to coach Coombs, coach Meyer, coach Fickel and coach Ashe at Ohio State," said the 6-foot-1, 179-pound Hamlin. "I like one of the receivers they have committed. He reminds me of two of my 7-on-7 teammates.
"I really like coach Narduzzi," he said. "He's changing everything, not just aspects on the field. He's changing the locker room, all the facilities and that's a big thing because Pitt used to get beat out in facilities too. Everyone on my whole 7-on-7 team likes Pitt.
"I really like Clemson a lot," Hamlin said. "They've always been one of my favorite schools. I just need to get down there and visit.
"Penn State was the first school to really come after me and recruit me," he said. "There's nothing you can't like about the facilities and the school. Everything is perfect with that aspect of it.
"I like Virginia Tech a lot," said Hamlin. "I like their defensive backs coach. He's really confident in what he does. Just talking to him you can feel that he knows what he's doing and I believe him."
It doesn't sound like Hamlin's offer sheet is done growing.
What's next for Hamlin?
"I don't have any visits planned but I need to set some stuff up," Hamlin said. "I'm not sure where yet. I need to talk to my parents because I want to take some far trips."
Hamlin is planning on announcing his top schools in June and committing after he takes official visits.