The latest with 2016 WR Powell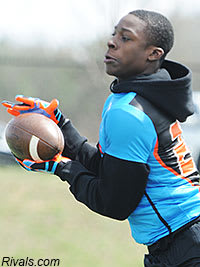 "It was fun," said the 6-foot-1, 190-pound Powell. "Duke won a nail biting game and it was pretty cool. I like their campus and it's big. Of course, if you graduate from Duke, you have a great chance of landing a job."
"Clemson is great," he said. "The stands are alive and I was just at one of their games and it was crazy. Their quarterback is unbelievable and they have a great football team."
"Wake Forest has a great business school and they are actually in the rebuilding stage," Powell said. "The coach that they have there now was known for winning at his old school, so hopefully in the next couple years he wins enough games and an ACC Championship.
"The coaches at North Carolina are pretty cool," he said. "Coach Fedora is pretty cool and I talked to him when I went to their camp. I haven't been to one of their games yet, but in the next couple of years they are going to be good too. They are just really young right now, but with experience those wins will come.
"I have been to N.C. State too," said Powell. "I like their coaches and one of my old teammates went there, so obviously they are doing something right. It's a good school."
"I actually called one of their coaches and talked to him and he offered me a full scholarship, so that is pretty cool," he said. "I have watched some of their games, but I have not been there yet. I have not learned as much as I want to know about them. They pass the ball around and have an explosive offense. I have talked to coach Galloway a few times and he's pretty cool."
N.C. State, Clemson, Ohio State, Ole Miss and West Virginia are the schools that are recruiting Powell the hardest right now. He has been talking to Ohio State, Clemson, N.C. State, North Carolina and ECU the most lately.
Powell plans on announcing his commitment decision at some point during his senior year. He has 47 catches for 875 receiving yards and 13 total touchdowns (12 receiving) this season.