The latest w/ R250 DB Hamlin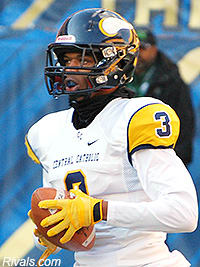 "I've been up to Penn State a few times and I always get the same feeling," said the 6-foot-1, 179-pound Hamlin. "I've pretty much seen everything already. We did a tour and me and a couple of the other guys chilled in the player's lounge.
"We saw part of the practice before we went to a photo shoot," he said. "I saw some techniques they were using. The coaches were saying that this is my state and I need to stay in-state and that I was a key to their plan."
Hamlin also has another visit planned.
There are a few more schools Hamlin is hoping to see this offseason.
So many rumors have been flying around about which school leads for Hamlin. He addressed those rumors and has an idea of when he wants to commit.
"I don't have a leader," he said. "I'll probably name a top group before the season. I want to take my official visits during the first five weeks of the season and commit after the fifth one."
Hamlin helped Central Catholic to the WPIAL finals last season.