The Cleveland Glenville Show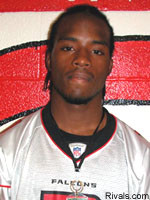 CLEVELAND
- Huddled around a small television set in the football office of Cleveland Glenville High School are about 15 kids, a recruiting analyst and a football coach that also is one proud father. They've all come to see the highlights of what is better known as the
Ted Ginn Jr. Show
.
"You better get some popcorn and something to drink because you're going to be here for a while," one of the players said as Glenville coach Ted Ginn Sr., who is both father and coach, loads the video up onto the television.
The clips start with Ginn at quarterback. He hurdles defenders, runs through them and around him with is sprinter's speed. He makes effortless after effortless play, attracting "ohs" and "ahs" from everybody huddled in the room.
Then there are the defensive clips.
In that set of highlights, Ginn can be seen destroying ball carriers on run support, shedding blockers to make the big tackle and showing his ball hawking ability in coverage. Five interceptions are brought back for touchdowns, including a 102-yarder in which he weaves and dances his way past the 21 other players on the field like he was out in his backyard playing sandlot football.
In the end, if Adrian Peterson from Palestine, Texas, is the nation's No. 1 player then Ginn has to be No. 1B.
"Ted Ginn is just one of those guys on film that pops out and makes a lot of amazing plays," said one Big 10 recruiting coordinator. "Then when you combine everything he has physically, you have the makings of an All-America cornerback in college and a future NFL first-round pick."
Ginn himself agrees. He's not cocky one bit, but he is definitely very sure of himself.
"There's a difference between being cocky and confident," Ginn said. "You have to believe and know you're best guy on the football field every time you step on it. I know that I am, but you can't go out there and talk a lot of trash and not be able to follow it up with a big play."
If you're going to be a big dog like Ginn, you can't be all bark and no bite.
And in the city of Cleveland not many are bigger than Ginn, even Lebron James, who is the talk of the sports world.
"The basketball coach here at Glennville was invited over to one of Lebron's press conferences when he was doing stuff for Nike," Ted Ginn Sr. said. "So he took a bunch of the kids over and Ted went with them. They were told to stay in the back and away from everybody, but when Lebron came in, I guess he heard that Glenville and Ted were at the press conference.
"Lebron comes in and asks everybody where that football playing fool that likes to run through brick walls is at. He ends up going right up to Ted and delays the press conference for a little while to talk.
"Ted played AAU with Lebron back when he was like in the seventh grade, but it was amazing to see that the king of sports made time to seek out Ted and tell everybody there that they need to be interviewing him, too."
Ginn isn't the only player that has star power, though.
Many college coaches and fans in Cleveland have been excited about the strong junior class at Glenville. This includes Ohio State bound super-star cornerback
Jamario O'Neal
, defensive end
Curtis Smith
, running back
Tim Conner
and outside linebacker
Freddie Lenix
.
O'Neal transferred to Glenville this year from Mansfield Senior and was only able to play in the last three games of the season because of some complications with the transfer. But after an amazing sophomore season, there was little doubt of how special this player is. And when he was able to get on the field for Glenville, he stole some of the spotlight away from Ginn and made the Tablooders even more balanced.
O'Neal has amazingly long arms and has the ability to change direction quickly on offense and defense. He projects as a stick-like glue cover corner for Ohio State, which he committed to back in February, and by the time he fully fills out his 6-foot-1 and 190 pound frame he should be special.
Heck, coach Ginn is planning on him playing quarterback next season and with him living with the Ginn family there should be ample opportunities for him to pick up the system.
Right up there as far as star power in the junior class has to be Lenix.
The 6-foot, 190-pound linebacker is likely going to be one of the nation's top outside linebacker prospects in the nation for next season. He lines up mainly in the middle for Glenville, but he ends up all over the field making big play after big play with 4.4-second speed and ability to close.
"When he hits you, you know it," coach Ginn said. "He's also got sprinter's speed. He ran a 10.6 100 meters, so he's plenty fast enough. I'm telling you that he's going to be your top linebacker for next year. He's that good."
Smith and Conner also should be Big 10 level recruits. Smith is a pass-rushing specialist at defensive end and Conner is a solid all-purpose type back that can run tough in the middle but has some soft hands too.
In the end, popcorn would have been truly fitting for the show that was put on at Glenville High School.