The best year ever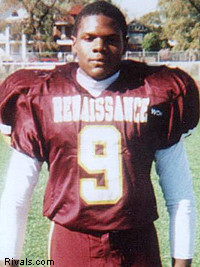 For years now there has been an amazing buzz about the class of 2007 in Michigan. Local observers have called it the deepest group of players to come out of the state in more than 10 years.
Loaded and deep is probably the better way to put it.
A serious case could be made for almost every single one of the players in the top 30 to earn three stars or above. However, the cut-off point came at No. 23 on the list, but still every one of the players ranked by Rivals.com has good options and impressive scholarships to consider.
All of those guys and the guys around them are special prospects that should do more than contribute on a high level. Ranked at No. 12, Threet might be the fastest-rising player in the state. He impressed at every stop he made this summer and he recently committed to Georgia Tech.
Knight's motor never stops and when he arrives at the ball, he arrives angry. He works harder than everyone else on the field and it's easy to see why teams like Arizona State, Georgia Tech, Indiana, Michigan State, Oregon, Purdue, UCLA and Wisconsin have offered the 6-foot, 192-pounder from Detroit Renaissance. He checks in at No. 13 in the state.
VanBergen's film is one of the most impressive of any player up on the Rivals.com network. He can't be blocked at defensive end and on offense at tight end he's often seen running downfield and away from would-be tacklers. It was tough to rank him as low as No. 14 in the state, but that just shows you how loaded Michigan is this year.
Michigan State linebacker commitment George White is a head-hunter that might eventually spin down to defensive line in college. But still White is ranked as the No. 16 player in the state and he's got a huge upside that should make him a nice fit for what MSU does on defense.
With Barksdale, Johnson and Allen still available it's clear that the balance of power in state in this year's recruiting class is still very much up for grabs.