The Best of the West RBs - Part I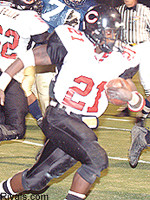 Bell was somewhat overshadowed playing on Taft's star studded team as a junior. It is hard garner attention when you play on the same team as Steve Smith, Noah Smith, Cary Dove, Lance Broadus and Paul Pratt all five signed Division I scholarships.
One thing that can't be denied is Bell's talent. He rushed for over 800 yards and scored 14 touchdowns for a team that was loaded at wide receiver. Three wide receivers from Taft signed D-I scholarships to go with a D-I signee at quarterback.
Bell is having an outstanding off season getting ready for his senior campaign. He has put on eight pounds of muscle using a strict workout regimen.
Bell has great vision and he has been told that he reminds people of USC sophomore running back Herschel Dennis. When Bell has the football he runs with a sense of urgency.
Bell has offers from Washington and Washington State. He is also getting recruiting action from Arizona, Oregon, USC and Colorado.
The scouting report on Diederichs is he has it all the things necessary for big time success on the D-I level. He has an outstanding combination of size, speed, and agility.
Diederichs has been compared in his running style to former Husky tailback and NFL superstar, Corey Dillon. Like Dillon, Diederichs is a big body who can really move.
Deiderichs was selected all-state, all-area and all-league selection as a junior after rushing for over 1,200 yards.
Diederichs is also outstanding on the defensive side of the ball as a linebacker.
The Cougars land a good one here.
As a runner, Floyd is very explosive and has great vision. One thing that is obvious is he has the speed to break the long one and the power break tackles. Floyd is a very physical runner who doesn't shy from contact.
Floyd rushed for 1,420 yards and 14 touchdowns. Floyd is the complete back. He can catch, block, run and he's not a bad passer either. Floyd caught 17 passes for around 200 yards and scored two touchdowns.
In an earlier interview with Claremont head coach Mike Collins said this about his star running back, "Jamaal compares with all the great ones we have had. He has speed and the elusiveness of Dion Burnett (UNLV) and the shear power of Tristan Walker (Colorado State)."
Floyd has offers from Colorado, Kansas, Wake Forest and UConn. He is also being recruited by the most of the Pac10, Mountain West and WAC.
Jackson is such a double threat that he is beginning to draw comparisons with former San Diego State Aztec and now Saint Louis Ram great, Marshall Faulk.
When you take a look at Jackson's stats you'll understand why he's compared to Faulk. He rushed for 2,344 yards and scored 44 rushing touchdowns as a junior. Jackson also caught 25 passes for 402 yards and scored six receiving touchdowns.
Jackson already has one visit planned to ASU in October 3rd. ASU, Oregon State, Utah and Hawaii have offered Jackson a scholie. ASU may have the early lead.
As a junior, Lynch had 20 rushing touchdowns. He also returned four kickoffs and three punts for touchdowns. That's not all he scored three times as a pass receiver.
Lynch could have had even bigger numbers but he split time on the offensive of the ball playing wide receiver and some quarterback. He also lined up at defensive back as a junior.
Still Lynch rushed for approximately 1,000 yards and added another 300 plus yards on seven receptions
Lynch already has 12 offers to his name and by season's end will undoubtedly have more.
The Oregon Ducks and the Cal Bears are running neck-to-neck with a hard charging UCLA Bruins right in the thick of things.
Other offers are from Oregon State, Washington State, USC, Arizona, Arizona State, Colorado, Wyoming, Utah State, and Fresno State.
Our next segment will be on fullbacks.