The best Connecticut prospects in Rivals.com history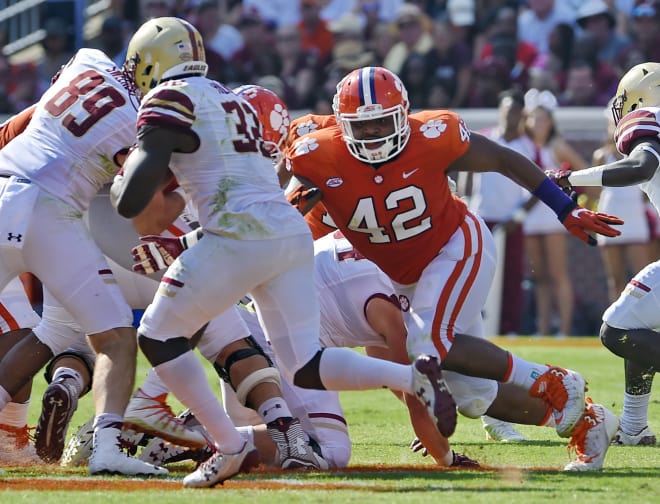 Mark Pszonak contributed to this report.
With some recent big-time commitments from players from the state of Connecticut, we figured it would be interesting to take a look historically at the talent the state has produced. Here are the all-time highest ranked players including recent commitments to Clemson and Penn State.
ASK FARRELL: Why are so many young QBs transferring?
The skinny: Wilkins took official visits to Clemson, Stanford, Penn State, Ohio State and Boston College prior to committing to the Tigers at the Under Armour All-American Game. In Death Valley, he has developed himself into one of the elite interior defensive linemen in the country and is currently projected as one of top picks in the 2019 NFL Draft.
Farrell's take: I remember the first time I saw Wilkins on film. It was after his freshman season and his athletic ability was off the charts. As a Connecticut prospect, he didn't get the national attention of many until later in his career, but I knew how good he was from day one. Wilkins has already turned into one of the elite defensive tackles in the country and could emerge as one of the top five picks in the NFL Draft. His dominance doesn't show in the stat sheet as much as expected, but he's one of the top two or three defenders in the country and this ranking reflects that.

The skinny: Redd, who grew up as a fan of Penn State and took numerous visits to Happy Valley, committed to the Nittany Lions in early May. He enjoyed success at Penn State, rushing for over 1,000 yards in 2011, but the Jerry Sandusky scandal led him to transfer to USC, where he was never able to produce at the same level which he did in Happy Valley. Redd signed with the Washington Redskins as an undrafted free agent and was waived by the team in late 2016 after returning from a suspension for violating the substance-abuse policy.
Farrell's take: I used to love to watch Redd run and he was as good in games as he was in camps. The level of competition was very poor, so it was almost unfair watching him go against some of the prep schools in Connecticut. Redd could catch the ball as well and was a threat in the passing game. His career never reached the high expectations and some of that could be because of the transfer, but this was a very talented kid.

The skinny: After trimming his list down to Penn State, Georgia and North Carolina, Fortt committing to the Nittany Lions in October. Like Redd, Fortt also transferred from Penn State in the wake of Jerry Sandusky scandal. He landed at Cal, where he totaled 62 tackles in his one season. After being selected in the fourth round of the 2014 NFL Draft by New Orleans, Fortt bounced around the league for the next four seasons, but totaled only one tackle during this time.
Farrell's take: Fortt was a physical freak who looked the part as much as anyone. His instincts weren't that natural on the field, but he could run to the ball like no one else. He was another, like Redd, who never lived up to the hype fully and again it could be because of the transfer. Watching him against public school kids in Connecticut was like watching a man among boys.
The skinny: Hernandez initially committed to UConn to play with his brother, but flipped to Florida after a visit to Gainesville in April. While he won the 2009 John Mackey Award at Florida, annually given to the best tight end in the nation, and then caught 175 passes and 18 touchdowns during his three seasons with the New England Patriots, he will mainly be remembered for being convicted of murder in 2015. This led to a sentence of life of prison and ultimately his suicide in 2017.
Farrell's take: Everyone knows the tragic story of Hernandez but looking past that, and it's hard to do, this was an amazingly talented kid out of high school. He played wide receiver and was a matchup nightmare. I remember seeing him in one game against my old high school and he had multiple touchdowns in the first half and didn't play the second half because the game was out of hand. He just shrugged his shoulders because he knew how much better he was. I pushed for him to be a five-star but was voted down.

The skinny: Long rumored to be a heavy lean towards Michigan, Black finally committed to the Wolverines in December over Auburn, Alabama and UCLA. After enrolling early in 2017, Black impressed during the spring and summer, and then totaled 11 receptions in his first three games, before a foot injury ended his season prematurely. Now fully healthy, big things are expected out of Black this fall.
Farrell's take: Black was smooth as a route runner but also had an extra gear as well and he did everything with ease. He made things look easy at the high school level and his impact last season before his injury shows how talented he was. He should have a major impact on the Michigan offense this season. He always felt he should be ranked higher and wasn't getting a fair shake because he was from Connecticut, so he played with a chip on his shoulder.

The skinny: Clark had been committed to North Carolina and Michigan at different times before re-opening his process in early December and eventually committing to UCLA on National Signing Day. However, after only a few months on campus and without seeing any playing time, Clark announced his transfer from UCLA in September. After a move to Syracuse fell through he found his way to Pittsburgh where he had 16 receptions for 122 yards and one touchdown in 2017. Most recently, he took a leave of absence from the Panthers this spring due to personal and family-related matters.
Farrell's take: Clark's quirky recruitment and multiple commitments overshadowed his skill level although I'm not sure he ever recovered from a head injury his senior year. This was a big, athletic kid who could stretch the field and make tough catches in traffic. Time will tell if he can get things back on track and live up to his potential.

The skinny: Phommachanh took several visits during the winter and spring before committing to Clemson after the Tigers' spring game in mid-April. Among the other schools in contention were Florida, Florida State, Penn State and South Carolina.
Farrell's take: Phommachanh is a talented quarterback with good size, solid arm strength and good presence. Connecticut isn't known for elite quarterbacks but that could be changing and he's leading the way. His commitment to Clemson will be interesting to follow. Will he stick with it if Trevor Lawrence emerges as the star everyone expects?
The skinny: Pierre-Louis initially committed and then decommitted from Boston College before re-committing to the Eagles after a weekend visit to Chestnut Hill. After enjoying a successful collegiate career with the Eagles, which saw him total 360 tackles in four seasons, he was drafted in the fourth round by Seattle in 2014. He has since played for Kansas City and is currently with the New York Jets, where he signed a two-year contract in March.
Farrell's take: Undersized but very athletic, he teamed with Redd to form a dangerous duo in prep school. Many felt he was the better prospect and you could certainly argue he had the better career as he's still in the NFL and was a contributor at Boston College. Pierre-Louis was a humble kid who could have also played running back at the college level if he wanted.
The skinny: Rudolph trimmed his list down to Penn State and Clemson before recently committing to the Nittany Lions. The Tigers were thought to be the leader a couple of months ago, but the Nittany Lions' coaching staff did a great job jumping to the forefront in recent weeks.
Farrell's take: Another recent commitment, Rudolph is a talented defensive back who has a chance to impact early. He's a quick-twitch athlete, has very good size and is physical. I could see him impacting either at cornerback or safety in college.
The skinny: Holmes committed to Notre Dame in July, a couple of days after spending time in South Bend for a camp. He committed to the Irish over Penn State, Tennessee and Syracuse. After rushing for only 36 yards in limited action as a true freshman in 2017, Holmes was dismissed from the program in January after being arrested in December for shoplifting. He took a visit to Penn State in April, but has not officially resurfaced at a school to this point.
Farrell's take: Holmes was a dynamic athlete who was very sudden and could cut on a dime. He did everything with great speed and was fun to watch as a running back who could also impact the passing game. Now his future is up in the air.

The skinny: After already taking four visits to Penn State, Wilson recently committed to the Nittany Lions during his fifth. He earned his offer after participating at a camp in Happy Valley last summer. Michigan, Ohio State, Florida, Florida State, Virginia Tech and Wisconsin were also considered at the time of his decision.
Farrell's take: He will team with Rudolph and could form a very elite cornerback duo. He's the more natural corner of the two but lacks the size and strength of his future teammate. He's very fluid, can run with anyone and knows when to get his head around. He, like Rudolph, is one of the better defensive backs to come out of Connecticut in Rivals.com history.