That Stings: The 10 biggest decommitments for 2019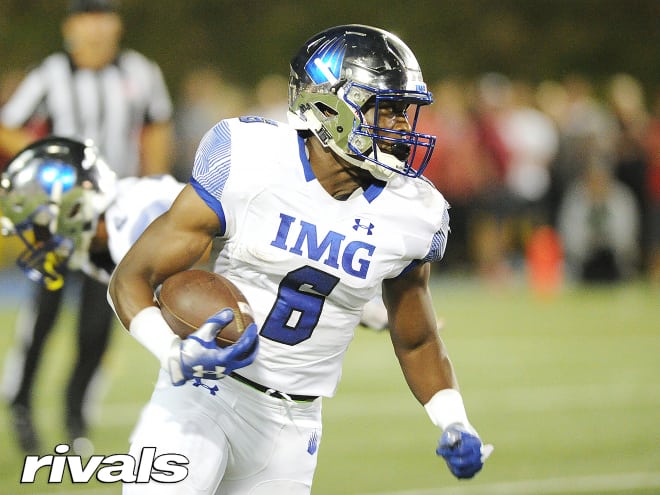 Mark Pszonak contributed to this report.
Decommitments are always huge in the recruiting game. Here are 10 big ones so far in the 2019 class that could help shape the landscape of college football for the next many seasons.
THREE-POINT STANCE: Culture changes, burning questions, surprise unbeatens
1. TREY SANDERS FROM ALABAMA
Sanders had been committed to Alabama for almost two years before re-opening his process at the beginning of this year. Since then, he has received plenty of attention from many of the elite programs in the country. However, at the time of his decommitment, Sanders mentioned that the Tide would remain his leader and to this point they are very much in the hunt. Florida, who accepted his older brother, Umstead Sanders, as a preferred walk-on, remains in the game, as does Texas, but will it be enough to topple the Tide?
2. KENYON GREEN FROM LSU
Green committed to LSU in December of his sophomore year, which came as a surprise to many. The Tigers were his first offer, which led to his commitment soon after. After making his pledge to the Tigers, additional offers began to pour in, which eventually led to his decommitment in December, 2017. One school that pushed Green from the beginning was Texas A&M, which helped the Aggies pick up his commitment in June.

3. WANYA MORRIS FROM FLORIDA STATE
Morris committed to Florida State in the summer of 2017, only to decommit from the Seminoles in November. While he initially still considered Florida State after opening things up, as well as Oklahoma, Auburn, Georgia, LSU and Florida, it was actually Tennessee that pulled in his commitment earlier this spring.

4. AKEEM DENT FROM MIAMI
Dent committed to Miami during the summer of 2016, but then decommitted from the Canes during the following spring. Only a couple of months later Dent once again ended his recruitment with a commitment to Florida State. Since this point, while the Canes, Alabama, USC and LSU have continued to recruit the five-star, he has remained rather firm with the Seminoles. However, official visits to other programs may still happen, and he took an unofficial to Coral Gables earlier this month, so the door may still be open just a bit.

5. CHRIS STEELE FROM UCLA
Steele committed to UCLA in January, 2017, but remained relatively open with his recruitment. After taking visits to USC, Stanford and Alabama, he decommitted from the Bruins in early August. The Trojans and Cardinal immediately became serious threats, and after taking several more visits, he committed to USC almost a year later.

6. EVAN NEAL FROM ALABAMA
Neal was another very early commitment to Alabama who decided to re-open his recruitment. Throughout his recruitment, Neal has remained rather quiet, so trying to get a firm grasp on his favorites has been somewhat challenging. However, as with Sanders, Alabama firmly remains in the picture with Neal, along with Miami and Florida State. This will likely come down to the Tide and the Canes, with the Miami being a very viable option for Neal.
7. FRANK LADSON, JOHN DUNMORE AND TYRIQUE STEVENSON FROM FLORIDA
It is never a good thing when a program loses three in-state Rivals100 recruits in the span of less than two months, but that is what happened to the Gators with Ladson, Stevenson and Dunmore. Ladson and Stevenson decommitted on the same day, as the Gators were going through their coaching change in December, while Dunmore waited until the end of January. Since all of this occurred, Ladson has committed to Clemson, Dunmore committed to Penn State, but is still listening to other schools, and Stevenson remains open, but is favoring Georgia.
8. ARJEI HENDERSON FROM OREGON
Henderson committed to Oklahoma after a junior day event in 2017, but then re-opened his recruitment a couple of months later, shortly before Bob Stoops stepped down in Norman. After taking a few visits, including one to Eugene, Henderson committed to Oregon during the summer of 2017. However, this commitment only lasted until November, as he then decommitted from the Ducks. Despite stating that he wouldn't make his next commitment until Signing Day, Henderson found his way back to Oklahoma in April 2018 with his second pledge to the Sooners, which at this time looks to be very solid.

9. JALEN CURRY FROM FLORIDA STATE
Curry committed to the Seminoles during the summer of 2017, but with the departure of Jimbo Fisher to Texas A&M, he decided to re-open his recruitment. Playing his high school football in Texas, many immediately assumed that the Aggies would be in the driver's seat for Curry, but several other programs have stepped to the forefront. Auburn is currently considered the leader, but with an official visit to Penn State coming up, the Nittany Lions have an opportunity to make up ground.
10. DE'GABRIEL FLOYD FROM USC
As many elite SoCal recruits have done, Floyd initially committed to USC, but surprised many by re-opening his process and then committing to Texas. The Trojans have continued their pursuit of Floyd, who has established a strong relationship with the Longhorn's coaching staff. Many believed that USC would still be a major player, but with Texas' improvement on the field, and their victory over the Trojans earlier this season, that may becoming more and more difficult by the day.