Texas Spotlight: Five prospects with rising stock values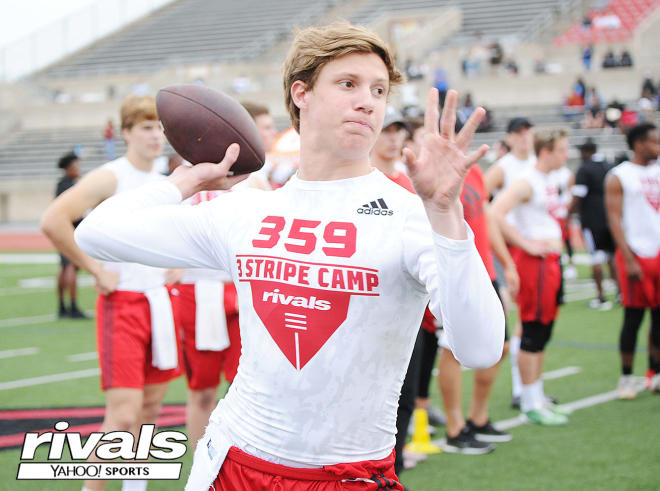 Weather has ravaged Texas high school football, as it has in other places around the country, but that hasn't stopped several players from making big impressions early in the season. Rivals' eyes have been locked on a number of players that have already staked their claim to a move up from their current ranking.
MORE STOCK REPORTS: West | Southeast | Midwest | Florida | Mid-Atlantic
Clark is one of a handful of quarterbacks that has been on the short list of prospects primed to make the jump from three- to four-stars. With Rivals in attendance for his game last weekend, he threw for 377 yards, four touchdowns and ran for two more in a win over Arlington-Bowie. Much of the Rockwall offense was predicated on quick, timed passes, but on the deeper throws that he made, he was on point and on schedule. Clark has the build that Big Ten teams covet in pocket passers that can sling it in a hurry or downfield and he should be a crucial commitment for Minnesota head coach P.J. Fleck in 2019.

Edwards is a recent commit to Iowa State, and in a recent game against Greater Atlanta Christian Academy in Atlanta, he was called on to hold a late comeback bid at bay. He stepped up in a big way, and although he isn't the most polished or twitchy cornerback, he has the size and physicality to make him a force and useful in a college secondary. Edwards was particularly assertive in coming up to make plays on screens and outside runs at the line of scrimmage and brings a hard-hitting presence to his corner position that many others in the state aren't capable of bringing.

In the first game of the season, Essissima had the difficult task of locking down Oklahoma commit and former five-star wide receiver Arjei Henderson while also providing a spark for his team on offense. Outside of allowing one deep pass for a touchdown, Essissima made a strong case for himself as a player who is capable of working successfully against a top receiver.

He was somewhat of a late-bloomer in regards to his recruitment, but once teams began to offer him the opportunities seemed to come in bunches. He ultimately chose to stay local and commit to Houston, and it seems the Cougars landed themselves a strong cover corner.
McDaniel drew some sudden attention to himself when he began his recruitment with an offer from Clemson, and he subsequently picked up offers from a handful of other top Power Five programs. But he ended up choosing to stay close to home and be a part of new head coach Sonny Dykes' first recruiting class. He is a sudden runner, and he showed over the summer that he's a solid athlete on either side of the ball. He was looking to commit to a program he knew would use him heavily, and he should have that opportunity with the Mustangs. He has shown early in the season that he is as dynamic a running back as there has been in the state.
One of the big men up front for North Shore five-star running back Zachary Evans, George still has elements of his game that he needs to sharpen and have more consistency. However, he has shown in spots to be a quick and powerful pass-blocker, and there is no questioning his strength - one look at how massive he is makes that one of the least surprising things about him. He played well early this season against a typically stout Katy defense in Week 1, but there is no question as he continues to develop that there is much bigger potential for him to be one of the state's premier offensive linemen.