Texas Mid-Term Recruiting Report: Texas Tech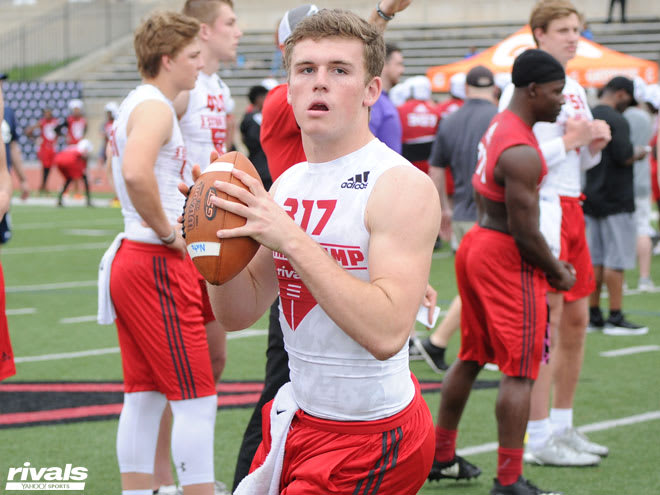 Football prospects looking to make their college football commitments before the start of their senior season is nothing new in Texas. However, in the first full cycle of changes made to the NCAA football recruiting calendar, many players took advantage of the opportunity to knock out many - if not all - of their official visits from the end of spring through early summer. Many top programs in-state, as well as those out-of-state teams that frequently recruit Texas, have seen their classes fill at an advanced pace with a higher likelihood that products from the Lone Star State will remain committed with an eye on signing their letters of intent in December.
In 2016, 258 players from Texas ranked as 5.4 two-stars or higher signed with Power Five or Group of Five programs. In 2017, that number grew to 297 and again in 2018 to 334. Currently, 216 players in that demographic are committed to Power Five or Group of Five programs in the 2019 class. While the number of signees at the very top of the rankings has remained relatively consistent since 2016, the growth in total players signed during that time is an indicator that the overall quality of talent in the state has grown as well.
With that in mind, and the start of football season just around the corner, now is as good of a time as any to take stock of which teams have recruited Texas most successfully this year. Here is a look at the job Texas Tech has done with the fall approaching.
PERFORMANCE TO-DATE
Maybe it's a bit surprising how strong of a job the Red Raiders have done recruiting the state of Texas this year, but it's refreshing to see Tech mixing things up and competitively recruiting against the other programs in the state. Last year appeared to be a bit of an outlier as a 'down' class for Tech, which wrapped up at 73rd overall, but with a long way still to go in 2019, and sitting 40th overall right now, the Red Raiders seem likely to finish above their average over the last five classes - and essentially doing so solely with in-state talent.
Tech's top recruits, Gilbert Ibeneme and Steven Parker give the Red Raiders the sort of high-level defensive line recruits that they have been missing for years. Winning the race for Ibeneme's commitment was a big one for the Red Raiders, who already had Parker in the fold going back to before his junior season. Also getting the nod from quarterback Maverick McIvor was big as well, as he was the subject of a number of teams' focus - and continues to be after he picked up an offer from USC recently.
Most of the players committed to Tech have had their rankings locked-in since the spring, and there wasn't much in the way of movement for better or worse among them. That being said, a number of those recruits have the look of players positioned to see a post-fall bump, pending they show further development since the offseason. McIvor is a player on the cusp of four-star status and defensive backs Markel Reed and Brandon Joseph have the look of a players likely due for a move up in ranking as well. Sachse linebacker Bryce Robinson and North Shore cornerback Keeyon Stewart are players looking to prove that they're better than their current two-star rankings, so for as strong as the class is looking at the moment, there is plenty of room for growth with the prospects already in it.
McIvor, Reed and players like Alex Hogan and Trevor Roberson were all recruits seriously considering other options before their commitments, so to see them commit to Tech before the season is a pretty strong show of confidence that the program as a whole is in position to take a step forward both on- and off-the-field this year. A number of other players are still seriously considering Tech and whether a defensive back like Jonathan McGill or Brandon Crossley is next, there are still some interesting in-state targets that could be next to commit. With many other offered recruits committed elsewhere, the staff could be looking to send out another wave of offers after seeing several other players in the first few games this season.
MID-TERM GRADE: B+
Truthfully, Tech hasn't lost out on many recruiting battles this offseason and is starting to see results recruiting positions that it hasn't been particularly successful with in recent years. The fact that essentially every commit in the Red Raiders class has come from in-state isn't terribly surprising, but the overall quality from those players has been good and many of them have an opportunity to show even more of themselves this fall. Considering what narrative was heading into last season's 6-6 regular season finish, coming back with an inspiring recruiting class in 2019 is all the more impressive. The Red Raiders' final grade could improve without much dramatic change to the players already committed if this class holds and several of them make an anticipated move forward in ranking.
MID-TERM TEXAS RECRUITING POWER RANKINGS