{{ timeAgo('2022-08-05 15:00:26 -0500') }}
football
Edit
Texas lands four-star linebacker Derion Gullette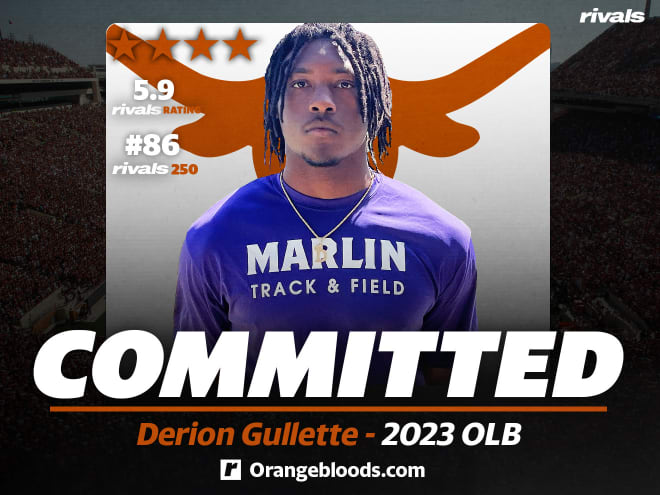 Teague (Texas) four-star outside linebacker Derion Gullette announced his commitment on Friday afternoon to Texas as the Longhorns beat out Ohio State and a big late push from Texas A&M to land one of the state's top defenders.
It was a tough decision in the end for Gullette who took a late visit to Texas A&M that gave him a lot to think about leading into his decision.
"It was actually a tough decision," Gullette said. "I had to make that phone call earlier and it is never an easy phone call, but at the end of the day it's my future and what I plan on doing with my life."
The educational aspect at Texas is what helped the program stand out as he sees ample opportunities in the broadcast journalism field for after football.
"The reason I'm choosing Texas is because I feel I can be very successful on the field and off the field," he said. "The education aspect is great because any school I feel like I could've chose, I feel like I would've been successful on the football field so I had to take a different point of view on it to see how the college would benefit me outside of football when I graduate."
Gullette's relationship with linebackers coach Jeff Choate has been long-standing since he was offered by Texas last summer, as the two connect on things both on and off the field.
"I wanna play for Coach Choate because I feel like he's the best coach in college at development," he said. "I want to go get developed and coached hard. I have a good relationship with him, we always talk about how I'm doing first and he asks me how I'm doing."
Gullette also sees the vision with Steve Sarkisian and what he's building both currently in Austin and in the 2023 class.
"I believe in Coach Sark because I can see his vision and his plan," Gullette said. "All of his guys that have committed here, it isn't a coincidence. There's a plan in place to take the program to the next level. We can win it all."
Gullette will be at Teague during his senior year after spending three years in Marlin, but he will be sidelined with a knee injury. He hopes to be ready to be back and compete in time for move-in in January.
"I'll graduate in December and get there in January," Gullette said. "Going into January, I'll be able to lift and run with them but probably not do spring ball. After the spring, I should be good to go."
At 6-foot-2, 223 pounds, Gullette is the No. 86 ranked recruit in the country for the class of 2023, according to Rivals. He is the No. 16 recruit from the state of Texas and the No. 6 ranked outside linebacker in the country.
COMMITMENT ANALYSIS
Texas has recruited Gullette as an inside linebacker, and the vision is certainly clear for his potential and ability playing in the box.
He's rangy, has track-fast speed and can attack ball-carriers from sideline-to-sideline with his ability. If he can retain his athleticism coming off of injury, his ability to fly around the field will be dangerous in both the Big 12 and SEC for Texas.
However, Texas does have some versatility with a commitment from Gullette as he could grow and expand into and outside linebacker who could attack the backfield and rush the passer. Regardless, Gullette has NFL Draft upside that could see him as an All-Conference player and second-day type pick.