Texas A&M locks in Rivals250 CB Bobby Taylor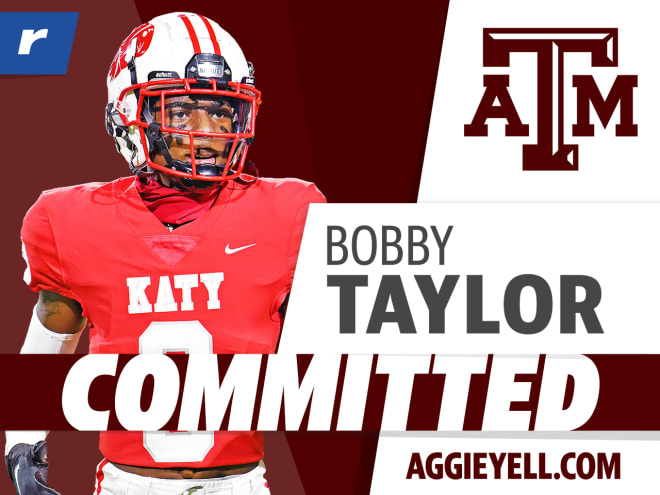 THE SITUATION
Another major domino in Texas A&M's 2022 recruiting class has fallen.
Within weeks of reeling in Katy (Texas) High School teammate Malick Sylla and other area standouts like Patrick Williams, Donovan Green and Conner Weigman, Bobby Taylor followed suit.
Taylor selected the Aggies over Michigan and Texas. LSU and Oklahoma were also legitimate contenders for the athletic defensive back at different junctures, but Texas A&M remained the team to beat for much of the four-star's recruitment.
Taylor, a Rivals250 cornerback for the defending Class 5A Division II champions, became the seventh commitment for Texas A&M's 2022 class, which entered the day ranked No. 8 nationally on Rivals. The Houston native is the son Notre Dame legacy defensive back Robert Taylor, who also played for Longview (Texas) High School.
The younger Taylor is the nation's No. 21-ranked cornerback in the Class of 2022. He's also the No. 205 player overall.
IN HIS OWN WORDS
On the timing of his decision: "I love my mom. She's been my rock since Day 1 and we've been through a lot together. I've been silently committed (to A&M) for a very long time, but I wanted (to announce) the day to make it official to be memorable for not only me, but her and my family. I committed to A&M so my family would have the opportunity to watch me play as well."
On building the Aggies' 2022 class: "I've started to build my team from Day 1. I had to get Malick (Sylla) on board and from there, the rest took care of it self. Donovan (Green), Patrick (Williams) and Conner (Weigman). It's a great way to start out class, but this isn't what we ultimately want to achieve. We want to build the best class in A&M history and strive to be the No. 1 class in the nation. Me being the newest domino to fall, I feel as if we can accomplish that."
On what it means to commit: "I've held an A&M offer for almost two years and they took a chance on me a lot early than most schools did. I've connected with everyone (at the university) across the board -- graphic designers, recruiting assistants, coaches, players, even fans. The relationship that stood out most was with Coach Ish (Artistide). Even though he isn't there anymore, it's all love and we talked recently and we know what's best for me and my future and it's a big possibility he'll be there to experience it with me at Texas A&M."
On the future of Texas A&M: "As a new Aggie and a future Aggie, you have my word that this will be the best recruiting class ever in Texas A&M history."
RIVALS REACTION
Taylor is a 6-foot-1, 180-pound cornerback that boasts 4.45 speed and has strong times in the short shuttle (4.3 seconds) and a lofty vertical jump (34 inches). He's long and athletic and defensive back runs his blood. Taylor's father played was an All-American at Notre Dame and then enjoyed a decade-long career in the NFL.
Taylor shines as a cover corner. He's speedy with the ability to cover a con of ground and effectively tracks the ball with good closing speed. Taylor's length is a major asset in his game. He comfortably can float in a zone and can be physical at the line of scrimmage very well.
Taylor is disciplined in coverage. He plays with a strong sense of anticipation and a knack for creating turnovers. It's also worth noting that Taylor is a reliable tackler and usually a last line of defense for Katy.
Taylor is also an excellent punt returner. He's a home-run threat with the ball in his hands in space. He has excellent vision in the return game and speed to beat defenders around the edge.