Team breakdown: Who won Florida in 2016?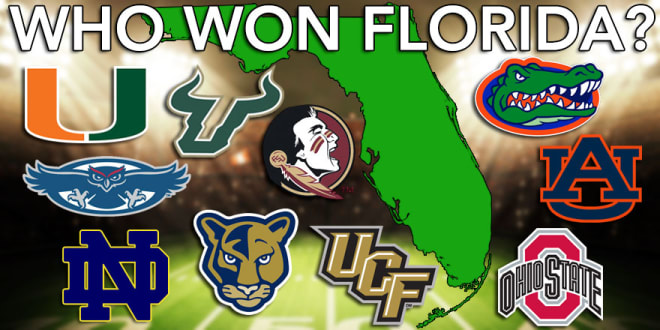 Florida is more than a vacation destination for college football programs across the country. The big three of Florida, Florida State and Miami grab plenty of headlines and several in-state talents, but there is more than enough draw in the nation's finest college programs. Since Signing Day has come and gone it is time to see who signed what from the state of Florida.
RELATED: Who won Texas? | Who won California?

1. Miami – 1,666 FL pts – 3.38 FL ASR – 16 FL commits
HEADLINER: WR Sam Bruce – The Rivals100 receiver committed to the Canes early in the process and stuck with his decision all the way to the end after giving Ohio State some serious consideration.
OVERVIEW: All but two of Miami's 18 signees are from Florida. The Canes have built the program on homegrown talent and stuck to the formula in 2016. Bruce is the headliner and what he may lack in size he makes up for in speed, explosiveness, and confidence. Overall the group includes five Rivals250 prospects and seven four-stars, all from Florida.
2. Florida State – 1,350 FL pts – 3.73 FL ASR – 11 FL commits
HEADLINER: OL Baveon Johnson – The standout offensive lineman chose Florida State over Florida, Kentucky, Miami, and Mississippi State in March.
OVERVIEW: Florida State had the smallest in-state class of the FBS schools listed here, but it was the strongest in terms of average star ranking. Rivals100 offensive lineman Baveon Johnson is joined by Rivals100 defensive end Brian Burns, and five other Rivals250 standouts from Florida. Overall the class includes eight four-star Floridians.
3. Florida – 1,243 FL pts – 3.42 FL ASR – 12 FL commits
HEADLINER: CB Chauncey Gardner II – Gardner made a couple of decisions before committing to Florida in March. He stayed strong and is currently enrolled.
OVERVIEW: The Gators come in the lowest of the "Big 3" programs in Florida, but did sign the highest rated Floridian of the group. Gardner arrives at No. 5 in the Florida rankings, and he is joined in the top 10 in the state by quarterback Feleipe Franks. The duo makes Florida the only in-state program to sign two of top 10 players in the state. Overall four Rivals250 Floridians and five four-stars from Florida inked with the Gators.
4. South Florida – 885 FL pts – 2.85 FL ASR – 13 FL commits
HEADLINER: CB Craig Watts – Watts decommitted from Wisconsin and Colorado during the process before making his January decision to play at South Florida.
OVERVIEW: Watts and four-star receiver Darnell Salomon lead the way for the Bulls group of 13. The two are the lone four-star prospects and the only Florida Top 100 members in the class. However, quarterback Chris Oladokun and running back Elijah Mack lead a strong group of seven three-star Florida prospects.
5. Florida Atlantic – 765 FL pts – 2.22 FL ASR – 18 FL commits
HEADLINER: OL Brandon Walton – The Seminole (Fla.) three-star standout committed to FAU in December.
OVERVIEW: The Owls' class is loaded with Floridians, and only topped by one other in-state program. In fact, only two prospects in the 20-man class are not from the state. Offensive lineman Brandon Walton is joined by three-star standouts Korel Smith, Will Davis and Da'Von Brown.
6. UCF – 758 FL pts – 2.67 FL ASR – 12 FL commits
HEADLINER: WR Dredrick Snelson – Snelson turned heads with a Signing Day flip from Minnesota to UCF.
OVERVIEW: Scott Frost and the UCF Knights had closed strong and the addition of Rivals250 Snelson was a big part of that. Three-star offensive lineman Jordan Johnson of Jacksonville, gives the Knights two Florida Top 100 prospects. Overall 12 Floridians signed with UCF with seven prospects ranked three-star or higher.
7. Auburn – 662 FL pts – 3.17 FL ASR – 6 FL commits
HEADLINER: WR Nate Craig-Myers – The Rivals100 receiver recommitted to Auburn on Signing Day. He was committed to Auburn before reopening his recruiting process in May.
OVERVIEW: The Auburn Tigers has the second smallest group of any team in the top 10. The Tigers are also the only program besides Florida to sign two Florida top 10 prospects in Craig-Myers and Elijah Stove. The receiver tandem is joined by Florida 100 prospects Woody Barrett, Jayvaughn Myers and Marquis McClain, and defensive lineman Tashawn Manning.
8. Florida International – 645 FL pts – 2.10 FL ASR – 20 FL commits
HEADLINER: S Hunter Orem – The Lake Gibson three-star defensive back chose Florida International in July.
OVERVIEW: The Florida International Golden Panthers find their way into the top 10 behind 20 Florida commitments. The group is the biggest class of Floridians in the top 10 and it is led by three star defensive back Hunter Orem and defensive end Shakur Cooper.
9. Notre Dame – 630 FL pts – 3.14 FL ASR – 7 FL commits
HEADLINER: OL Parker Boudreaux – The four-star offensive lineman chose Notre Dame over Oklahoma and Clemson in July.
OVERVIEW: The Fighting Irish class is the biggest of the out-of-state programs in the top 10 with seven Floridians heading to South Bend. Offensive lineman Parker Boudreaux leads the way for the group and all seven prospects are ranked in the Florida Top 100.
10. Ohio State – 573 FL pts – 4.25 FL ASR – 4 FL commits
HEADLINER: DE Nick Bosa – Bosa committed to Ohio State in July over Florida, Florida State, and several other top programs.
OVERVIEW: The smallest group in the top 10 goes to the Buckeyes, but it also has the highest average star ranking. Five-star defensive end Nick Bosa is the headliner and he is joined in the Rivals100 by receiver Binjimen Victor. IMG four-star standouts Malik Barrow and Tyler Gerald round out the stout class.
Early look at 2017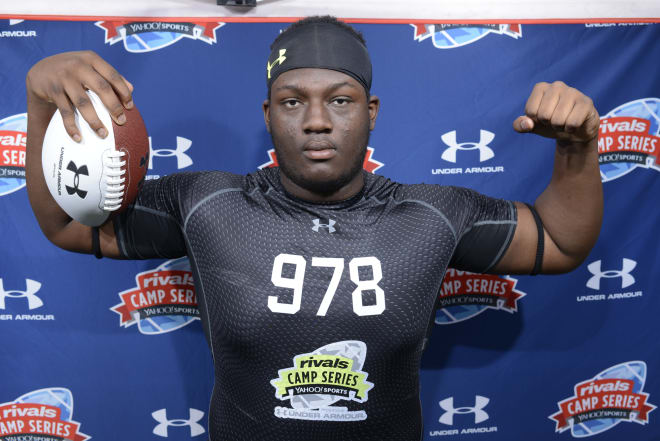 1. Miami – 893 FL pts, 3.20 FL ASR, 10 FL commits
Headliner: OL Navaughn Donaldson, Miami (Fla.) Miami Central, 5.8 4 stars, No. 150 Rivals250
2. Florida State – 667 FL pts,, 3.80 FL ASR, 5 FL commits
Headliner: WR D.J. Matthews, Jacksonville (Fla.) Trinity Christian, 6.0 4 stars, No. 25 Rivals100
3. Ohio State – 524 FL pts, 4.33 FL ASR, 3 FL commits
Headliner: CB Shaun Wade, Jacksonville (Fla.) Trinity Christian, 6.1 5 stars, No. 16 Rivals100
4. Florida – 339 FL pts, 3.67 FL ASR, 3 FL commits
Headliner: QB Jake Allen, Fort Lauderdale (Fla.) St. Thomas Aquinas, 5.8 4 stars, No.140 Rivals250
5. Baylor – 275 FL pts, 4.0 FL ASR, 2 FL commits
Headliner: WR Jhamon Ausbon, Bradenton (Fla.) IMG Academy, 5.9 4 stars, No. 100 Rivals100
6. Auburn – 212 FL pts, 5.0 FL ASR, 1 FL commits
Headliner: OL Calvin Ashley, Orlando (Fla.) First Academy, 6.1 5 stars, No. 18 Rivals100
7. Kentucky – 135 FL pts, 2.50 FL ASR, 2 FL commits
Headliner: QB Mac Jones, Jacksonville (Fla.) Bolles, 5.7 3 stars, No. 45 Florida Top 75
8. Alabama – 128 FL pts, 4.0 FL ASR, 1 FL commits
Headliner: OL Alex Leatherwood, Pensacola (Fla.) Washington, 5.8 4 stars, No. 146 Rivals250
9. Clemson – 90 FL pts, 3.0 FL ASR, 1 FL commit
Headliner: OL Blake Vinson, Citra (Fla.) North Marion, 5.7 3 stars. No. 46 Florida Top 75
10. Notre Dame – 75 FL pts, 2.0 FL ASR, 1 FL commit
Headliner: OL Dillan Gibbons, Clearwater (Fla.) Central Catholic, 5.6 3 stars, No. 57 Florida Top 75