Tannor pulls a shocker, signs with Nebraska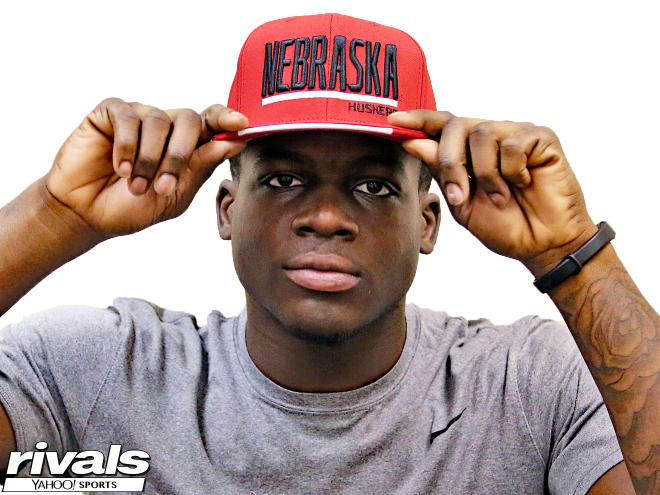 Caleb Tannor had Auburn, Florida, Nebraska, Ole Miss and Mississippi State hats on the table Wednesday morning and he shocked many when he chose the Huskers, the schools farthest from home.

The four-star linebacker out of Lithonia (Ga.) Miller Grove over the past three weeks had been leaning towards Auburn and Florida, and even Ole Miss at one time back in December.
Scott Frost and his staff stayed in pursuit though and they put a lot of time and effort into Tannor's recruitment. It shows now that it paid off.
"It was a real tough decision, but I just took my time with things and made sure I made the right one," said Tannor. "After every visit, each school really gave me something to think about, but I just took my time and it came to me that Nebraska was the best place for me.
"I was thinking about this decision every day and basically every hour for the last few weeks and I feel great about my decision to go to Nebraska."
The official visit to Lincoln four weeks ago really got the ball rolling for the Huskers. They had coaches in to see Tannor each week that they could after that and he gave the staff the news in advance.
"I told the Nebraska coaches I was going to sign with them late last week and they were excited. I talked to them over the phone and I think they were a little surprised. They knew I liked them, but I am not sure they expected me to tell them I was going there when I did.
"I really had a great vibe with the people at Nebraska when I was there on my visit and I had a great connection with everyone. It surprised me how I felt when I was out there. It just felt good."
Outside of the connection with the coaches, Tannor also liked the plan Nebraska has for him in their defense. They walked him though their vision and that stood out to him.
"They want to use me like they did Shaquem Griffin at UCF and I think I can really do well in that role. They want me to blitz off the edge, play in space and do exactly what he did at UCF. I like that a lot and I think that is a perfect fit for me and what I can do."
The recruiting process is now officially over for Tannor, the No. 33-ranked prospect in Georgia. His phone has been blowing up, his home has been a meeting place for numerous coaching staff in recent weeks and he has had a lot on his mind.
Now that he is a Husker, he is feeling nice and relaxed.
"I was very confused early in the process, but as it progressed, I started feeling Nebraska was the right place for me," said Tannor. "It was like hell going through all this the last few weeks.
"I feel I can go into Nebraska and be a major part of the program. I want to go there, be that guy and be like the face of the program. It was a tough decision, but I feel great about Nebraska and I am excited about playing in front of those 90,000 fans when I get there."