Takeaways: LSU's Elite Camp
BATON ROUGE, La. – LSU hosted its annual elite football camp from Thursday-Saturday, with players from all over the country converging on the Bayou to show their talents and see what the Tigers have to offer up close. Rivals.com was on the scene for the entire camp and now we take a look back at the five biggest takeaways from the three-day affair.
WHOP GETS BACK ON CAMPUS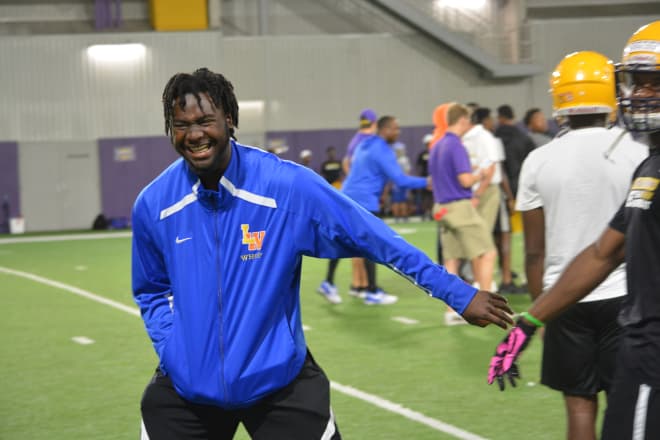 Depending on who you ask, five-star Kansas commit Devonta Jason isn't the highest priority to the LSU staff. However, when Jason, who is affectionately referred to as "Whop," was back on campus on Friday for the first time in nearly a year, the actions of the LSU staff showed otherwise. The one-time LSU commit was given the VIP treatment and seemed to enjoy his time with the coaches and fellow Tigers commits before leaving campus.
Jason has been opening about wanting to take all five of his official visits and his appearance on campus on Friday could pave the way for him to make a few return trips in the fall.
TWO OF LOUISIANA'S BEST MAKE AN APPEARANCE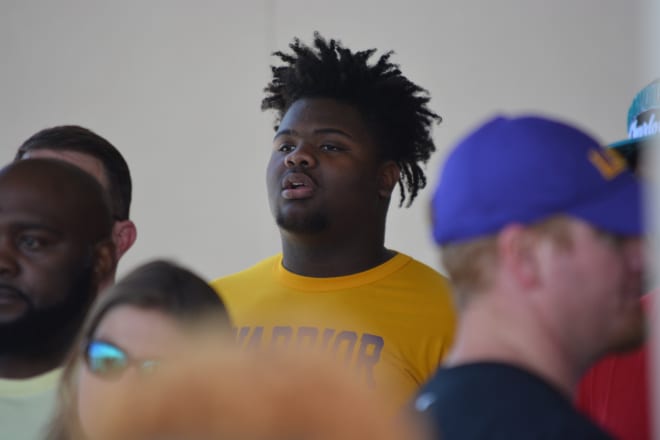 After Rivals100 wide receiver Devonta Smith spurned LSU to sign with Alabama earlier this year, many thought that the Tide would also be the favorites for his friends and high school teammates, 2019 Amite, La. wide receiver Devonta Lee and defensive tackle Ishmael Sopsher. But on Friday Lee made an appearance along with his 7-on-7 teammates and LSU quickly seized on the opportunity to get face time with him. On Saturday, Sopsher, one of the first five-stars in the 2019 class, was on campus with his father, an even bigger development.
The fact that both players went out of their way to make the visit shows that they will continue to explore other options and LSU can't be counted out. Both have been making the rounds around the country, but keeping such stars in state is vital for LSU. It will be interesting to watch how things shake out with the high school teammates as the year moves along.
TIGERS STILL NEED A QUARTERBACK
One of the weekend's biggest visitors was class of 2018 three-star quarterback Carter Bradley. The pro-style passer has seen his recruitment take off in recent months, with programs from around the country joining his offer list. Most thought that if Bradley performed well in the camp setting, he would leave Baton Rouge with an offer. However, despite a solid showing at the camp, he didn't add an offer from the Tigers to his list.
This leaves LSU in the rare group of top-flight schools that have yet to secure a quarterback commitment for the 2018 class. Obviously things could still change if and when Bradley is offered, but as of now the school doesn't have a quarterback commit and a clear realistic target isn't in focus.
ORGERON IS STILL A CAMP JUNKIE AT HEART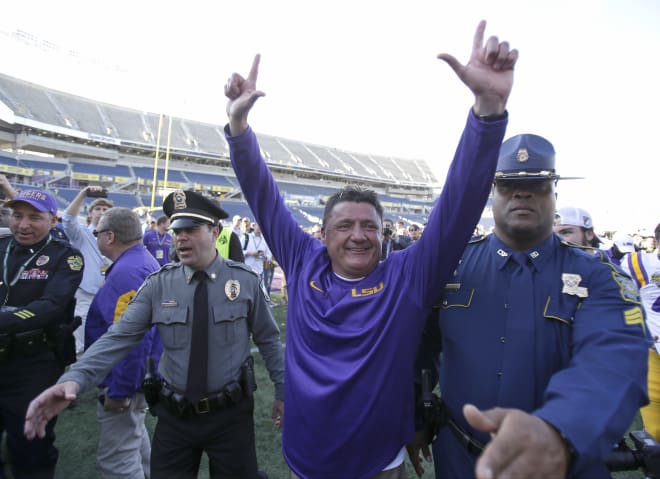 One of the best parts of attending a camp in which Ed Orgeron is involved is the sight of how excited he gets for the competition period. Despite moving from position coach to head coach, he could be seen getting fired up during one-on-ones and even celebrating with players after emphatic wins. Oftentimes a head coach at a camp watches from afar or rides around on a golf cart, but Orgeron was engaged with campers and their families alike, providing a fresh approach to what sometimes can be a stuffy event.
THE NEW RULES ARE HURTING ON-CAMPUS CAMPS
Part of the NCAA's satellite camp reform that was enacted this year including a rule prohibiting colleges from paying high school coaches or trainers to work on-campus events. This was meant as a way to keep schools from potentially skirting other rules to gain influence over recruits. The only problem? Many recruits can't afford to pay their own to attend on campus events and often rely on coaches, trainers or others to help them make college visits. Some coaches will still go out of pocket in order to help their players make these type of trips, but for others the money from schools was the only way to afford the trips.
I would like to see the NCAA repeal the ban on high school coaches and perhaps set a cap on the amount a school can pay someone to work at such events. That would help regulate the issue but also make sure that prospects have a chance to compete and earn offers in front of college staffs around the country.