Takeaways from high school football action in The Boot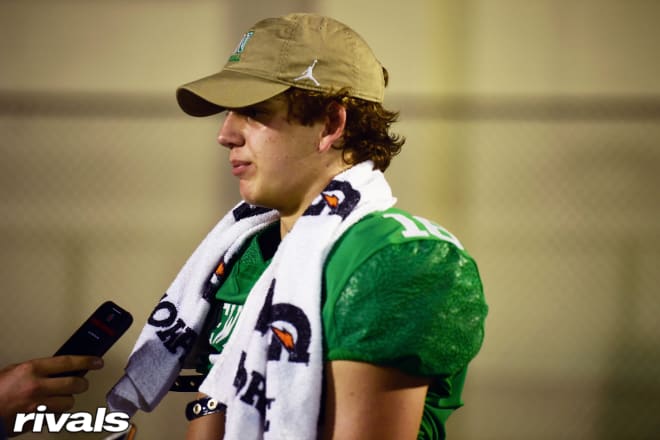 NEW ORLEANS -- Rivals was on hand in the General New Orleans area over the weekend taking in a pair of showdowns featuring five-star prospects from The Boot as well as a pit stop observing the young talent at a traditional powerhouse.
National Recruiting Analyst Sam Spiegelman watched five-star quarterback Arch Manning toss five touchdowns en route to an Isidore Newman victory, five-star safety Jacoby Mathews and Notre Dame commitment Amorion Walker lead Ponchatoula to big district win and visited with prospects at Destrehan High School, including LSU legacy Jai Eugene Jr.
Here are some thoughts from the weekend:
MANNING DOMINATES
In his third game of the season and his first against a Class 4A opponent, Manning stepped up in the spotlight with a wildly efficient performance behind center. The nation's No. 1 player executed as just that -- throwing five touchdowns passes, extending plays in and outside the pocket and taking command at the line of scrimmage.
Much like his Uncle Peyton did so famously throughout his NFL career, Manning was changing plays based on the what the Pearl River defense was showing. He called audibles and helped direct his teammates pre-snap, which resulted in a handful of big plays downfield as well as a few scoring plays. Manning was equally as impressive throwing into tight windows, maintaining his accuracy on the move and showed off spectacular timing with all of his receivers.
With great protection from his offensive line, which features LSU pledge Bo Bordelon (who earned his share of knockdowns), Manning shined going through his reads and making smart decisions as he finds holes in the zone. He delivered catchable passes downfield and had other notable throws off-schedule and on-the-run that could've led to even more points.
Through three games, Manning's Greenies are 3-0 with an average margin of victory of 36 points per game. Manning has accounted for 14 total touchdowns, including 12 through the air. He's thrown nine touchdowns the past two games.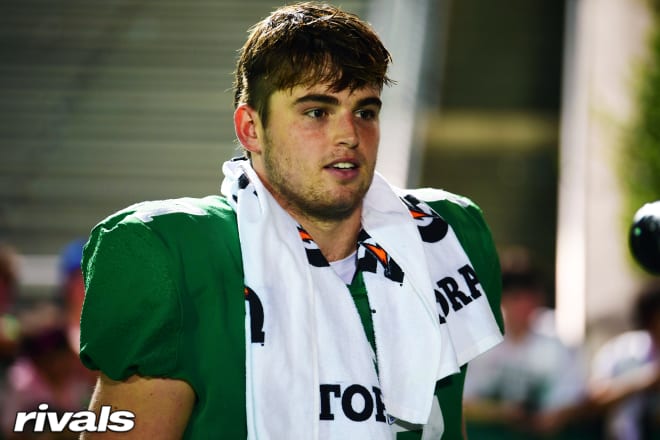 STOCK UP FOR RANDLE
Three-star tight end Will Randle has emerged as Manning's top weapon in the Newman offense. The junior showcased his diverse skill-set with some terrific hands catches that turned into touchdowns and opportunities to pick up chunk yardage in space. Randle is physical after the catch and a willing, effective blocker in the run game as well. He has reliable hands, can block in space and is a dangerous pass-catcher in the middle of the field. LSU is in a strong spot with the Louisiana native, but Texas and SMU are two teams heavily in the mix.
MORE: Bordelon, who protected Manning's blindside, came up with a handful of key blocks to spree the Newman running backs in this one. He's explosive out of his stance and helped keep the pocket clean. Bordelon is continuing to gain strength and it's showing. He played inside and outside to help pave running lanes.
FIVE-STAR MATHEWS SHINES IN ALL THREE PHASES
Mathews spent his junior season at quarterback for Ponchatoula (La.), but retook his starting spot on the defensive side of the ball to prepare for the next level. Mathews is playing a hybrid role with snaps back deep at safety, as a walk-up safety in the box and even lined up as linebacker on occasion.
In addition to playing all over the Ponchatoula defense, Mathews saw action as a slot receiver, separating in a hurry on a corner route to the back of the end zone. Mathews returned a punt 30-plus yards across the field, breaking multiple tackles in the process and flashing his abilities in the return game as well as his nose for the end zone.
History shows us Mathews is a versatile safety capable of defending both the run with range and ballhawking skills on the back end. The one-time LSU commitment will not make an official visit to Baton Rouge, but one source pointed out that the Tigers' defensive struggles might wind up intriguing Mathews.
The five-star scheduled an official visit with Alabama right before the Early Signing Period. Florida, Florida State, Oklahoma, Texas and Georgia are also still involved here with the Gators also set the host Mathews for an official. He'll be in Dallas for the Cotton Bowl on Saturday.
ON THE TOPIC OF WALKER
Three-star Notre Dame commitment Amorion Walker reeled in a touchdown in tight coverage over a defensive back for Ponchatoula's opening score. As a prospect, Walker boasts 4.4 speed and at 6-foot-2 and 170 pounds, he's long and presents a big target for his quarterback.
There are areas for Walker to shore up as a pass-catcher, but schools in pursuit could also be getting a defensive back with upside. He boasts size, speed and athleticism to also cover.
Walker sported Michigan gloves in the contest and then returned to Tuscaloosa for Alabama's win over Ole Miss. A source noted LSU was also trying to get Walker on campus for the Auburn tilt. The Wolverines are still the team in the best spot to flip Walker away from Notre Dame.
JAI EUGENE
If you remember the name Jai Eugene, then you're going to want to continue reading.
Eugene's son is entering his junior season and second as a starter behind center for Destrehan (La.) High. This year, the younger Jai is off to an impressive start under center playing with more confidence and is also getting an opportunity to make plays from multiple positions.
In the season opener -- delayed a few weeks after Hurricane Ida made landfall in Louisiana -- Eugene led his team past parish rival Hahnville and did so with his throwing and rushing prowess. In two games, Eugene has six touchdowns as the architect of the Wildcats' offense.
Over the offseason, the SEC legacy impressed at various 7-on-7 events and a handful of camps at corner, including in Austin. He's also going to run track this spring. Mississippi State, Michigan and Texas are among the teams evaluating Eugene as a defensive back, while Group of 5 power Cincinnati is taking a close look at quarterback. LSU, Alabama and Notre Dame are a few more teams also involved.
At 6-foot-1 and 185 pounds, Eugene boasts plenty of upside playing in the secondary.