Take Two: With Tate Martell in the fold, is Miami an ACC contender?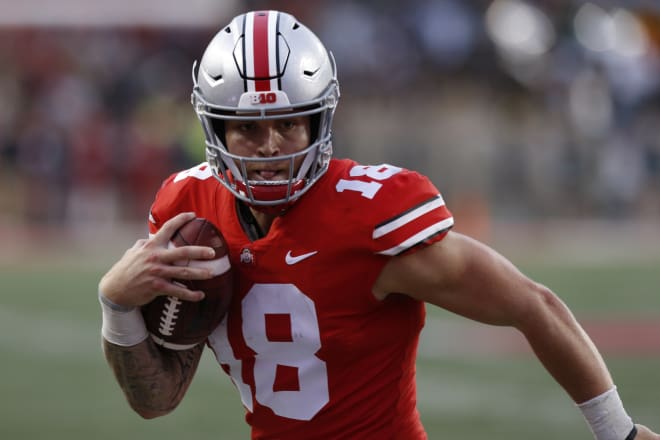 THE STORYLINE
Tate Martell has now transferred to Miami and is hoping to get a waiver to play next season but either way the former four-star and Ohio State quarterback gives the Hurricanes a dynamic playmaker on the roster.
Martell was a backup for the Buckeyes and looked to be in line to earn the starting job next season but those waters got muddied when five-star quarterback Justin Fields transferred to Ohio State following this season.

Ranked as the second-best dual-threat QB in the 2017 class behind Texas A&M's Kellen Mond and one spot ahead of Alabama's Tua Tagovailoa, even though that ranking looks like a miss now, it speaks to Martell's special ability.
Miami had disappointing quarterback play this season flip-flopping between Malik Rosier and N'Kosi Perry and neither really looked all that good. Rosier completed only 52.6 percent of his passes. Perry was worse. You get the point.
The ACC Coastal is wide open for Miami to dominate the division. But does Martell give the Hurricanes enough to compete against Clemson for the conference championship or are the Tigers so far ahead of every other team that Miami needs a whole lot more than just one quarterback?
FIRST TAKE: GARY FERMAN, CANESPORT.COM
"The pickup of Martell was huge for Miami because there was no position on the team that needed a higher level of play this season than the quarterback position. But will Martell alone, assuming he rises to become starter, allow Miami to challenge Clemson for ACC supremacy? Not a chance. The Canes will also need to recruit better across the board and significantly upgrade their talent base at the line of scrimmage on both sides of the ball. But getting better at QB was a healthy start."
SECOND TAKE: MIKE FARRELL, RIVALS.COM
"Martell is good but they are far from Clemson and I don't see that gap closing with one transfer. They got Jeff Thomas back which helps but Martell might have to sit out a year so we're talking two years from now when he's going to make his impact. The way Clemson is recruiting at every position I just don't see anybody challenging the Tigers for the ACC title over the next four or five years."