Take Two: Will Matt Campbell keep building - or get lured away?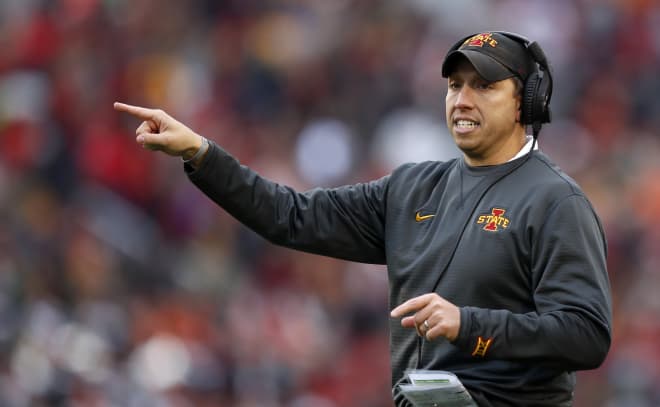 THE STORYLINE  
Matt Campbell is one of the hottest young coaches in college football, and he improved Iowa State from 3-9 in his first season to 8-5 last year, when the Cyclones could have finished with a much better record.
Iowa State lost by three to Iowa, battled Texas in a 10-point loss, lost by four to West Virginia, seven to Oklahoma State and one to Kansas State in the regular season finale. Campbell's squad upset Oklahoma, drubbed Texas Tech and bested TCU, along with its other wins.
Riding the wave of a positive season, the Cyclones currently have the third-best recruiting class in the Big 12, behind only Oklahoma and Texas. Four-star running back commit Jirehl Brock leads the way. Iowa State has never finished better than sixth in the Big 12 rankings.
Can Campbell continue building something special in Ames? Or will he take a "higher-profile" job soon?
  FIRST TAKE: PAUL CLARK, CYCLONEREPORT.COM  
"I think Iowa State has taken steps to make its football head coach job better, which reduces the number of 'better jobs' out there. Certainly can't rule out anything if an elite-level program comes calling, but I believe Iowa State would have a fighting chance to keep him, if it wants to take on that fight if the time comes."
SECOND TAKE: MIKE FARRELL, RIVALS.COM  
"I don't think he stays there long enough. He's a hot name and he's going to get a bigger job. Iowa State is a steppingstone job, there's no doubt about it. Contender? I think they can be a tough out. They can be a team that upsets a few teams here and there, maybe loses the games they're supposed to lose and finishes with a good enough record to go to a bowl game.
"I don't see them as a threat to win the Big 12. His recruiting has been very good though. They're building a pretty talented roster, but when you're comparing the Cyclones to Oklahoma or Oklahoma State or Texas or some of the other power programs in that conference, I don't think they're going to be able to hold up for the long haul."